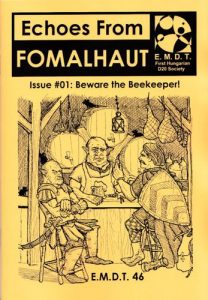 The Singing Caverns
First Hungarian d20 Society
Gabor Lux
Levels 2-4
This is a 44 page zine from Gabor Lux containing a variety of higher quality D&D-ish material. It includes a two level cave complex with fifty rooms, over fifteen pages, called "The Singing Caverns", which this review will be concentrating on … since I only review adventures. Terse writing, interesting encounters and a good map all combine to create a delightful little complex to explore … reminding me more than a bit of Thracia. Could there be a higher compliment?
Gabor Lux/Melan has created some interesting material that seems to appeal to a wide variety of folks. When Guy Fullerton creates a bibliography of your works AND Kent likes you, well … you're doing something right. Note also that my review standards link to his great article on dungeon map design. Echoes From Formalhaught is a zine he is putting out, with issue one just dropping in print ind and PDF. It's got a lot of good content, and starts strong is a great random merchant generator. "A distracted farmer selling haircuts drawing a small crowd." Note how it both creates a memorable NPC quality "distracted farmer" and creates some potential energy "drawing a small crowd." That's a great example of a perfect NPC encounter. That table alone is good enough to go on my binder … and I'd put it on my screen if I had room.
But … we're talking about adventures.
The Singing Caverns is a two level cave system with about fifty rooms spread out over fifteen pages (maps and full page artwork taking up four or five, so ten pages of text,) Fifty rooms in ten pages … and single column wide wide margins to boot!
These encounters are packed. The wanderers are up to something. Giant rats are cowardly stragglers that try to drag down stragglers or rip open food bags." Perfect! You've got your encounter right there. When the rats show up they are doing something. Drunk exploring bandits? Great! Now you've got a little NPC interaction before they get a bit belligerent, and an obvious way for the party to appeal to them. These things are done in a short sentence, or maybe two. You don't have to drone on and on while writing a description. You just need to set it up, as is done here. The goal of writing in an adventure is to inspire the DM in order to leverage their ability to take something and run with it. In order to do that you need to give them a shove. And that's what these encounters do.
Looking at room one, "Water trickles from the mouth of a grinning long-nosed strong-chinned stone head into a dented brass basin. Several footprints in the mud." After that is a short sentence saying the wind wails through the passage, blowing out torches on a 1-2, and there's a crude tripwire a few steps in knowing down a support beam with stone for 2d6hp.
The initial description is short. The important stuff is bolded to draw the eye. The second paragraph contains DM information, again short and bolded. This isn't the ONLY way to write effectively, but I do think it's one of the most straightforward ways. The adventure does this over and over again. It's like terse little jabs to your imagination in every room.
The maps good. Same level stairs, multiple ways between levels, loops, features drawn in on the map like ledges, etc. The keying is clear and legible.It's what you want a map to be to encourage great exploration play in the dungeon..
This is $6 at DriveThru. You get to see the merchant table and, at the end of the preview, the first few rooms of the dungeon. They are representative of the entire thing.
https://www.drivethrurpg.com/product/241136/Echoes-From-Fomalhaut-01-Beware-the-Beekeeper?affiliate_id=1892600