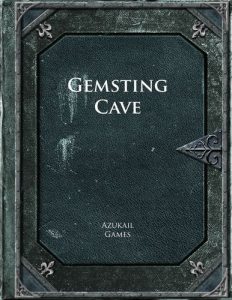 By Peter Rudin-Burgess
Azukail Games
Generic
In Gemsting Cave, characters explore a cave once haunted by Gemstings – Giant Scorpions – which have now returned after many years. The cave can be dangerous, as the Gemstings are able to climb on the walls and roof, attacking fro
This fourteen page thing is not an adventure.
The intro implies that it's an adventure.
The rip-off at one point refers to itself as a mini-adventure.
If I search on DriveThru for "Adventures" it shows up there.
If I did REAL deep and look at the page count on the right in the product details and then go look at the preview and compare them then I can see that it's actually a nine page map you print out and tape together. There's one page that says "there are giant scorpions in the caves and they can walk on walls and ceilings."
This is fucking bullshit.
These creator marketplaces are fucking rip-offs. Steam solved this problem by implementing a return policy. I now buy more from them because I have more confidence that I'm not getting ripped off. DriveThru needs a return policy.
And if you're a creator about to whine about your already tiny profits then go fuck yourself.
This is $1 at DriveThru. Go fuck yourself.https://www.drivethrurpg.com/product/240006/Gemsting-Cave?affiliate_id=1892600