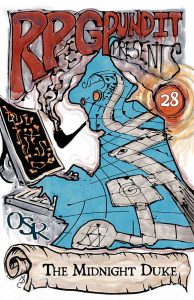 RPGpundit
Precis Intermedia
Dark Albion
Mid-Level
Taking control of the Debateable Lands, the Midnight Duke and his followers spread darkness and Chaos. Whether sent to investigate claims of dark powers by the Clerical Order or ordered to stop the threat at all costs by a rival lord, the PCs are sure to meet trouble in this open-ended scenario.
Well fuck me. 0 for 2 this week.
This seventeen page "adventure" details a couple of evil NPC's and lightly outlines a situation. In a lawless border region an evil dude has taken over while everyone else is busy in a civil war. There's some nobleman who might hire the party to go kill the dude. The dude has three followers and a duke of hell lives in his keep. The local villagers don't really support him, but are beaten down.
It takes Pundit seventeen pages to outline this. Lots of history and background, if you are bored and can't sleep.
NOT.
A.
FUCKING.
ADVENTURE.
There's a crowd that says something like "it's art if the creator says its art,"
Maybe.
Unless I pay fucking money for it. Then I've been ripped off. And I'm bitter.
The gang is coming over in a few hours and you go to DriveThru to buy an adventure to run. That's my bar. "There are some evil dudes on the border and a demon" don't cut it.
This is $3 at DriveThru. It has a four page quick preview that shows you nothing.https://www.drivethrurpg.com/product/239948/RPGPundit-Presents-28-The-Midnight-Duke?affiliate_id=1892600