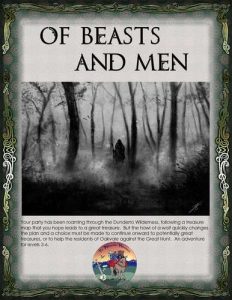 By Jon Bertani
The Merciless Merchants
2e/Gold & Glory
Levels 3-6
Your party has been roaming through the Dunderro Wilderness, following a treasure map that you hope leads to a great treasure. But the howl of a wolf quickly changes the plan and a choice must be made to continue onward to potentially great treasures, or to help the residents of Oakvale against the Great Hunt.
This fifty page adventure details a wilderness area that houses a band of marauders called "The Pack." About twenty encounter areas, including five or so dungeon-ish areas, fleshes out the adventure giving a very luch/rich area to adventure in. Quintessentially 2e, it drowns itself in prose that would be more appropriate in a novel or Middle Earth atlas … and it desperately needs a summary.
While following a treasure map is an old elf ruin, a guy runs out of the forest being chased by wolves and a couple of dudes. He needs to go to [village] and let them know about [thing.] There the old dude in charge wats you to go get [spear] to kill the [bad dudes.] I'm being a little overly harsh, but you get the idea. Also, I did NOT get the idea, not until reading the entire thing. The adventure starts with the guy being chased through your camp and then just goes through the keyed wilderness encounters, one after another. There's no summary of what's going on anywhere to get you prepped. Literally, one of the wilderness encounters says something like "if you tell the NPC you are looking for the spear he tells you that it is here." This is the first time that point pops up. The plot/adventure unfolds through the keys, and they are not exactly in order, with the larger sections (dungeons & town) being located in an appendix in order to not clog the flow of the main text. That's GREAT! Except … that those appendices contain the actual info you need to irent yourself the first time around. I think I've figured out that the marauders are wolf dudes and, moreso, their main camp is not where their leader lives. He lives in a cave in a separate keyed entry. It was REALLY hard to put together what was going in this thing, and I'm still not sure I get everything.
Fuck. I started negative. I apologize, I drank a lot at lunch. This adventure is the real deal. It's not some fucking mini-adventure or mini-dungeon. It's a full region with stuff going on and a full town at the center to support the play. Fifty pages and almost all of it is "Real" adventure, and not new spells, monsters, pregens, etc. You get almost fifty pages of adventure and that's unusual for a product these days. This is the real deal. There's content in this, and not a bunch of generic supporting data. If you imagine the Tharizdun adventure, but with each site expanded a bit then you've got some idea of what to expect. A large wilderness with a lot of encounters in it, surrounded by your initial quest (find/loot elven temple) and the two regional quests to recover a magic spear and kill the pack lord, ala 13th Warrior, in a cave past a bad guy camp. It's almost like a simpler version of Scourge of the Demon Wolf, in a more traditional format.
This being 2e, it has decent magic items and treasure, well described, with the magic weapons and armor having a little bit of legend lore behind them and non-traditional bonus effects that both work to bring the items the life. The mundane treasure, gems and jewelry, go the extra mile also with the little bit of additional detail that make them more than just a treasure parcel. Wandering monsters and town wanderers get enough, an extra sentence or so, to make the encounter more than just a roll on a table that results in a hack. Likewise, the main enemy camp gets an order of battle/reaction description as does the bad guy cave lair. All of these are great elements.
But … it tends towards a kind of novelization style for text descriptions that results in them being hard to understand. A kid of mix between read-aloud and a … strained? text style that is overly arty and focuses on soft edges. Almost all of the text, and I'm not exaggerating much here, is in a flowery format that more out of a novelization. And then it's also written and presented in a way that makes it seem like boxed text. It's not offset, or differentiated in any way, by the tense and tone makes it seem like read-aloud. Here's the "DM text" for wilderness area B:
B. The Pass: The gurgling river noises quickly get swallowed up by the dense vegetation and thick trees that surround the trail creating an eerie silence. However, the silence is broken by the occasional abrupt noise emerging from the brush from hidden birds fluttering to the safety of the towering branches and from an irregular-timed, lone wolf howl. The trail begins to twist its way through the somber forest as the terrain forces a gain in elevation. A weak mist still wraps its tendrils within the branches of the trees, creating perplexing shapes against the vegetated hillside as it swirls through the forest from a light wind. The wolf howl is finally answered by another, and both seem closer than before.
I can't make sense of it. Some of the individual elements are not bad: weak misty tendrils, birds fluttering, somber forest … but there's some kind of "programmed event" thing going on. In other words, it not just read-aloud, it's read-aloud that assumes things and has a timeline/first-person element to it, and then on top of THAT it puts in this forced diction and sentence structure. I don't know what I'm looking at. Read-aloud? DM text? Evocative setting? The end result is a confusing mass of text that's VERY difficult to pick out data from. This is not an isolated example; most of the encounter text is in this format. And it can be LONG. The opening event NPC soliloquy is almost a full page long. Add the old "Masturbatory NPC fighter chick that joins your party" and throw in a lot of meaningless history in the description ("the river Arno gets it's name from an old adventurer that passed through long ago.") and you get some REALLY long entries. What the fuck bearing on the adventure does the naming of the river have?
Here's another example, from a bridge in a village:
8. Bridge: This rope and wood planked bridge spans a narrow, deep tributary of the River Uurden. There are some marred, knotty logs stored nearby, perhaps to block passage in times of defense.
? Teenage boys hang out here and bully other kids who are trying to cross the bridge.
I'm not opposed to the teenage boy stuff, it adds some color even if I WOULD prefer the color someone was more directly related to the adventure. But the rest of it … what's the fucking point?
I want to emphasize: this is a real fucking adventure. It's not one of those cheap ass no-effort mini-dungeon things that's so prevalent, in the OSR and elsewhere. But it is SO hard for me to dig through the text, I feel like I'm fighting against it to get out information in order to run the game.
This is $3 at DriveThru. The preview is eight pages and is EXCELLENT. You can see the little additions in the wanderers tables, as well as the initiating event and monster read-aloud on pages two and three. The last few pages show the wilderness map and several of the encounters. Great preview; it shows you exactly the sort of thing you are buying. https://www.drivethrurpg.com/product/228005/Of-Beasts-and-Men?affiliate_id=1892600