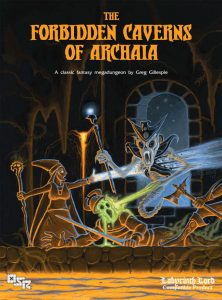 by Greg "I wrote Barrowmaze" Gillespie
Labyrinth Lord
Level 1-
The lost city of Archaia – an ancient ruin sunken into the earth – lies deep in the badlands. In recent years, caravans from Eastdale have come under attack from orcs, goblins, and worse. Some say these blood-thirsty warbands have made lairs in the deep caves and ruins. Sill others say the ancient halls are filled with magnificent treasures left by the Archaians. Are you brave (or foolish) enough to delve The Forbidden Caverns of Archaia?
This is a 300 page megadungeon, in the form of a Caves of Chaos style ravine. There are about 150 pages of room keys spanning … 50 dungeon complexes? with about a one hundred page appendix detailing monsters, treasure, etc, and about a forty page introduction descripting the region, main town/villages, wanderers, etc. The closest comparison is B2/Caves of Chaos, if there were three times as many caves, the caves were each three times larger, and the evil temple guys were greatly expanded. Much like Stonehell and Barrowmaze, there are very strong maps supporting the exploratory play and a kind of "Generic D&D with just a little extra" vibe to the place. It's strongest when being specific and breaking the B2 mold and weakest when it emulates the worst parts of B2 … like generic elements and rooms with only humanoid monsters.
I'm going to compare this adventure, repeatedly, to B2/Caves of Chaos. That's unfair, because it's more than that. The near universal familiarity with B2, and similarities to this adventure, will give most readers a firmer understanding of what to expect. These days I tend to concentrate on the good parts of an adventure and then detail the bad parts. In this case I'm going to cover things a little more linearly, as they appear in the adventure.
Which means the regional data and town/village data are the first thing I'm going to cover. There's a little background data and summary data present, but I'm going to ignore that for now. The first forty pages or so are a combination of regional overview, town/village overview, factions and wandering monsters, and a brief word on hex crawl and some related general "dungeon" features. This part is, frankly, boring. It falls in to a kind of Bog Standard Fantasy description category. The towns, villages, and various regional features get about a paragraph each and nothing really stands out. "This village has fewer religious restrictions than the main town." and "This village has fewer religious restrictions than than that other one." A dwarf hold with a few dwarves in it. "Men and dwarves get along in this village in order to support each other." Nearly all of it is generic almost to the abstract. It's like the adventures that post food prices in their taverns … the detail that is presented is not engaging. "Bob can make quarrels but prefers not to." Yes, you can use this. But "Bob is vocal about his loathing of crossbow users, although he serves them." paints a different picture of the establishment that is easier to wrap your head around during play. There's a new pantheon of deities presented, but they offer little solid quirks on which to hang your hat, mostly just being retheming of the usual suspects. "The Red Thicket" has a bunch of giant trees that live a long time, giant owls, rumors of treants … if you pause and think for a moment then you'll get the idea. But the writing is so … bland? that it just doesn't inspire you and make your mind leap and want to run it. It's not that it's bad, or that it's too terribly long, but it's just so inoffensive and unspecific that it lacks and evocative power without putting in some decent effort.
This sort of aggressive genericism is something I've seen before, particularly with regard to regional data and deities, as it is in this. It has a close step-sibling in the "generic room description" that is frequently found in adventure. The bedroom that tells you it has a bed, and a chest with four socks, two pairs of underwear, two pairs of pants and the bed has sheets and a pillow on it. IE: a normal bedroom. Or IE: a normal harvest god. Or IE: a normal medieval village. We're not paying for that, but rather the new & noteworthy. Actionable, gameable content that drives play.
This is a good segway in to the content of the actual dungeons. There are a lot, around fifty, I'd say. And the maps are, almost always, quite excellent. Lot's of variety, good terrain features on the maps, nice layouts that support exploration. There is, however, something missing. Content.
Generalizations are a hell of a thing, but my overall impression was not one of excitement. The first major dungeon is the kobold lair. A small sentry room with two kobolds. A small sentry room with four kobolds. A guardroom for the nearby stairwell (4 kobolds.) A small guard chamber (2 kobolds.) The kobolds have grown a shrieker. Another room is "two kobolds." Each of those is the actual description of a real room, all from one of the room description pages. This is true minimal keying.
There are bits and pieces of actual content. "A large natural column has been modi ed to include a secret door with a small claustrophobic stairwell down to Level 2 (#11)" and "A human skeleton lay prone on the ground half buried in sand It points towards the northwest." Those begin to show promise, but again are pretty minimal and, while it's something to work with, could be much more evocative in the same amount of space.
Stonehell was minimal, but supported by the dungeon overviews, something Archaia notable doesn't have. Stonehell also filled its rooms full of THINGS and interactivity where Archaia just lists monsters. Even the Castle of the Mad Archmage tried for little vignettes. This is closer to the Mad Demigod's Castle, or B2 proper. I know there's a market for this in some circles, but I find that style lacking. Just a little more tweaking and something more evocative could be obtained without really loosing the vibe of it being minimal keyed.
There are other things that tick me off, with some organization choices. The Gem shop has a crier that shouts "Gems for gold!" …but that's not in the keyed description for the village. Instead that bit of info is found in a separate NPC description late on, for the owner of the business. That makes no sense, it's counter-intuitive. Likewise in one cave a wyvern mommy comes to aid of her young … but you don't know that by looking at the room description of the young which occurs before mom's description. SO you encounter the young first, slaughter them, then you go to mom's room and the DM reads the description and says "oh shit, I guess she's not coming to their aid now." It's not written with play in mind. There's a reference someplace else to a staff headpiece being needed … but no reference to where it is. As a player I get the staff, figure out I need the headpiece, go home and cast Legend Lore or find object or something, and then the DM fumbles with the 300-page book for an hour trying to find where the thing is.
It's a lot more aggressively generic than I would like. Book treasure that could be straight out of B2, a weird long description of one orc tribe, meh NPC descriptions, town & regional & god descriptions, perfunctory hooks, lack of location names on the regional map, forcing double lookups.
But the map DOES have a "Forbidden Zone" on it, and a travel time matrix between location is provided. And there are over 100 great "special" entries on the wanderers table and there is at least some mention of tribal factions … even if I don't think it's really enough to generate the goal: gameable situations.
And, in spite of my bitching about cross-references, it DOES have good summaries. The book is summarized, the chapters are summarized … you generally know what something is about and what to expect in a section of text, a critical feat in a 300 page booklet.
I think I'm disappointed with what could have been. A hex crawl through a badland, with tribal lairs and lot of other dungeons is a GREAT idea. The maps are WONDERFUL. Portions of the adventure, like the special wanderers are good. The genericism of the supporting information and the very minimally keying of the encounters is disappointing. Sure, there are exceptions, and in particular the non-humanoid lair dungeons are much better.
It's still an impressive work and I'm keeping it. I'll even probably stick it on my list, since I'm fond of megadungeons. But it's almost certainly on the wrong side of a line for me. Which begs the question why I'm not more down on it given my comments. I don't know. The premise and maps are VERY good.
The PDF is $35 on DriveThru. I can't find a preview; I wish there was one for, say, the kobold dungeon, along with the map.https://www.drivethrurpg.com/product/218157/The-Forbidden-Caverns-of-Archaia?affiliate_id=1892600
You might be able to poke around on the kickstarter page for more photos and description, but, again, there's not much description. Although I do think the art piece is pretty indicative of the environment you are getting yourselves in to.