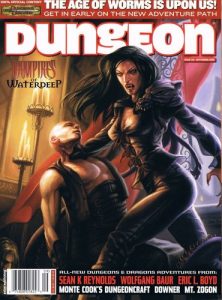 Encounter at Blackwall Keep
By Sean K Reynolds
Level 5
Part three of Age of Worms adventure path. The pretext is escorting a wizard to see his friend at a keep. Getting there, it's under attack by lizardmen. Breaking the siege you go to their lair and kill lizardmen, along with their minion harpies, kobolds, and anything else they could throw in. Coming back to the keep they find a creature in the basement is active, killing some of the remaining soldiers. The wandering table, on the way to the keep, is a cut above. Only one fight is prescribed … and even then maybe not forced. They focus too much on mechanics instead of evocative travellers, but, at least it's something. There is an INSANE amount of text in this adventure, from the read-aloud to the DM notes. And EVERYTHING is all mixed up, with no rhyme or reason as to how information is organized in the DMs sections. The amount of crud you have to wade through in order to pull out data is truly amazing.
The Clockwork Fortress
By Wolfgang Baur
Level 8
Eberron
Clockwork dude contacts party to get them to clean out his mobile fortress, full of derro and chaos. It's full of the usual "pad the word count by explaining things you don't need to know" that makes wading through, and using, Dungeon adventures so hard. I'm reproducing one section at the end of the review as an example. There's really not much to the adventure. Just rooms with monsters in it to fight, along with a few gear-based traps and obstacles. To its credit, there ARE a few things that are not hostile, in essence a second faction to the fortress. It's too bad Baur stooped to something like this, I assume, to get paid.
Blood of Malar
By Eric L. Boyd
Level 13
"Vampires of Waterdeep, Part One" is how this is touted … Vampire lady shows up in a bar and proclaims a young nobleman the target of "the hunt". A bunch of patrons transform in to werewolves (who are themselves vampires) Noble runs away, werewolf vampire people give chase. The party, for some reason, gives a shit? There's some subterfuge, and a hidden goal, but it's all buried in some Forgotten Realms simulationist exposition that borders on fetishism. Full of names that only a fuckwit obsessed with the forgotten realms could love. "Headmistress Dhusarra yr Fadila el Abhuk", "Lord Orlpar Husteem", "Noreyth Harpell",
The Menagerie
By B. Matthew Conklin III
Level 6
Some monsters (cockatrice, darkmantle, rust monster, etc) have escaped inside a shop. Four rooms, a different monster fight in each room, designed to be chaotic. Rust monsters in the dark of the mantle, cockatrice/chickens in a room full of shelves, etc.
Example Time!
Here is one paragraph from the text of the Clockwork Fortress/Baur adventure. Note the extreme use of explaining WHY and HOW that add nothing to the adventure.
Creatures: The waters of the moat that surround the Clockwork Fortress are surprisingly warm, heated by the inner workings of the fortress furnace. A dozen killer frogs (originally taken from Blackmoor) dwell in these waters. The frogs generally prey on wildlife in the surrounding region, and of late have caught more than a few derro as well. Rather than exterminate the frogs, the derro decided to give them a wide berth, figuring that they'd add a welcome layer of security to their operation. The frogs don't attack anyone who crosses the drawbridge, but anyone who approaches within 5 feet of the moat's edge (or enters the water) attracts the attention of 1d4 frogs. Killer frogs are pony-sized amphibians with long needle-like teeth that protrude from their jaws even when they're closed. They also have long hook-like talons on their webbed hands and feet. Killer frogs (12): hp 34 each; see appendix.
Do we care why the water are warm or where the frogs came from of why they are there? No. The entire thing would be improved by simply stating (and remember, I'm a suck -ass writer!)
1d4 killer frogs attack any near/in the water, except people crossing the bridge. They have long needle-like teeth protruding from their jaws and long hook-like talons on their webbed hands & feet.