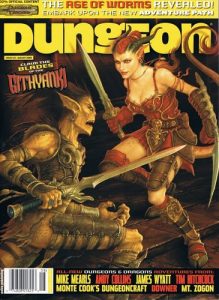 There's nothing to see here.
Save yourselves! Flee now!
The Three Faces of Evil
By Mike Mearls
Level 3
Part 2 of the Age of Worms adventure path. Surprise! There's a religious cult! They don't believe in desecrating any of the elements with the dead. They can't be buried or burned. They can't be, cast out to sea. Oops. No. Sorry. That's a song lyric. This is a boring hack-fest; a Temple of Elemental Evil, light. Go in to some mines. The main room has three exits. Each exit has an evil temple complex. Kill everyone (Because … D&D?) Then fight the big demon that arises because you've killed everyone. There's an order of battle/reaction notes for the temple, but, the pretext here is SO light. The rooms are nothing but combat and the reasons for killing everything are essentially nonexistent. Someone who knows, please tell me: is this really representative of the best of Mearls?
Pit of the Fire Lord
By Andy Collins & James Wyatt
Level 8
Part three, the final, of the Shards of Eberron arc. Fucking seriously? Five rooms of combat? I see that Dungeon has just given up trying. "Go fight through these five rooms. Because." I am both excited and depressed at this new Dungeon style. Depressed at the lack of trying and excited because the "reviews" I provide are now much easier. But the reading of them is not …
Seekers of the Silver Forge
By Tim Hitchcock
Level 15
Dear Lord, why? An underwater adventure. As I read it, you need to make a saving throw every minute or take 2d6 damage, from pressure, and a save every ten minutes or take 1d6 from the cold, even if you can breathe water. Gill-men gith, undead gith, and saughaun are the three "Factions" in this adventure. You can talk to the gill-men gith and to stop the undead menace in the seas you need to wipe out the saughuan. It's just fighting underwater, and little more beyond that.