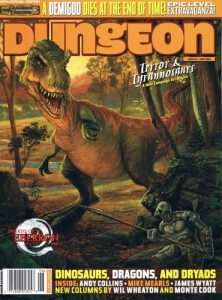 Salvage Operation
By Mike Mearls
Level 2
An adventure on a twelve-room wrecked ship, with vermin. Get to the hold, get a crate of loot that you're paid 200gp for (containing a +5 cloak of protection and several figurines of wondrous power) and then exit the ship while it's being sunk by a giant squid. The "vermin on a ship" angle is ok, and Mearls read-aloud in this is generally a cut-above the usual Dungeon fare ("Thick webbing coats this room. Bones, shriveled limbs of men and animals, and other gruesome remains dangle from the sticky tangles.") Still, it has empty skill checks ("If the party doesn't make the check a random sailor points the fact out.") and it feels both … empty? And, in spite of the nice-but-not-overdone vermin theme, a little procedural. I really got the sense, in reading this, that it is just a generic adventure formula spiced up a bit. Hook. Slow explore with a couple of monsters. Bad Guy. Dangerous "hidden" area that's the true location. And then a quick escape! It's a generic formula and works sometimes, but when you can TELL it's the generic formula .. .then it loses some luster. It feels constructed rather than imagined.
Crypt of Crimson Stars
By Andy Collins & James Wyatt
Level 6
This looks like it could be the opening for another adventure path. You're hired for 2000gp to go get a dragonshard from a crypt. Tribal halflings rising velociraptors guard the tomb and must be killed. Lip service is paid to bargaining with them, but you can't actually get anything out of it except "we delay the combat until you come out of the crypt." Then you get to "explore" a three room crypt. At least it's only eight pages for three rooms?
The Amarantha Agenda
By Phillip Larwood
Level 13
Nine pages for one encounter. An evil druid & her tree have taken over an elven outpost and destroyed a nearby city. You get sent to figure out why the outpost didn't warn the city of the attack, and find/kill the evil druid.
Quicksilver Hourglass
By Anson Caralya
Level 30
The world is ending and you need to stop it. I only hold back a *yawn* because at level 30 "the world is ending" seems like an ok thing to me. This is a dungeon crawl full of combats full of the usual "you can't skip the encounter" movement/passwall/teleport gimps and ends with a potential 750hp combat with a god. It takes care of the "1 combat work day" thing by aging the party while they are inside "the hourglass", forcing them to get their asses in gear or die of old age while they long rest. Some of the monsters in this are conceptually nice. "The sphere of Ruined Bodies" and giant undead heads. Otherwise it's just combat tactics porn, room after room., with a decent little story behind it of a god committing suicide. Too bad that little story/epic premise was wasted in this hack-fest.