Only two adventures and a shift to combat focused adventures does NOT bode well for my future state of mental well being …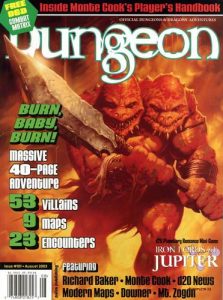 Prison of the Firebringer
By Richard Baker
Level 13
Heh. "Over the centuries he has come to hate Faerun … with a vitriolic ire …." Preach it brother slaad!
A fire cult, full of slaad, is trying to free a slaad lord (cr21.) It has the pretext of an investigation up front, with many words on several pages, but there is nothing very useful in it. This is really an adventure with a couple of pitched battles followed by two combat-heavy dungeon/lairs. The first three encounters, an ambush, a beholders tower, and a old farm-like compound, fall into the set piece category. That's not exactly a criticism, but more of an observation. All three present an environment in which a large and ranging combat could take place. "Oh, the farm has seven rooms to describe …" No, it has seven places where combat can start. It's not an exploratory environment. I like a complex environment for a battle, crashing through floors, pulling down walls, setting hay on fire, etc. It's the seventeen pages it takes to get to the point that's more the problem. And that's just for those three encounters. After that the dungeon starts, which is really just an underground fortress stuffed full of things to hack. Unlike the dynamic 3-d environment above ground the dungeon area doesn't offer the height and open spaces and is less suited for the sorts of "pulling agro" combats … as anyone holding a doorway can attest. There are some advice sections on how the creatures react … but EVERYTHING is buried in text. How many creatures are there? Time to dig through the text. Key elements? Time to dig through the text. I really like the party coming up to a combat site, formulating a plan, attacking the farmhouse compound, and then the plan going to hell and chaos breaking out. Those sorts of wide-ranging things are conducive to creative play and fun. But endless combat after combat in the dungeon against an organized foe? Slog-fest.
The Chasm Bridge
By Desmond P. Varady
Level 7
Just another bullshit set-piece environment. There's a chasm in the underdark and a bridge with toll collectors. If you don't pay the toll you get attacked. If you pay the toll you get attacked. If you go around you get attacked. Not by different foes, mind you, but by the exact same groups. This is really just a side-trek.