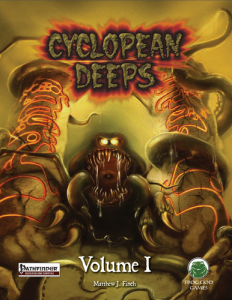 By Matt Finch
Frog God Games
Swords & Wizardry/Pathfinder
Level 10-12
I'm digging deep in to my pile on this one.
This is a D1 clone.
Seriously, if you take the core of D1 and replace it with a new hex map and replace the entries on the tables with new entries then you essentially have this product. The hex map has a player's copy that is incomplete. The hex map has major and minor encounter areas. The corridor types are primary, secondary, and tertiary. The wanderer table has caravans on it. The major/minor encounters are not really described.
I'm doing this from memory (of D1) but that pretty much describes D1, doesn't it? The fascination with Underdark Hex Crawl is beyond me. This must be the fourth or fifth D1 clone I've reviewed and they are all the same. Three tunnel types. Partial player map. Two types of encounter area. Caravans. Is it seriously the assertion that nothing new has happened in Underdark hex Crawl innovation in the last forty years? Wait, hang on, I don't need innovation. But NOT just copying the format of D1 … is that the end all and be all of underdark hex crawls?
There's one area described. It's a steep canyon down with a small "weird thing" area at the top that allows you to teleport past the canyon, avoiding its many environmental hazards. There's an interesting anti-magic effect here in one area that makes magic flight dangerous. It's some anti-magic steam coming from a bubbling pool at the bottom. It does that strangest of things: not screw the players! By this I mean that you are allowed to bottle the steam and use it as as a grenade weapon for an anti-magic effect! Imagine that, something in the environment that can impact the players either negatively OR positively! More adventures needs to do this. Far too often they are written in a more adversarial style that keeps [insert whatever] out of the players hands. It's too evil. It doesn't work. Blah blah blah. It's far more fun when you give the players a way to exploit what they find. The ones that think to anyway.
The language here is weird. It's got a distant, archaic and round-about way of speaking, especially in the first few pages, which reminds me more of Webb style than it does of Finch's.
So, it's a D1 clone. Do you want a D1 clone published by the Frogs? Do you already have D1? Not the D1/D2 thing that TSR did, that would have far more content than this adventure. Just D1. Or maybe you have Down the Shadowvein? How about The Rebel Faction? Under Shattered Mountain? No? None of those? Then Congratulations, I present you something new.
This is available at DriveThru.
https://www.drivethrurpg.com/product/142522/Cyclopean-Deeps-Volume-1-Swords-and-Wizardry?1892600