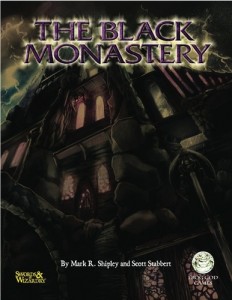 by Mark Shipley & Scott Stabbert
Frog God Games
Swords & Wizardry
Level 7
… But the Black Monastery was not gone forever. Over nearly two centuries since its destruction, the Black Monastery has returned from time to time to haunt the Hill of Mornay. Impossible as it seems, there have been at least five incidents in which witnesses have reported finding the Hill of Mornay once again crowned with black walls and slate-roofed towers. In every case, the manifestation of this revenant of the Black Monastery has been accompanied by widespread reports of madness, crime and social unrest in the kingdom. Sometimes, the monastery has appeared only for a night. The last two times, the monastery reappeared atop the hill for as long as three months…each appearance longer than the first.
This is a very classic take on an old school dungeon, marred by some issues with the verboseness of the descriptions. I'm quite enamored with the very earliest examples of dungeons. The period before everything became standardized and before mechanics began their serious encroachment on imagination. This dungeon does a pretty good job of being representative of that period and style. Effects are described rather than slavishly relying on mechanics. The adventure is best when it is being imaginative and ignoring mechanics and the worse when it is describing things from The Standard Books. Yes, AD&D killed D&D. Fuck You AD&D.
The idea is that there's this monastery once used by evil dudes that kind of winks in and out of existence. Every once in awhile it returns to the same location. What you get is a couple of hundred rooms on a packed old school map with towers and dungeons in addition to the core monastery. Each room is well described. TOO well described. One style of bad adventure writing focuses on an exhaustive description of what's in the room. How many socks are in the sock drawer, when the socks and sock drawer have nothing to do with the adventure. This isn't that. This exhibits a more forgivable sin: a conversational style. Just about any room of any significance gets about four paragraphs of text with a couple of sentences, at least, in each one. The core of the room is described in a very … loose? way. The descriptions are good, but the core of the room hides within the text. This results in … long pauses at the table and lots of notes for the DM to make. The rooms all need a very strong edit to remove the conversational style while retaining the wonderfully imaginative things they describe. A talking door is great! Four paragraphs on a talking door? Not so great. Actually, that's a bad example. The door is easy to run. It's a talking door. All of the other rooms get the same treatment though and in THOSE there are effects and impacts that are more complicated than "a door that talks."
Near the talking door there's a room with a white mist in it. The mist drains/absorbs magic. The door and the mist are great examples of this kind of non-standard/pre-AD&D style of "weird things going on in the dungeon." But then comes two more paragraphs describing the white mist. How it absorbs magic. What happens if the party does X, and then what happens if Y happens, and what happens if Z occurs. It's all bullshit. It's unneeded. Instead of 1/6th of a page in three paragraphs, just describe the basic effect. The lengthy description is not bad, other than the fact it's lengthy and harder to use at the table.
The core is generally good though. It's random. It's got some disconnected stuff in it, like some orcs and goblins and gnolls that are somehow in the place. There's a mini-cyclops guarding some headis on silver plates. Why? Because Dungeon, that's why. A hag dead in a hallway? Sure, why not? There's a ghostly green monk that comes up through the floor and offers dental advice. None of that is the main flavor. The main flavor is ghostly weirdness. It reminds me a lot of Shadowbrook Manor, another adventure I liked. Weird stuff, effects described instead of mechanics listed.
A special note about the magic items. They suck. Mostly. +1 swords. +3 plate mail. Sometimes they get to something more interesting, like a rigor mortis effect on a sword or some such. This is what I mean when I complain about book standardization. Pulling monster stats or magic items out of a book is easy. Too easy. It's the imagination and creativity that we want, that we are paying for. That's what's important, along with a little organization so you can run the thing. The rooms are a great example of creative and imaginative encounters, in need or organization/editing.
This needs a second edition. It needs a good edit that keeps the evocative and imaginative nature while making the rooms easier to run/ave less text. It needs more on integration … there are great sections on an increase in lycanthropy when the monastery appears, or how some people are turning into ghous, slowly, for example. There's a great deal here to expand upon and build on, and a good second edition could fulfill all of that.