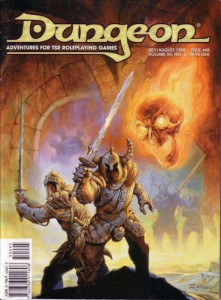 Blame Fallout. I wrote ahead but missed by schedule by 48 hours.
Slave Vats of the Yuan-Ti
by Jason Kuhl
AD&D
Levels 3-5
"Keep a calculator at hand during this adventure, for the math." Oh, joy … DERP! This three-parter, with the first being in this issue, is a precursor to the adventure paths to come. This one if a decrepit mansion full of jerlamainee triggering traps on the party, and then some yuan-ti labs in the basement, in a house that causes magic to misfire and giant insects/animals galore from a natural Enlarge effect. Parts of the house are nice (poison gas from an elephant trunk!) but the descriptions are mostly uninspired. The jerlamaine part feels like DM torture porn and the yuan-ti in the basement feels disconnected from the rest of the adventure.
Challenge of Champions II
by Jonathan M. Richards
AD&D
Any level suckfest
I like a bit more pretext. I shall quote the entirety of my review of the first installment, back in issue #58: This is a funhouse "proving ground" adventure. All spells are on scrolls and all weapons provided, no armor, blah blah blah, which is how it's an All Levels adventure. This is more X-Crawl then it is old school funhouse. 10 challenges, all of which are really puzzles of one sort of another. It's hard for me to recognize this as an adventure; it's more of an evening activity in my mind.
Stumping the Party
by Christopher Pomeroy
AD&D
Levels 3-5
Side-Trek. An ambush by an Ettercap and some spiders, with a couple of webbed chambers in a cave below. What's the fascination with Ettercaps? I don't get the love for them.
Sleep of Ages
by Eric L. Boyd
AD&D
Levels 5-8
This is it kids, the poster child for bad Dungeon adventures. If you want to know what the evil bad guy had for lunch on one random day thirty years earlier and the impact it had on their digestive system, then this is the adventure for you. I'm sure that kind of detail is in this somewhere … because EVERYTHING else is also in here. Nine pages of text before the dungeon. Three pages of triple column text as background BEFORE the information for the dungeon master is presented. I'm also happy to report that there is a great abundance of overly-long and complicated names of places and people … Oh Boy! "[Long text describing something] … but all that remains of the massacre are a few small chunks of stone." Jesus H Fucking Christ. Really? Seriously? Lots of gimps here: lots of bodies, but speak with dead doesn't work and all of their valuables were hidden elsewhere, blah blah blah, experience the STORY and … [bleech]. Oops, sorry, threw up in my mouth and accidentally typed it out while doing so. But at least we have column long intricate room descriptions to look forward to … right? This goes in my Hall of Fame of bad adventures.