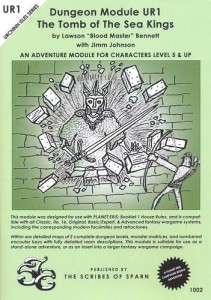 by Lawson Bennett & Jimm Johnson
Scribes of Sparn
D&D
Levels 5+
After a successful plunder of the Urchinn Isles, a well deserved night of drinking is in order, during such you trade stories with a local "antique dealer" who tells of a well-financed acquaintance who is organizing an archeological dig. The "antique dealer" goes on to explain that his friend has unearthed a forgotten portal which accesses the island tomb of the ancient Sea Kings (guarded by legendary beasts, of course). The treasures are said to be plentiful and there is rumor that a peculiar magic sword was swept up from the depths to find its resting place in the halls of Blackstone Island.
Oh, where to begin? Vampire Queen? Tegal? T&T adventures? This adventure harkens back to the early days when the dungeon was challenge to be overcome by the players using their characters. Juvenile. Amateurish. And packing more imagination than a thousand modern products. Content is king and I'll take a dozen Sea Kings before I resort to a lame trope-based generic fantasy suck-fest that passes for mainstream adventures. The encounters are held together on tenuously, things show up for no discernable reason (other than 'it would be fun to have …'?) and you have to stretch to make it work. IE: It's a funhouse. And it's GLORIOUS.
It starts with a lame "archeologist has a mission for you" nonsense. The barest and thinnest of hooks. You are taken to the dungeon via teleportation, a common theme in these early-style dungeons. It then vaults itself into funhouse majesty. Trapps doors shoot black seagulls at you, cursing with a Deck of Many Thing-type table. The traps, some of them anyway, have warnings. People with holes burned in their chests in front of doors mean "Look Out!" I LOVE this type of stuff. "Never give the suckers an even break" is NOT a tenant of the old school. Instead you show them what will happen. You telegraph it. If the players are even casually interested they will notice the clue. And then they'll trip it anyway. It's WONDERFUL in actual play. Not enough adventures tempt the players. The players are where its at. It's where the action is. it's where the zany plans are.
There's this weird mix of the sublime and the amateurish in this. Black seagulll curses? Great! But then there are plaques that if you remove from the walls they summon ghosts. Throwing in a couple of words about "howling Indiana Jones style winds as the plaques are removed" would have added so much more to what is otherwise a pretty bland description of the encounter room/area. This sort of thing is present in almost all of the rooms. There's some terrifically wonderful content. If it's rooted in anything then it's closer to the 'classics' than it is modern fantasy trope. But they fall a little flat in the … evocative? category. Just a few extra choice adjectives/adverbs would have really brought the environment to life. Still, the content is fresh enough … The tricks and traps are strong in this one, with almost every room a puzzle if you take quite the broad definition of the phrase.
The treasure is a mixed bag. The magic items are nice and non-standard. A candle that burns for 1,000 years. Sweet! A gypsy locket that protects (to some random extent) against life draining. Nice! Magic swords with extra effects. This is all in line with the magic items from the earliest versions of the game, before they became codified, lame, and boring. There's a lack of mundane treasure, or rather perhaps interesting mundane treasure. There's a lot of "roll for treasure type H" or "roll for type A" present. I'm a pretty big opponent to that type of thing. It's supposed to be aplay aid. How about aiding play then?
How about it. The center page it a pull out. It has the map and a listing of all of the monster stats for the two levels. Wonder of wonders! A fucking product that helps the DM run the adventure at the table! A map for your screen? Quick reference for monster stats? Holy Cow! The designer may have actually ran a game at the table before! Now, they do refer you external wandering monster tables … which could have easily been included on the map/stat list …
This is one of the best funhouse adventures I've seen. It's also one of the more imaginative products that I've seen. I'm sure the two go hand in hand. This older style is wonderfully imaginative and I'm in love with it. It requires a suspension of disbelief that seems to be frowned upon in today's environment. I don't know why. Why is your pointy-eared elf shooting fireballs "better" than a red velvet "Do Not Enter" rope in a dungeon corridor? Somehow we lost the fun. Not the silly, but the fun. It got turned into drama and seriousness, all the while forgetting that the entire base was mud.
A challenge for the PLAYERS awaits! Enter The Tomb of the Sea Kings if you dare!
This is available on DriveThru.
https://www.drivethrurpg.com/product/209026/UR1-The-Tomb-of-the-Sea-Kings?affiliate_id=1892600