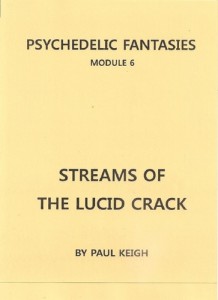 by Paul Keigh
Psychedelic Fantasies
D&D
Mid-levels?
Uh … so …
Go read the review of Dreams of the Lurid Sac. https://tenfootpole.org/ironspike/?p=2633
Got it? Ok. This is a less procedural and more accessible version of Lurid Sac. IE: Paul Keigh has sold out. No, no no. Just kidding. He has, perhaps, slowed down his opiate use just a tad, and as a result this adventure is more approachable than Lurid. It presents the same kind of alien environment that Lurid did, albeit in a different form. Both are populated with a host of strange creatures and have large random portions to them. Lucid Crack is less procedural/randomly generated than Lurid Crack is. This is Spire of Iron & Crystal turned up to 12. Just as with the other PF adventures, this could be dropped into almost any type of RPG or campaign and would fit well. Strange, isn't it? You have to go back to the roots of D&D and by throwing away all convention you finally get to true Universal RPG Supplement products that don't suck.
There's this underground complex. The rooms are all made up of 3-d diamond-like "cells", with an exit on each of the 3 walls. The floor is the same depth below the door as the ceiling is above each. IE: the "doors" are way above the floor. All of the surfaces are covered in cryptic writing. There's a scree slopes that leads down into the complex. There's a huge gaping wound of ruined earth running through it. Uh … there's a great, and growing, deep deep pit in the middle of the complex. Most rooms have some magma wells in the bottom and those have steam in them. THe various rooms have "gardens" in some of them. There are a dozen types of weird-ass creatures roaming about, doing various things. I'm sure I've left out about two dozen other things. Summary: It's a weird ass place that's been impacted by by several events which are probably not related to each other. I'd like to note that this fact (several events/history) is one of the defining features of several great adventures. From Many Gates of the Gann, to Spawning Grounds of the Crab-men, and maybe even Barrier Peaks, the Bowman map/adventure creation tutorial, and How to Host a Dungeon, the history of place and the impacts of time are some of the defining characteristics of these great adventure locales.
Remember that Lurid Sac review I made you read? For our purposes today you can consider everything in it as also applying to this adventure. Yeah, it's a cop-out for me to say that. But it also allows me to touch on the differences without having to go explain Lurid Sac all over again. I was barely able to do that the first time. In short: this is a hardcore location-based adventure, ala those awesome MERP supplements from long-ago, but describing an alien environment. The players, through their exploration add the adventure.
Lucid Crack is quite a bit more approachable than Lurid Sac. The transition from a biological environment to a cave-like environment somehow make the comprehension of the product easier. Perhaps because the biological component is removed or because we're used to dealing with caves & dungeons. Don't get me wrong, this is a VERY non-traditional cave/dungeon and has more in common with the biological Lurid Sac than it ever would any cave/dungeon, but the cementing of the ideas through a more traditional environment translates into something a little easier to comprehend.
Two other things also contribute to this more approachable nature. There's a little more purpose in this adventure, it seems. There are some creatures hanging out inside that have a direction relationship to the environment, the purpose behind it. This adds something to the adventure, but describing what is hard. A purpose perhaps? While Lurid Sac simply felt like it existed, this place feels a little more … purpose-driven. That extra little bit, like the non-organic walls, allows you something to hang your hat on and ground you in what's to come. It's a bit like someone pushing you at the top of the sledding hill: just a bit goes a long way. Similarly, the side-effect of the environment gives you a good hook. The rooms contains knowledge. By remaining in them you can learn things. (Knowledge skills! Yeah!) But they also learn from the occupants. They encode the knowledge of those that visit. I'm sure you can see how this leads to adventure. Voldemort visits to learn some hidden knowledge and then the party shows up to learn things leaked from Voldie's head … and then you have to interact with the "owners" to figure out where (and even more to figure out there ARE owners!) and then you need to go do other things for them before they reveal the secrets, etc. It fits in almost any campaign. Again, just a little bit more to get the DM started leads to endless possibilities. These are the little bits of data that I'm always talking about wanting in an adventure. Just some throwaway comments, a couple of sentences, about the knowledge thing, leads you, the DM, to build and build and build on it. It's a jump-start. It's what every adventure should provide, time and time again, in it's pages.
I've got one suggestion for improvement, and it's related to the creatures. The various creatures in both Lucid and Lurid have names that are … almost random? When combined with the hard-core new creatures things can get a bit confusing. I'm pretty sure Psychadelic is committed to now/low art, to keep costs down, so relieving the issue with some line drawings seems out. Somehow clarifying the creature names and their relation to who they are and what they do needs to happen. What's a Waarfa? Or A Drevod? Or any of the other 10 or so similar random assortments of letters? How do you ties those letters back to what they do and what they look like? I think 1 creature type sticks out to me, and I'm still not sure I can describe it in any way other than its purpose. This is a problem.
Paul's adventures (Lurid & Lucid) are not the usual 0-work things. You need to read, think about, and plan and note-take a bit. I'm usually not very happy about that in an adventure. These are SO out there that they get a pass. Also, they cost $3. You won't invest $3 in some of the most unusual D&D content ever published? Really?
Churl.
(Is "Philistine" still acceptable to use?)
This is available on DriveThru.
https://www.drivethrurpg.com/product/124917/Streams-of-the-Lucid-Crack-Psychedelic-Fantasies-6?1892600