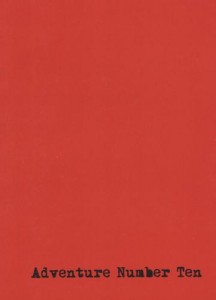 by James Edward Raggi, IV
Lamentations of the Flame Princess
Lamentations of the Flame Princess
Pretentious bullshit
You will die.
You will be afraid and you will be in pain.
Everything you do in life is but an effort to distract yourself from this inescapable truth.
There is only one way to foil Fate's cruel plan for you.
Choose the method yourself.
Make it happen.
Now.
Fucking Christ Raggi. This is what passes for product? "Hey y'all, check it out! I shit in this envelope! it's a pretty cool statement about the juxtaposition of contemporary RPG content over form. I call it 'Poopy.' Who wants to buy it for 10 euro?" Ok, that's not Raggi. That was me after seeing an Ai Weiwei exhibit. Still, there's a lot in common between the two.
The back of the book says something like "Don't review this. Don't discuss it online. Don't mail me what happened. It is poison I am expelling from my system." Uh-huh. Oh oh oh, and it goes on to say something about how life is pain and we're all just waiting to die and how we all look down on those who CHOOSE to take control and end their lives and how Raggi was a cutter. Seriously man? Look dude, just go buy a sports car and a copy of Epicurus the Sage.
There are sixty-ish vignettes, one per page, that make up the "adventure." Each one is a kind of little vignette that the party will go through. There is no "winning" (remember, "life is pain") instead there is only surviving and ending the vignette so you can go on to the next one. How about a sample of this brilliance? A kid runs up the players and says his mom is going in to labor. If the players ignore him then the woman and neonate die and the father & sons (currently away from home) are experienced retired soldiers who hunt the party down. If they help the woman then she & baby still die (stillborn) and the father & sons still hunt the party down, but are just villagers. If they save the mother the baby still dies and the villagers hunt the party down, thinking that the healing they used on the mother sucked the life out of the baby. Page after page after page of this shit. All of the groups money is actually copper pieces. Their henchman beats and rapes a young woman at an inn, is killed, and the party held responsible. It's just scenario after scenario in which the fix is in.
It's hard to figure out what is really going on here. A few of the vignettes are interesting (a woman shows up with a small baby claiming its one of the characters. It happens in every village. The character doesn't recall the tryst. No one is lying.) but its just a lie. The core problem with this is that it's a misrepresentation of what it is. It's not an adventure. I'd argue it's not a supplement. It's some kind of a work of fiction or something. Just nonsense put on a page. The present King of France is bald.
Listen, the LotFP rules are pretty nice. Nice class differentiation. Nice magic system. Nice encumbrance system. I liked Stargazer and Death Frost Doom. How about putting out something decent for a change instead of the pretentious performance art crap you're releasing? You know, you need to do that occasionally in order to keep the suckers biting. This is the worst kind of dreck. Some kind of Forge nonsense where we all explore our feelings around being molested as children that is being marketed as an adventure. Bullshit.
I'm gonna go watch Empire of the Sun videos now. They are four orders of magnitude more D&D than this shit pile.