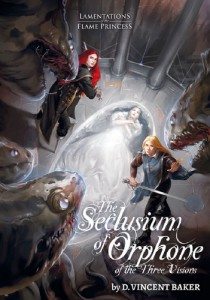 by Vincent Baker
Lamentations of the Flame Princess
LotFP
Level: Pretension
se•clu•si•um si-'klü-z?- m
n. pl. se•clu•sia -z?-
1. A place to which a wizard withdraws from the world to pursue mastery.
2. A place of magic and plasms and grotesques and horrors and treasures and doorways to other worlds.
3. A place which, when abandoned by the wizard but with its treasures and dangers remaining more or less intact, is a terrible and antic catastrophe in process.
4. A place which makes for marvelous location-based adventures.
This waste of time details three wizard lairs and has a bunch of tables to help you generate your own. Surprisingly, it's both a preachy/pretentious design by Baker and another mostly useless publication from LotFP. Wait, no, I didn't mean "surprisingly". I meant "predictably."
I don't even know where to start with this. I guess the tables. The back half of the book is a list of tables to help you generate a wizards lair. One table, title "How did the wizard appear?" let's you determine his eyes. Calm eyes. Vivid eyes. Dull eyes. and sixteen other choices. When you tire of that you can move on to their face. Wrinkled face. Stern face. Plain face. And fifteen other choices. Seriously? I paid for this? WHAT. THE. FUCK. I don't know about this. It's clearly an idea generator, or meant to be one. You flip through the pages and pick out a couple of tables and roll on them, get some choices, and then, hopefully, that spark some imagination in you to help you create the wizards lair. It doesn't work for me. Telling me there's an unusual fountain, or tree, or an iron post just doesn't do it for me. You roll and roll and roll and generate ideas and then, hopefully, you can put it all together in your head and something sparks and you can then have your Eureka! moment and go create a map and populate it with dozens of rooms that you now have an idea for. I doubt it. It just doesn't click that way for me in these tables. The choices are, somehow, too mundane. This isn't the weirdness of the Random & Esoteric Creature Generator, or the immensely imaginative lists of the Dungeon Dozen. This is more like the endless lists in the back of the 1E DMG. "Pile of dust in the corner" or "wizards employees rooms are all spartan and bare." There are dozens of sites that will generate random idea lists for a DM. You can search Dungeon Dozen with the following google: site:roll1d12.blogspot.com [YOURSEARCHHERE] What's the point of this? "The people nearby are afraid of the wizards lair", "the people nearby are distrustful of the wizards lair" Come on. I'm paying for that?The whole thing is laid out weird and hard to use and find things in.
The adventures, or, rather, wizards seclusiums, are another let down. It's just a series of ideas, and not fully formed ideas at that. "The kitchens are: (roll on a table) 1. Tiny & Cramped. 2. Plain and Functional" That's what you're paying for. It goes on and on like that, table after table that describes nothing meaningful. There's no adventure here, just some bizarre mimicry of what someone thinks D&D is after playing a game of telephone. It's like Baker heard that random tables defined D&D and so he delivered some … only his tables miss the point of D&D. He tries to build up some bizarro-world version of D&D that isn't bizarre at all, in spire of the central premise of the title being that wizards lairs are bizarre and weird and full of the fantastic. Here, here's a genius table from the Three Visions lair: "The staffs personal rooms are: 1. Tiny & cramped. 2. pare & meager. 3. Plain & functional." Seriously? That's supposed to generate adventure? That's why a guy drove 22 minutes to get to my house? Three non-choices, none of which generate anything close to an idea, all of which are essentially the same choice ("boring") and NONE of which is gameable. Thats fucking absurd. In comparison, here's a random entry off of wizards "Eldritch Side-Kicks" table from Dungeon Dozen: "Dragon's attendant/bodyguard: bright young troll ruthlessly conditioned to respond instantly and decisively to widely varied sets of stimuli." That's interesting. That's gameable. That generate ideas. The sample worksheet that comprises the three wizards lairs does none of that. It's laid out badly, its almost indecipherable in its description of the lairs and provides little gameable content.
Like a lot of recent LotFP titles it sells itself as this great thing but what it delivers is something mediocre at best. Jim: Time to deliver something that doesn't suck. I HATE feeling like I've been cheated. More than anything other product in recent memory, I feel like this product has cheated me. Maybe it can generate some ideas. MAYBE. A BIG maybe. But its not fucking worth it.
This is available on DriveThru.
https://www.drivethrurpg.com/product/117258/The-Seclusium-of-Orphone-of-the-Three-Visions?affiliate_id=1892600