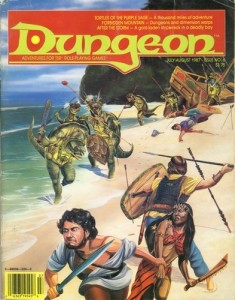 There's a whole lot of 'set things up to screw the party over' stuff in this issue. L.A.M.E. The wilderness crawl the end is ok, as if the concept of the non-eucledian dungeon … that's well worth stealing to do something of your own with.
After the Storm
by Nick Kopsiniss & Patrick Goshtigian
AD&D
Levels 8-10
This is a weird little adventure in a bay after a big storm. The party hears rumors about stuff washing up on shore that indicates a famous pirate and his ship have wrecked on some well-known reefs in the bay. Rumors of treasure abound! After a lot of overwrought introduction there's a nice little rumor table and a pretty brutal wandering monster table. Suffice it to say that leaving the rowboat is a REALLY bad idea … but it's nice that the monsters respect the personal space of people in a boat and never attack folks in one. Weird. The bay/cove has a number of pretty standard encounters: giant octopus, giant oyster, a wreck, and the pirate ship. There are, of course, undead pirates in the wreck and the thing is stuffed FULL of magic weapons. There's a decent little were-shark encounter that kind of surrounds and touches many parts of the adventure, which is nice. There's also an old hermit that causes some trouble through false rumors, which is nice also. Otherwise .. pretty standard under the sea adventure with some nice wrapping that surrounds it.
White Death
by Randy Maxwell
AD&D
Levels 4-7
This is a short little four encounter dragons lair encounter with a short wilderness adventure that feels tacked on after the fact. A town council hires the party to deal with a white dragon. Not unheard of, if I think of the party as a group of german mercenaries during one of the big civil wars. They make their living off of fur traders, etc, and that's not happening because of the dragon. The journey is maybe 100 miles from the town to the dragons lair, with about 6 standard arctic wandering monsters in a table. The lair is a single room with a dragon on a big pile of gold. A dead dragon. The real dragon is hiding on a ledge and jumps the party. End of adventure. Five pages is short, but it should be A LOT shorter for what you are getting.
Bristanam's Cairn
by John Nephew
AD&D
Levels 8-12
A hermit and a cairn nearby on a stormy night. The hermit tries to rip down the cairn every night because he goes insane and then he builds it back every day when sane. Inside is a death knight. The smartest thing to do is to do just the hermit. Problem Solved! The BULLSHIT death knight has an Anything Sword that allows it to be any magical sword, from round to round. It has three charges. IE: Just enough to fuck the party over and keep them from having it. Lame. Any adventure in which someone wears an amulet guarantees it's proof against detection. PC's should kill all amulet wearers on sight, always, in every adventure they ever undertake.
House of the Brothers
by Mark S. Shipley
AD&D
Levels 6-10
The party stumbles over a cave with a couple of giant brothers in it. They are always aware. They sniff out rangers first. They are given magic items and as many set ups as possible to push everything possible in their favor. Their is D&D in "players vs. DM mode" which is completely lame D&D. There is some good treasure description here in the eight rooms of their lair. Enameled mail and the like. It's mixed in with boring mundane treasure but the adventure does have a nod here and there to more evocative descriptions.
Forbidden Mountain
by Larry Church
AD&
Levels 4-7
This is an adventure in a non-eucledian geometry dungeon. A lot of words go in to describing how this works and the effects on game play. That part is pretty cool. The dungeon has 12 room interconnected with a fair number of hallways that should provide a decent adventure with the non-eucledian element. The problem is that the room encounters proper are boring as hell. The monsters have some surface flavor text them. "blue giant porcupines" and "yellow-and-blue owlbears" but the creatures are nothing more than some color changes. There's nothing really going on in the rooms at all. There's a box with "do not open" on it and a "void room" similar to a sphere on annihilation. There's also a non-magic sword that can be made magical through the intervention of the gods. Those last two elements are relatively cool, as is the non-eucleudian part. The rest is devoid of interesting content.
Tortles of the Purple Sage – Part 1
by Merle & Jackie Rasmussen
D&D
Levels 4-10
This is a BIG wilderness journey through the Known World, around the Savage Coast area. The party is hired to escort a group of Tortles (bipedal turtles) to their ancient spawning grounds in the north. It's VERY general but has 18 programmed encounters that can show up in various regions of the LARGE map. Rare flowers/spices with 3′ long dragonsflys. A thundering herd of animals on a plain … followed by a grass fire. Weird stuff on the beach. Weird falling stuff from the sky. (a rain of flesh & blood from the sky , one of the options, is cool!) It might be thought of as 'Isle of Dread, but on land." It's going to take a decent amount of DM work but this could serve as decent mini-campaign for your game if you put the work in to expand the ruined cities, NPC's, and so on.