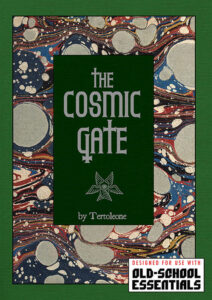 By Gustavo Tertoleone
Black Dog
OSE
Level ... 4?
a secluded village in the mountains holds the entrance to an old complex of rooms where secrets from the holy church lie dormant. Getting in there can be a difficult task, but the occurrences in the village above it can turn the task deadly impossible.
This 52 page adventure, with no level range provided, describes a dungeon with thirteen rooms. More LotFP than OSE, it is STUFFED full of treasure. Some decent Indiana Jones puzzles and a smattering of monsters lie in WAYYYYYYYYY too much text. Another skip.
Ok, so, you got this village. 44 normal villagers live in it. They have a church with a dome. Inside the dome is art work a thousand gp. Oh, and the dome is covered in gold worth 100,000gp. 100k. Fortunately, for the party, the villagers are mostly infected with astral larvae, so, go ahead and kill them all and take all that gold. I guess the villagers are there to keep the party from just doing whatever they want, but, really, only 44 humans? I mean, parties routinely slaughter kobolds more than that in number. Once you get in to the church catacombs you'll find them STUFFED with artifacts. And I mean STUFFED. Dozens of unique items. THis thing goes above and beyond in being a monty haul … a word I have not seen used in quite some time.
The village is supposed to be a part of the adventure, but, other than the priest name and "44 villagers" we are getting no information at all, except a How Is This Villager Crazy table. They hunt the party if they think they know the villagers are infected or they see the party trying to dig out the catacombs, which take six days, so, you can expect a villager hunt. There are also some mushrooms growing on cow dung that can give the party ESP powers, to help track down the larvae infested villagers, I guess. It's a nice touch and would add a lot … IF more were done to bring this villager to life. Like, a name or two maybe? As is there's nothing. N O T H I N G.
And that's a problem. 53 digest pages for thirteen rooms. And how can this be? Not because of the Kwisatz Haderach, that's for sure. No, it is room descriptions that take two pages. And page after page of artifact descriptions. It's the usual culprits. A LOT of backstory for things in rooms. We get the full history of the bat-man thing that lives in room one. That contributes nothing to the adventure. And this happens time and again, with room entries, in simple paragraph format, going on and on with backstory that does not contribute to play at the table. This combines to create the usual mess that you have to fucking dig through to find information. And, that includes trying to figure out which rooms have creatures in them. You have to really dig to figure out if there's something in the room thats going to eat the party. No Bueno. "A long time ago, a bat, attracted by the smell …"
Read-aloud, while sometimes good, can tend to be long. And it's in italics. And it's in some weird fucking flourish fucking font. WHich means you get to struggle through the fucking shit. It's hard as fuck to read. Don't fucking do that! Try to keep the read-aloud short AND DON"T USE FUCKING WEIRD FONTS! I don't really give a flying fuck if this is a coffee table book. I'm trying to use it at the fucking table and I can't do that if I'm struggling to read the fucking text that I'm supposed to be fucking using.
And, while a minor point, there is a fundamental lack of understanding about randomness. The old wound. "Roll to find what artifact the party finds and if its magical." That's not how we do things. That's not the point of randomness. You, designer, roll, on your own. Then place it in the text. I note that this would ALSO cut down on the amount of fucking pages and text to dig through. If you want to make a cess pit with ALL of the treasure in it, and roll to find which treasure, over time, as the party searches, that's fine. But, in that case, the treasure actually exists. You're just rolling to find the order (and how many wanderers show up in the mean time …) But NOT to figure out if a room HAS a treasure.
So, long, long LONG entries. Hard to read-read-aloud (which, generally, is not bad in being evocative in this adventure) and a lack of any form of formatting at all to make things easier on the DM. Padded to all fuck and back with a conversational style. Some decent vibes here, with Indiana Jones style puzzles (not traps) and a nice monster selection.
Also, fucking christ, entities form outer space in an adventure? Europe in an area between SPain and France? The Church? This seems like a Lamentations adventure. Especially since A Fungus From Outer Space is now the most overused trope in fantasy gaming thanks to LotFP.
This is $8 at DriveThru. The preview is six pages. You get to see a bunch of blank pages and table of contents. Shitty preview that gives you no idea, as a DM, of what to expect. And, of course, no fucking level range anywhere.
https://www.drivethrurpg.com/product/446202/The-Cosmic-Gate?1892600