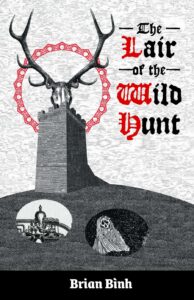 By Brian Binh
Pufferfish
B/X
Levels 4-6
Vahden is a sleepy, little sheep-ranching village in a valley on a market road. A wizard's tower overlooks the valley, but the reclusive wizard, Chageth, hasn't been seen in years. In recent nights, livestock and travelers have been found burned to death. Witnesses have seen a "huge, horned hunter driving a pack of fiery hounds" across the valley at night.
This sixteen page adventures features a small tower/fort with dungeon with about thirteen rooms. The descriptions are both dull and confusing, especially for a site of this size. A case of trying too hard, perhaps?
We;ve got a small tower thing on a hill with about six rooms in it. There are two separate dungeon areas connected, one with three rooms and another with about six more. There's a nice side-profile map, and, for a small hill fort/tower thing, it's got some interesting features that let it be more than just a simple ten room flat dungeon map. I can't tell you how over I am of simple flat ten room dungeon maps.
The tower is infested with undead fire blobs, and has an ogre wizard inside that is a kind of shaman undead hunter that is trying to get rid of them. There are a few encounters with the blobs till you reach the main dungeon levels, where the undead pick up dramatically. You get both the undead former wizard owner and the barrow mummy thing that the fort was built over. So, stabbing undead, maybe talking to to ogre, and fucking with a machine inside (thats making undead flaming blob things) is the interactivity here. That's kind of low, even for an adventure of this size.
The major malfunction here is in two parts: the descriptions and the … formatting? Layout? The descriptions are essentially non-existent. The False Crypt room gets "The Malevolence (viscous, vicious, grey goo): This mass of hate puppets an empty Sarcophagus and three skeletal warriors in its sticky strands of viscous ooze." While this is not the worst description, I want you to notice the lack of scene setting. There's nothing at all about the crypt. AT ALL. And this is par for the course here. While there's a kind of hybrid OSE format going on (bolded keywords), the choices for what to describe aren't done real well and there's no real overview of the room. Further, that description would probably work better if it started off like "Viscous vicious grey goo (the Malevolence …" Starting with what you see and noting the creature in bold in parens instead. And, ug, don't get me started on the creature names. The Malevolence. Dark Thoughts. Raging Dreams. Foul Hopes. I'm not hating too much on the names, but, rather, how they are used in the adventure. While going through the text you can't tell whats flavour text and whats a creature name and whats something that is expanded on further. Is foul hopes a creature? A vibe? Something else? And the formatting, with the bolding choices and sidebars, while it is trying to be helpful, just gets in the way, making it harder to slog through and find things instead of making it easier, cognitively, on the DM.
I really, really, hate the lack of descriptions in this one. And when there are descriptions we get things like "Barrels (many shattered) Pool of ooze (grey seething, knee deep)" That's not enough. The formatting might work if the vibe were set better with the word choices, but, also, why not just describe the room? Give it an actual description that sets the mood.
So, does it make me angry and feel ripped off? No. It makes me sad. Just another lost dream of a dreamer. The designer made an effort, clearly. They tried, but went a little overboard on the formatting and needed to focus more on the room and creatures, giving them a vibe, and then working a little more on the interactivity. Thirteen rooms in sixteen pages. ?
This is $5 at DriveThru. The preview is BROOOOOOKKKEEEENNNNNNN!!!!
https://www.drivethrurpg.com/product/450912/Lair-of-the-Wild-Hunt?1892600