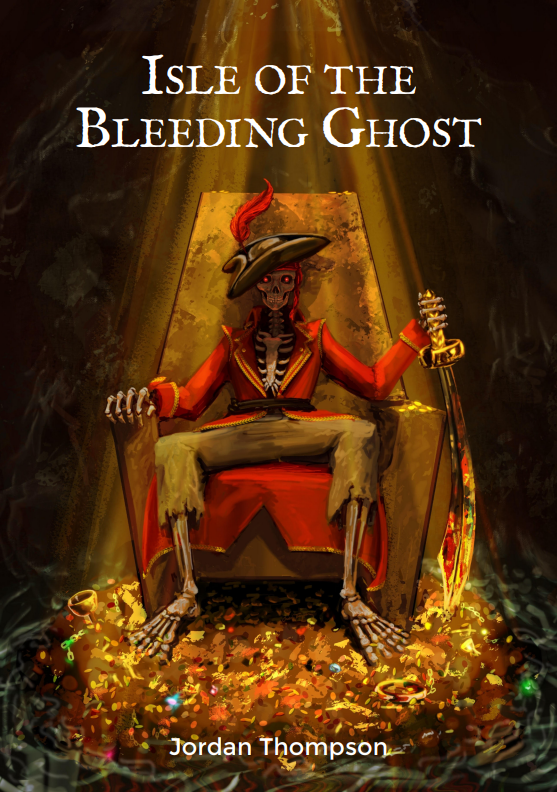 By Jordan Thompson
Self Published
Shadowdark
Level 1
Years ago the infamous pirate Captain Marrow led a campaign of terror across the high seas. The Pirate Queen hid her plunder on a remote island before killing her own crew to preserve the secret. Only a single map of the island survives to this day, with clues pointing to a treasure hoard within Captain Marrow's Grotto. Within the caves, would be thieves are met with perilous traps and restless undead
This eight page adventure details a seave cave with seventeen rooms. Mermen, crabs, and skeleton pirates cavort about while the party blunders through one simplistic encounter after another. If the encounters made sense, then the good writing and formatting would be a credit. As is though, they are wasted.
Looks like a certain someone has been riding Piratesof Caribbean. Again. All that treasure on the cover photo? "Trinkets, gemstones,and doubloons totaling 350 gp." Enjoy your slog, suckers! But, seriously, this thing is written well, its just nonsensical.
Map is fine for it's size. Lots of varied terrain, and an underground river always adds a little flair to the game. The room descriptions are a sentence or two, up top, followed by a couple of bullets with some bolding. It's a clean and easy to read format, maybe it uses whitespace a little too liberally, but, otherwise, it helps the DM locate information well. Which is what the fucking formatting should be doing. It's the entire reason for formatting.
The descriptions sprinkle adjectives and adverbs about in a way that adds colour without droning on and on. A rock stickup out of the water is "littered" with treasure. Crabs skitter. Pools teem with sea bass. There are piles of polished bones. There's is the occasional miss here and there, and the word giant, and a few other boring descriptors, pop up a little too much, but, dude knows they SHOULD be doing. Which is more than most people can say. This extends in to the wanderers, with skeletons running cackling in to rooms, or mermen dragging the corpse of a castaway away, in to the briney deep. Perfect little descriptions, just a few extra words, and they help bring the wanderer to life. Two Teeth Tim (human, optimistic) is an NPC, a castaway, you can meet in the dungeon. As well as One Leg Charlie, the careless halfling. Great little descriptions. You know how to run these dudes. They spring to life in your mind. They are memorable. And the designer does it all in just a couple of fucking words. Why is that concept to fucking hard to grasp for other designers?
Ok, so, decent formatting and descriptions. No real serious complaints. So how was the play?
I think not.
It's level one. You find a treasure map to the pirate treasure. There are castaways. How did you, at level one, get to the island with the dungeon on it, that the castaways can't get away from? Now, I understand, you think I'm nitpicking here. But, I want to to consider that this is not in isolation. This sort of design inconsistency, the lack of thinking things through and how they integrate, is present throughout the adventure. It's almost like this adventure was never run, or the designer has not run it in any serious way. That issue would come up immediately, right? Room two is skeletons sitting at a dining room table furnished with the fetid remains of a feast. They animate if the table is disturbed. Room three is a kitchen with two HUMAN cooks. What?! They are making the food for the dining room? Why? No clue. Fetid food on the dining table? Why? If there are cooks that make it regularly? The cooks are hungry? Why? Why are they there? Theres no mention of human slaves anywhere. It's just nonsensical. "I guess this is what is happening now." This sort of disconnected stuff is all over the place.
How many HD is a giant octopus? They are bad as sin OSR, right? There's on in this adventure. And one or two traps that would be quite appropriate in a Grimtooth book. WHich I'm fine with, but a little out of place these days. Hmmm, the final pirate queen boss ghost screams blood at you. Thats nice. Otherwise, enjoy stabbing shit. I guess you can talk to the various castaways you meet. To little effect. They are essentially just trivia. So … stabby stab stab to your hearts content … there is little in the way of interactivity beyond this. And, continueing a long tradition on this blog, there is no Isle. Just a dungeon with an isle implied.
If the designer can figure out how actual D&D gameplay works, the meta, then there could be a future here.