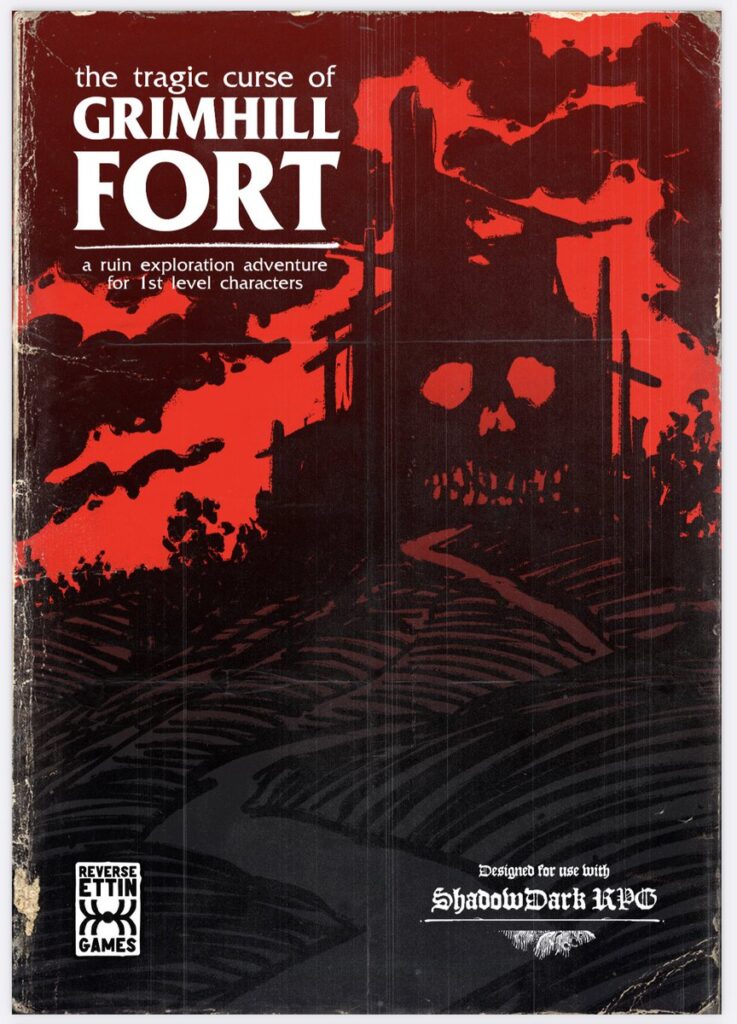 Aleksandar Kostic 
Reverse Ettin Games
Shadowdark
Level 1
A terrible storm is brewing – you must find sheltef rom this accursed weather, and quickly! Veldmark, the nearest town, is over ten leagues away, so your only choice is the ruined fort on a nearby hill. As you approach, a faint cry echoes from deep within the decrepit structure. The hair on the back of your neck stands up in warning, but perhaps it was just the wind. Perhaps. Gathering up your courage, you enter the halls of the Grimhill fort.
This eight page adventure features a small fort with twelve rooms. Surprisingly decent for such a small adventure, with a touch of specificity that is rare to see. Perhaps one day the designer will do something good?
Yeah yeah, I know I know. I said no more Shadowdark. But, then, someone told me I was doing it wrong. She told me that the good stuff was on itch and DriveThru was a cesspool. The back half of that statement is certainly true, so, we're testing out the front half. That means three SHadowdark reviews incoming, all recommended to me personally. If this is true then we've got problems. I don't know where to look other than DriveThru for the cultural adventure zeitgeist. Plus, I mean, I make about $6.50 a month in referrals from DriveThru. In another six months or so I can go out drinking! (DId I mention my Patreon? I promise to spend it all on lottery tickets and drinking from brown paper bags under bridges. https://www.patreon.com/join/tenfootpole?)
This looks like a contest entry, it being limited to eight pages. Of which the designer decided that 3.5 should be useless shit like a cover, credits page, and half a page of backstory on a dead dudes body. And while I'm on a roll about density, let me cover the full page map that only manages to squeeze in twelve rooms. Yes, it's isometric. Great. How about trying to make a real location next time, with a few rooms in it? And, the intro states you're seeking shelter because you're ten leagues away from the nearest place to sleep? I think not. EMpty space does not exist. I don't know, maybe it's the local lords hunting range or something. Otherwise, someone, or twelve, is living there.
And, that will be, very nearly, the last bad things I say about this one. It is surprisingly decent.
The first words of the adventure are: "A: Main Entrance" with three bullets that say "• Wooden signpost that says "You are not welcome here!".• A gust of wind knocks a few branches and pebbles from the ruined walls above.• Sturdy oaken door, slightly ajar, squeaks loudly if not opened with caution, DC 9." There's some newlines in there so it reads easier, but, still, this is a very pleasant surprise! On two fronts! First, the fucking thing starts the adventure keys. No fucking around with all the usual padding that plagues adventures these days. "How to play the game" or "How to read a fucking stat block" or "ten pages of bullshit about a generic town." Oh, no. Just the cover page, the blurb page, a map, and then the rooms keys. Noice! But, less meta and more pragmatically for play, check out that description! A nice wood sign. A gust of wind to add some drama. A squeaky door to reenforce it. I understand these are simple things, but, they are specific and therefore evocative. Its starting us off with a vibe.
This continues through all of the room keys. "WIND HOWLS through cracks in the stone walls" Absolutely it does! A chandelier hangs from a beam, with pigeons having built a nest in it. Yupyup! I maybe would have made them cooing pigeons, or ruffling pigeons, but, whatever. There's more. A bloated corpse floating in water, full of leeches and flesh-eating snails. Groovy! And, then, when we get to a creature, some bandits in this case, we get "Two nasty-looking ruffians are yelling at each other, arguing, while the third one enjoys the show." That a pretty short sentence, but sets up the room well. Why the fuck can't more adventures do this? One sentence for a description and one sentence to add some action to the static description. Boom goes the dynamite!
There are misses here. More than a few. In one room we barrels of "stolen good, worth 200gp but they are heavy" Yeah, sure, the heavy part is good. But "barrels of oats" is as short as stolen goods is and more evocative. BE SPECIFIC! And, there are some wolves that attack anyone carrying a torch. Seriously? Isn't that the opposite of animal behavior? I guess because the bandits abuse them? And no order of battle for the bandits? Pfffft.
This is not a terrible adventure. Especially, when it comes to Shadowdark. It doesn't feel like some ripoff thing published for a cash grab. The designer needs to stop fucking around with gimmicks though. Make a real dungeon/location. Stick in more interactivity than just stabbing shit and opening boxes. The Holy Blade: An ornate blade mounted on a jeweled iron handle" is boring. Better than Sword +1, but describe why its ornate and what/where that jewel is. Hellfire this is not. Do better. But, also, nice job not making a total shit-fest!
This is Pay What You Want at itch, with a suggest donation of $2./
https://reverse-ettin-games.itch.io/the-tragic-curse-of-grimhill-fort