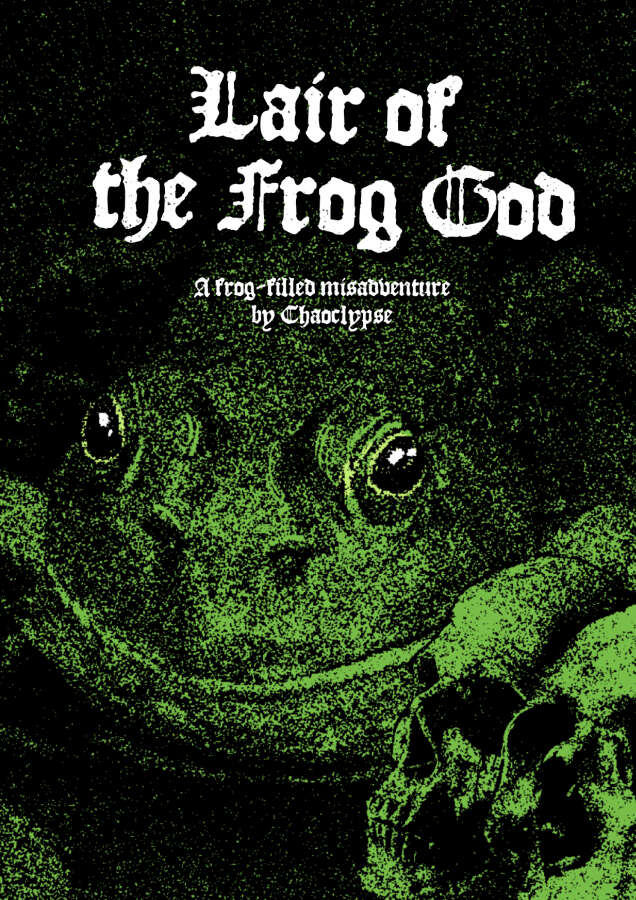 By Chaoclypse
Self Published
Generic/Cairn
Level ?
The Lair contains dark, eldritch secrets and way, way, too many frogs. Survive its horrors, and you may eventually be granted audience with the mythical Frog God…
This twelve page digest adventure features a dungeon with twelve rooms and six outdoor locations. And I'm using "locations" very loosely here. Because te designer seems to have forgotten the primary purpose of an adventure. IE: this is garbage.
"Special Thanks to Chris McDowall for his helpful posts and videos on adventure creation." Ought oh! I don't know shit about McDowall, I think?, but I do know that endorsement, of Chris, by this designers, is eyebrow raising, after reviewing this adventure.
Because tis Crap. Let us look at the hook. It is, of course, a d6 table. Because the designer does not understand randomness and its purpose in an adventure. Anyway, our hooks are "You love frogs." or "You hate frogs." or "Rumors of treasure." and so it goes. Yes, I know, we don't need hooks. But, when offered, we do expect more than this, correct? No? We've given up all hope of anything and everything? Nothing makes sense anymore? Everything is meaningless, now, in 2023. Time to talk to Ohm, my friend!
Ok, ok, let's look at the actual adventure. The one with a content warning for "Body horror, Hallucinogens, Cults". Let's see here. We've got a short wilderness crawl before getting to the frog lair. It's six locations, five of which you'll visit, so, essentially a linear wilderness. Oh. They all fit on one page. Oh. Let's see, location one is "The border between the outside world and the valley of the frogs. The journey starts perilously, and climbing down the hills is difficult." Oh, wait, that the adventure summary. The real location is … oh, no, that IS the location. That's location one. Good luck suckers! "Starts perilously" Fuck off man. Fuck right off. You know its the designers fucking job to define what "start perilously" means, right? Location 5, the Weel. "Well, well well. It's a well. Those foolish enough to climb inside find …" That's it. Nothing more. No table of whats inside even. This is utter and complete garbage. I'm fucking insulted, for the fucking hobby, by this "adventure."
THe reallair if twelve rooms on four pages. Each room gets lots of space for all of those fucking door/exit descriptions that some of you fuckwits insist is worthwhile. Bask ye heathens in the glow of "Passageway to an intersection leading to four and five." Yeah, verily, the best of all exit descriptions! Perhaps rivaled only by "Door to four!" Fuck you all.
Our room descriptions have a header, like "Tadpole nest" which is good. The descriptions come in bullets, ose style, which is a decent format. But, the designer doesn't know how to use them. "Pile of unusually large tadpoles" is not a description for the nest. It brings little to life. Oh, oh, the treasure room! "Piles of green jewels and treasure." I fucking hate my life. THis is what it has become. This shit.
You know, there was a chance here. The wandering table, perhaps the only thing in the adventure with ANY decent ideas, has this entry, which is by far the best "Large tadpoles carried in the arms of human-sized bipedal frog" Meh. But, nursing from a human that is carrying it? That would indeed be the body horror and culty shit we were promised? Cause there is no body horror and no cults, from the warning, in this adventure. At all.
This is $3 at DriveThru. The preview is six pages. You get to see that wilderness crawl. No, thats the crawl, not a summary of it.
https://www.drivethrurpg.com/product/439334/Lair-of-the-Frog-God?1892600