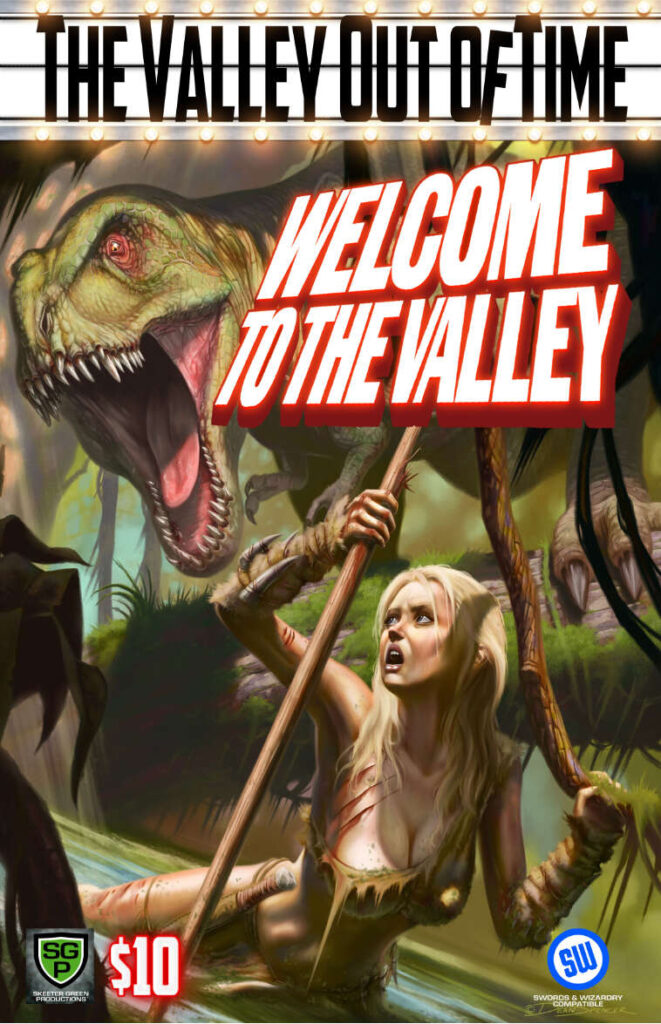 By Skeeter Green
Skeeter Green Productions
S&W
Level 1
The Valley Out of Time is a series of 'zine-sized adventures from SGP. This valley can be placed in any ongoing campaign, and is set in the "Neanderthal Period" of development. Huge monsters – both dinosaurs and otherwise – and devolved humanoids plague the area, and only the hardiest of adventurers will prevail! This series of adventures borrows heavily from classic dinosaur art, books, and movies; if you've ever seen a classic Frank Frazetta or Roy Krenkel painting, or read or watched The Land that Time Forgot, The Lost World, Journey to the Center of the Earth, One Million Years B.C., The Flintstones, any stop-motion film from Ray Harryhausen, etc., you're going to feel right at home.
This twenty page digest adventure has three encounters in it. With a fuck ton of 4HD and *HD combatants. At level one. In long form paragraph form. I wish I had this chutzpah.
Twenty pages. Three encounters. You see a tribe of cavemen. A giant monitor lizard attacks the cavemen. They move camp and a giant snake attacks. Welcome to $5 worth of value, folks!
The caveman thing takes, like four pages or so. See the cavemen. And then get a run down of what they do if you approach. Or attack them. They're a tribe of cavemen. That's what the four pages say. And they attack you if you are hostile. There's a staggering fucking leap of logic. There is NOTHING in those pages that any fuckwit on earth would not do if you said "tribe of cavemen." No little vignettes. No personalities. No curious kid. Just a fucking tribe of cavemen. In four pages.
And then a 8HD monitor lizard attacks. Then it's followed by eight 3 HD raptors. For "Four to six characters of level 1–3 should find the encounters presented herein challenging but manageable." Uh huh.
And, did I mention, that if you're injured you get to make a save or get jungle rot. No spell recovery and all rolls at a -1. At level one. And if y ou wear armor you move at 25% movement speed because you are sure to fail one of the eight heat exhaustion rolls you make a day. At level one.
The cavemen move camp after the lizard/raptor attack. On the way they get attacked by a 8HD snake. Oh, also, the cavemen are 4HD, so, good luck attacking them.
Three encounters. Not first level. Nothing to them beyond what "cavemen" would most commonly imply.
But, sure, it takes a lot of fucking words to get there. All laid out quite nicely in long paragraph form. Just read the entire thing. How many cavemen are at the party? Read all of the cavemen pages and then at the very bottom of it you'll be told. Yeah you! Maybe you wanna give me $5 for this review? It has just as much value as this adventure. But, hey, it pulled in $8k in its kickstarter and has 100% 5 star reviews!
Happy fucking New Year.
This is $5 at DriveThru. There's no preview.
https://www.drivethrurpg.com/product/391980/The-Valley-Out-of-Time–Welcome-to-the-Valley-SW?1892600