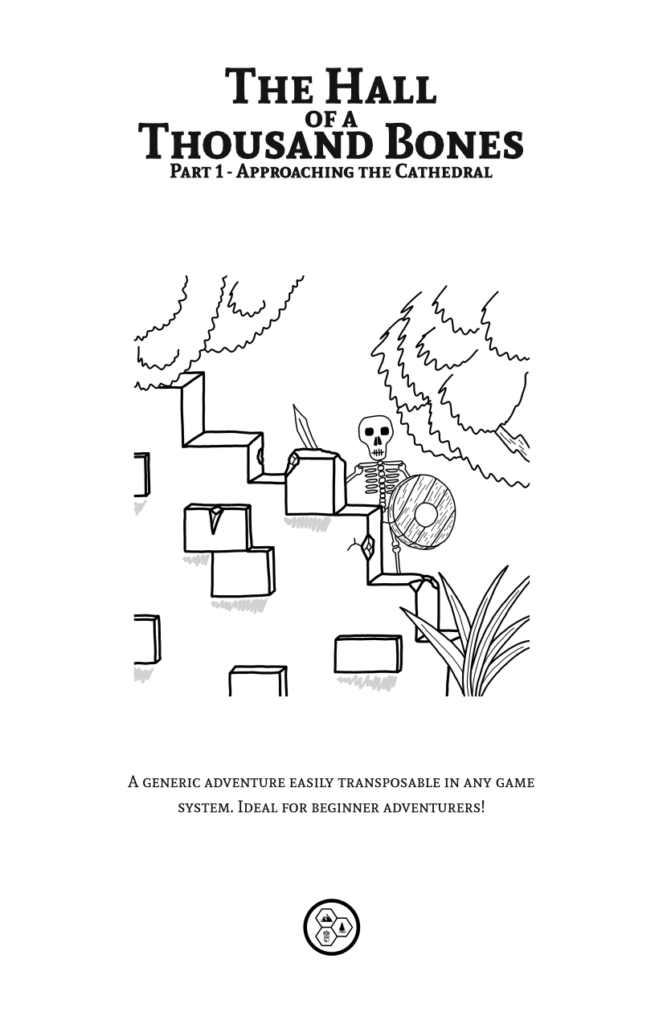 By Jean-Claude ''Raznag'' Tremblay
Le paysagiste de l'Imaginaire
OSR
Level 1
Will you be brave enough to explore the ruins of the Forgotten Cathedral to find Orane's Scepter? What mysteries are hidden in these places?
This twenty page adventure uses seven pages to present a single ruined room with seven encounters spaced around it. A page per encounter. Of nothing. I have a hard time believing this is actually a thing. But, I'm looking right at it.
So, a page per encounter, right? Must be pretty awesome!
No, of course not. What's the opposite of that? "Approaching, several skeletons can be seen prowling the ruins! These are equipped with shields and swords! They are very aggressive and will attack on sight!" Magnificence! They are all like that. Barely there minimalism. There is nothing to this that "1d6 skeletons" doesn't also accomplish. Oh, wait, no, I lied, there is more. A treasure list for them that only a Victorian could love! "Sword (1 each) Shield (1 each) 1 Helmet, 1 leather purse (empty) 1 Belt" I am dazzled. I am amazed.
The map is hyperlinked. Like I said, one big above ground ruined room. There are seven icons scattered around it, on the map. A goblin head and so on. You click on the head and it takes you to "Graveyard." So, absolutely no chance you're actually going to use this map during play without literally toggling back and forth between the map and the encounter you are on. You know, the encounter that says "Seven skeletons attack relentlessly and on sight!"
I do NOT have it in me this morning to deal with this crap. Under what fucking theory of adventure design is this a thing? What is being used as an example to model this on? There were, what, like TWO adventures that used this format, Palace of the Vampire Queen and one other, before the theory moved on? And this is what we get these days?
This is Pay What You Want at DriveThru, with a suggested price of $1. So, no preview.
https://www.drivethrurpg.com/product/418861/The-Hall-of-a-Thousand-Bones–Part-1-Approaching-the-Cathedral?1892600