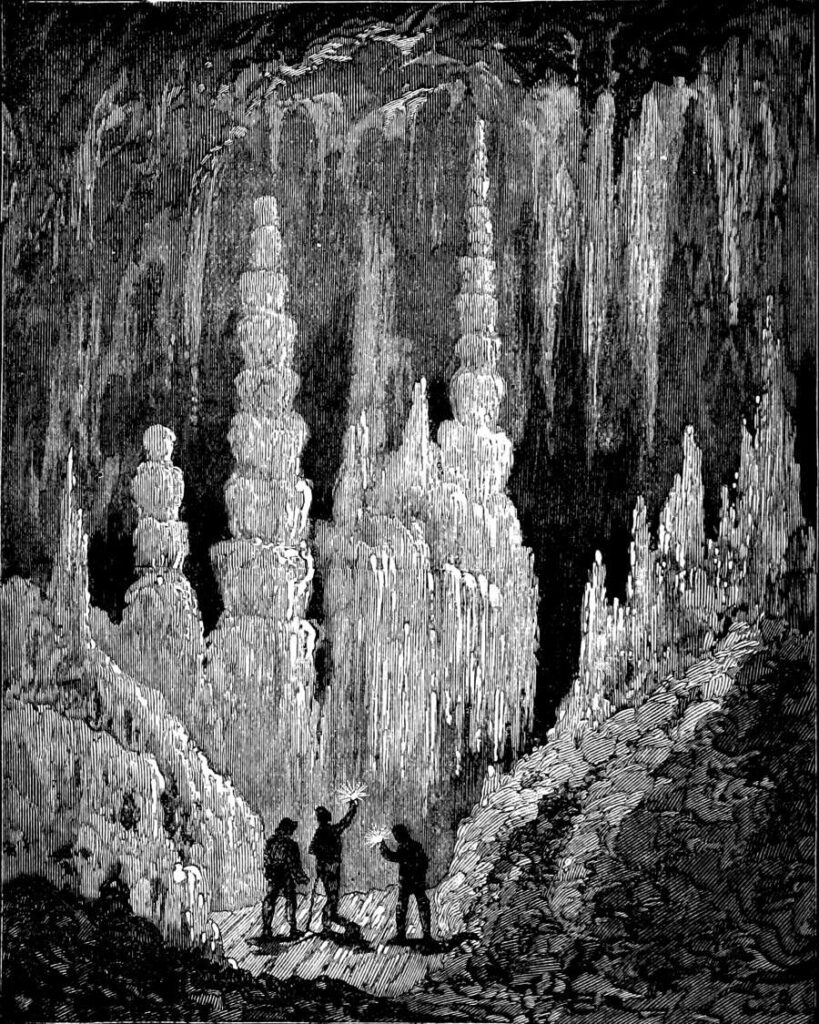 By Kormar Publishing
Kormar Publishing
OSR
Level 3
Undead frost pirates, mad imprisoned fae, and a pile of loot guarded by a monstrous slug…
THis nineteen page digest adventure features a three level sea cave with about 22 rooms. Colourful descriptions and encounters compliment an easy to scan/use format to produce something that you're excited to run! OD&D returns motherfckers!
Yeah, ok, it's not OD&D. But, also, I think there is an OD&D vibe and it's my preferred gaming vibe. I mean, fuck that hoity toity version. And that high fantasy version. And that superhero version. And that minis combat version. And that Ca$sh Cow version. Gimme me some OD&D vibes baby! Yeah, sure, #NotAllVersions, but, whatever man, yo know what I mean. An OD&D vibe is WHERE. IT. IS. AT!
Sometimes you crack a cover and you know. You just know. One of the first sentences, talking about the local village, is "Some folk farm, others fish, all are miserable." This, gentle reader, is the epitome of evocative writing. There's a juxtaposition here. I was expecting the normal fantasy village shit when I read "some folk farm, others fish" … but then WAMMO! Fuck yeah baby! I can run that village. I can run the entire thing. I don't need ANYTHING more. This will be the greatest village I have ever run in my life because of that sentence.
This adventure delivers that evocative style over and over again. It's not exactly word choice, although that helps. It's more of a framing of the sentence itself. The local bar? "The menu consists of salted fish, turnips, and cheap beer." Rock on! Or, lets look at the fey, some creatures that feature prominently on level two of the dungeon, in particular . Stats as elf, but ": translucent blue skin, permanent fanged smiles, makeshift seaweed garments" Thats a fucking description! And fort the "bloody crabs?" "child sized crustacean, fleshy shell, pulsing veins." Or how about a waterlogged corpse covered in barnacles and ocean detritus? Or a specter pirate … missing eyes that have been replaced with crab/small crab claw. The fucking descriptions are good man. It's like someone IMAGINED the place, the thing, whatever, first and THEN came up with words for it.
The map is three levels, with the last having only four rooms .. but flooding during high tide. The rooms are concise. Maybe a first bullet with a two or three sentence description and then a follow up second one with a little more information. (I would note that I think bullets are misused here. Bullets are great for calling attention to things, but, if you've only got two paragraphs, both of two or three sentences, you probably don't need to bullet them. You need a clear separation, for scanning, which bullets do, but also, you don't need them if its short. Bullets alot a magic solution.)
We got good encounters. NPC's are on a table, with some great terse aspects to them, along with where they are found. Easy to use and memorable. Encounters are chill. "Four skeletons are impaled on stalagmites and message has been carved in to the southern WALL: DEAD MEN TELL NO TALES" Yesh baby! We're no a fucking adventure now! The back wall has a crack … that can be SHIMMIED through. Excellent word choice. A rotting trap door, it's handle encrusted in barnacles … that cut you if you try to use the handle. Hey, man, the DM warned you! This shit goes on and on "A fae bruiser and three bound fae hold court in this dank cavern debating the finer points of sun worship, namely, whether the sun exists. They vehemently despise the moon worshipers in cavern 15." da da da! Strong encounters that, by their very nature, contribute to the evocative nature of the writing. Ghouls bicker over if they can eat zombie flesh. Skeletons SCALP their victims … thats chill! Nice specificity! And, there are things going on in the caves that you can nuke. Return treasure to the pirates and they all disappear. Lets the fae out and they leave you alone. Oh, they slaughter everyone in the village above … except for the one proto-witch girl that they abduct and train. Is that a bad outcome? Meh … it's an outcome. Shit happens. And I fucking love the attitude of giving the monsters what they want to appease them and also a Fuck Around And Find Out attitude.
So, yeah, I fucking love this one. It's not the end all and be all of creation, but, also, I'm SO much more excited about it than that last thing I reviewed and Bested. This one has the spirit of D&D that the other was perhaps missing. At least for me. Cause, you know, I like to have fun when I play D&D.
Oh, also, hey, put those "environment" things on the map, dude. The "crashing waves, dampness, etc" that make up the "always on" descriptions for the entire dungeon? Stick it on the map or some place that I'm always looking at so I remember to add them!
This is Pay What You Want at DriveThru, with a suggested price of $2. No fucking preview. But, then again, PWYW, so, the whole thing is a preview.
https://www.drivethrurpg.com/product/418780/Cavern-of-the-Creeping-Terror?1892600