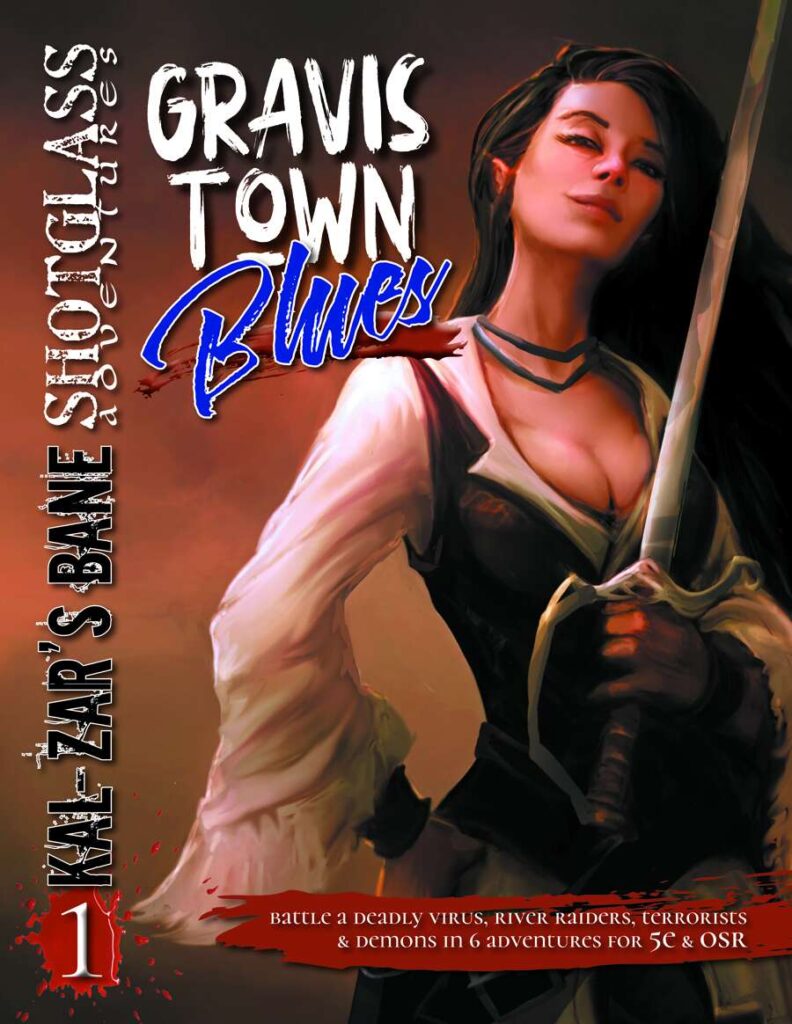 By Stephen Thompson
Laidback DM
OSR
Levels 1-4
In the frontier mining town of Gravis all is not as it seems. A sapphire shipment has been stolen. The river boat transporting it disappearing without a trace. Thieves. Terrorists. River Raiders. A locked down virus-infected lumber town. A forbidden temple crypt. A lost ship yard that may hold the answers. What is the long-hidden secret of Gravis Town? And how far will you go to answer it?
This 68 page booklet uses about forty pages to describe about five "mini-adventures" based around some kind of convoluted plot. Magical ren-faire, conversational writing, long paragraphs with info buried in them, extraneous backstory padding in room descriptions and a casual disregard for lore results in a mess. And it's not an OSR adventure. It's 5e with a page or so on how to , generically, "convert" to OSR. Which is non-specific.
Breakfast this morning was anchovies on toast and a Triton Railsplitter IPA. You see, this is going to be a hellish week. I'm at the end of my DriveThru request. list. Which means overpriced, long, and pretentious works. Since I'm blowing $100 on adventures this week, it seems like a great time for you to all join the Patreon; I'd hate to not be a hypocrite.This looks like a kickstarter dude releasing a kickstarter adventure. So it looks like it did well and no doubt his fans and followers are happy. I am not. This is a steaming pile.
I'm not super in to D&D lore. For the most part I don't give a shit. Mirroring, I guess, my views on art in adventures. I'd love for it to be great and inspiring, but I recognize its not going to be. Lore, in very broad strokes, is just something you take for granted. IE: it's a fantasy world. If its not gonna be that then maybe make sure people know that up front. But, the small stuff? Who cares. And thus, I will now botch the lore in this adventure because it if soooo fucked up.
Basically the Laidback DM is doing whatever the fuck he wants without much if anything in the way of pretext. Shit just don't make sense at a very basic level. You get to break the rules, but you need to break ONE rule, and have things follow from that. If I just think you're doing whatever you want then there's a different issue. You just don't give a fuck.
In one of these mini-adventures someone hires a tribe of Sahuagin to raid the boat they work on. An elf. ANd the fucking text tells us that Sahuagin hate elves with a passions, but that the deal was just too good to pass up. Serious? No? How about a wight in a tower that serves as the guard for the dude that lives there. What the fuck man?! Does tone mean the fuck nothing anymore? Orcs, goblins, bugbears, hobgoblins all attacking in a group as a happy little family. With harpy air support. Also, did I mention the magical ren-faire? Then there's the golem. Sitting on a safe. WIth a bomb in it. And continual light torches lighting everything. Everyone in town has running water and flush toilets thanks to a magical gnome machine. And, in the town hall, all of the windows and balconies have magical glyphs on them that (explode, summon monsters, etc.) Mixed humanoid groups abound. Because the designer just don't give a shit.
Which means … this is a 4e adventure. Someone tell me it's not. Someone convince me that Laidback DM was not a heavy 4e dude/learned with 4e/etc. The mini-adventures are three pages each. A double page spread map with little pointers to the rooms with the monster in it that attacks you. Yeah., that's fucking 4e all the fucking way. The blight on the game that keeps on giving. Look, you can like 4e all the fuck you want, just don't call the fucking thing D&D.
Let's see here. A couple of paragraphs in backstory and history that mean noting to the adventure IN PLAY, in the middle/start of a room description. Of course it has that! FOurteen pages till we start an adventure? Of course! Long sections of italics? Yup, it sure does! A couple of manticore opponents at this level? Yup! Monsters have a 10% chance of having a magic sword or shield? Sure thing! The town has 5000 people and 500 are guards? Sounds fine. The mines are 30 miles away but everyone comes home on the weekends to see family? Yup! Fancy fucking fonts abound. Perhaps the most silly being the intro section, impossible to read, that tells me the entire point is to make my job as a DM easier. Ha!
Hmmm … this rooms says the monsters in it will respond if they hear fighting in the corridor outside of it … another room encounter. I'm gonna magically look at this room while running the other fucking room? No. We put that shit in the room it matters in … the corridor. The bandits in the basement of the town hall don't want shit, they just attack, with no personalities at all .. even though they are surrounded by hundreds of zombies. There's no tension. The Laidback DM does nothing to build a tense zombie siege/horde situation. "Make a DC 15 stealth check to sneak pas the 345 zombies." Fuck off, man. Long fucking sections of text, written in a very conversational style, with a bolded word here and there. You can't fucking run a room that way, not effectivly. Much less a town. Dude MIGHT be a good DM, I don't know. But I do know he's a shitty adventure writer.
There's a decent part where bugs burst forth from a dudes stomach. Another part where a zombie is running up against a wall, meaninglessly. Oh, and the humanoid horde has a couple of commoners as prisoner, using them as human shields. Nice! There's your good parts of this 68 pages of crap.
The best example, of the kind of adventure this is, is the intro text for each adventure. For the first one it reads " (Two paragraphs removed) You and your friends chat amiably about the town and your adventuring prospects, when you overhear an argument near you. Two burly mercenaries are disagreeing about something. It only takes a moment for the dispute to involve others. …" This is what D&D is to the Laidback DM. Just read some abstracted text and start a fight. Whats the argument? Roleplay? Specificity? Nope/ Just yell "Initiative!" and run yor fucking combat. I'm happy he found his following.
This is $25 at DriveThru. The preview is the first thirteen pages. Just fluff background stuff that is unlikely to be needed. Bad preview.
https://www.drivethrurpg.com/product/327887/SHOTGLASS-ADVENTURES-GRAVIS-TOWN-BLUES?1892600