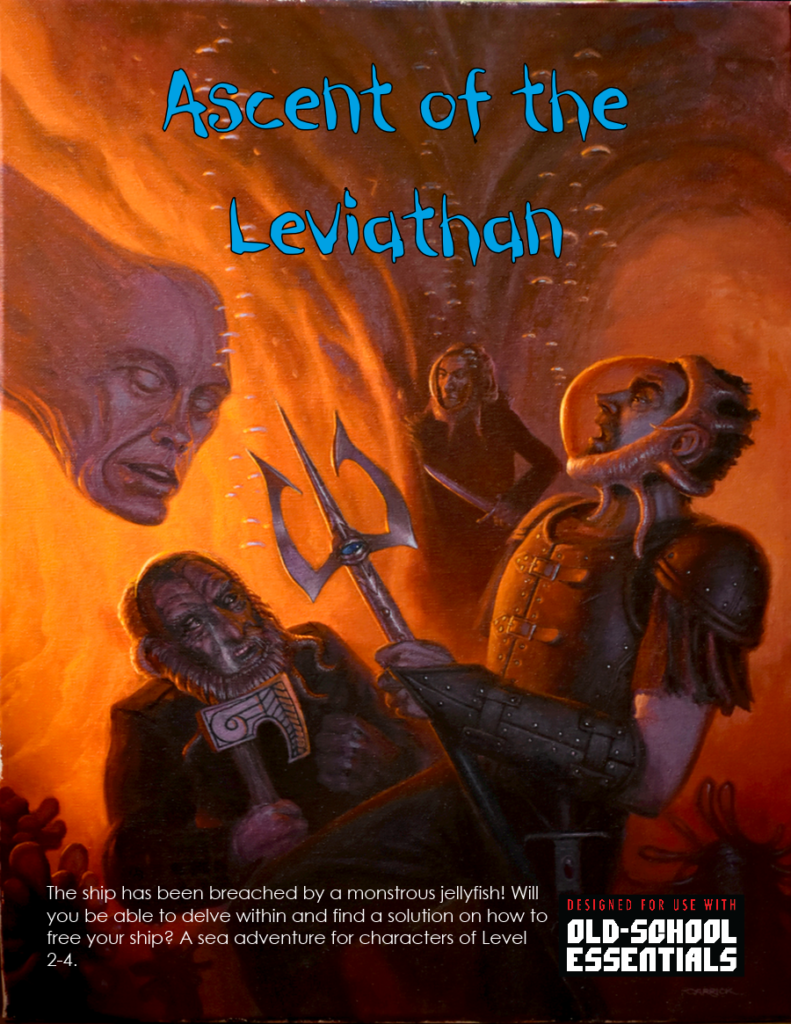 By Malrex
The Merciless Merchants
OSE
Levels 2-4
The ship has been breached by a monstrous jellyfish! Will you be able to delve within and find a solution on how to free your ship?
This 42 page adventure uses about 25 pages to describe about forty chambers inside of a giant jellyfish. It does a good job of presenting an alint-like undersea environment while still being approachable and not too abstracted. A good variety of encounters, and a meta-situation helps to drive the adventure and provide a more open-ended framework for an adventure.
I must admit, that whenever the marketing blurb ends with a question I am compelled to answer, silently to myself "Well, probably No." But, anyway, you're out at sea when you see two pirate ships coming at you! Famous Dread Pirates! The ship you have passage on starts to flee, but they are gaining! Just as they are about to catch up … a GIANT dead jellyfish rises to the surface, trapping all three ships in it! The pirates compel you to find a way to sink the jellyfish.
And thus we come to our first interesting things. There's a meta-situation with exploring the dungeon: the pirates. Can you trust them? They send in some pirates after you, real assholes, just to make sure you doing your jobs. And, once you sink the jellyfish, what's to stop the pirates from finishing the job they started? Thus the dungeon is not just a dungeon but has a situation wrapped around it, always on your mind, as you explore and interact. The addition of the asshole pirates showing up after you go in is a nice touch, as is, if you bargain hard enough up front, the pirates sending in to dudes to be WITH your party. LOYAL dudes, to you. Some real nice roleplay opportunities there.
And, before any of this happens, we get, right after the jellyfish surfaces, some halfhearted missile attacks between the ships before the captains all stop it. A nice bit of realism there. That's augmented by one of the best rumor tables I've seen. As everyone is milling around, the sailors are all talking, etc. And thus, your rumor table, specific to the situation at hand! Very naturalistic, it fits in well. Excellent job.
And then there's the map … There's a side view which is quite evocative. Shows major features and so on. Really gives you a sense of the thing. And then there's a couple of traditional maps, just white space caverns and hallways. There's also a "surface" map, showing the three entries to the jellyfish. I found the sideview hard to navigate, hard to tell which room connected to what, especially on the two levels. And the surface maps three entrances, some of which were steeper than others? Forget about it. I have no idea what connects to what. That could have been much better.
Once inside you're wearing jellyfish masks to breathe underwater. (Of course, it's a low level adventure and you're always given shit in D&D adventures to breathe underwater. Nice use of the jellyfish though!) It feels like some of the jellyfish is underwater and so if it is not, but that's not always clear. Or, maybe you're always swimming and the rooms noted as having some headspace are not fully full? I don't know. There is a good summary of underwater rules and some good monster placement … the use of skeletons, in particular. On piercing and thrusting work well underwater, but that's what a skeleton is strongest against, eh?
There's some great variety ot the interactivity here. Lots of interesting encounters and effects. Some people and things to talk to and a situation or two to manage. Always looking for the edge against the pirates will result in some benefits. The alien environment of the undersea is managed well, very well, i'd say. Alien, but not unapproachable.
I must mention a cursed scroll found. Actually, a treasure map! "Scroll looks like a treasure map, but it's gibberish. Character spends his/her life searching for the treasure and can't stop talking about it." That's how you fucking integrate! It's not a scroll, it's a map! And it does what treasure maps do! Perfect alignment there of form and function! Once of the best I've seen. And, again,, in another place, you meet a skeleton tied to an achor, sunk under the sea. With an effect of intense fear of drowning emitted by the long-dead victim. It's not just some random effect. It fits perfectly with whats going on. It's like someone though up the scene and THEN added mechanics to it … which I firmly believe is how the best adventure elements come to be.
There's some things here that don't work so well. The major NPC's have some italics text associated with them, a paragraph or so, describing them generally. That really doesn't mean much and the description, whats described, is to little effect. And another conversation table, with an intelligent jellyfish, is full of NON naturalistic shit. It came from the elemental plane of water. You can heal me by getting some [latin name] kelp from upstairs. A little too businesslike compared to the more natural elements elsewhere in the adventure. And, a few rooms where you take 1d4 damage every turn from stomach acid … that's a rough one, especially for this level. A little mitigation there, perhaps? I don't know, maybe it works in play.
Still, a good effort here by the Malrex. Still could use some polish, especially in the descriptions. They are not bad, by many means, but don't reach the steller heights I am always looking for. Worth checking out as an undersea adventure.
This is $10 at DriveThru. The preview is 24 pages. More than enough to figure out if you want it or not.
https://www.drivethrurpg.com/product/383740/Ascent-of-the-Leviathan-OSE?1892600