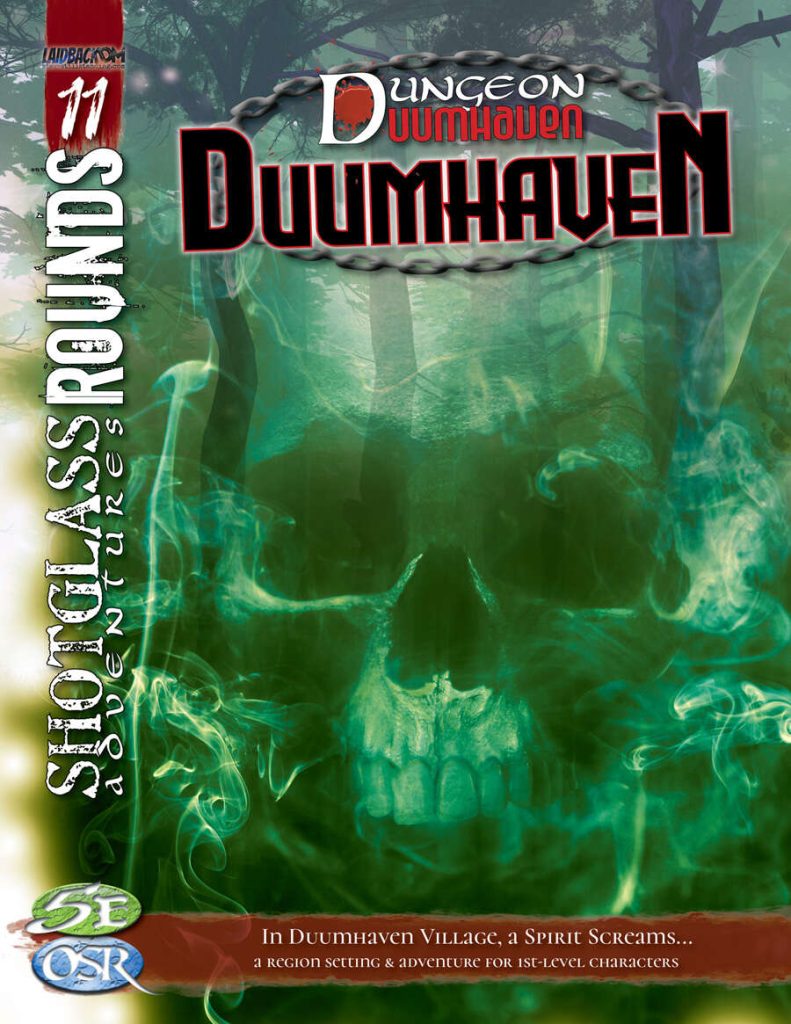 By Stephen Thompson
Laidback DM
5e/OSR
Level 1
In Duumhaven Village, a Spirit Screams…
This seventy page adventure uses ten pages to describe ten rooms. Poorly.
Why the fuck do you, gentle reader, feel that you deserve a better summary of this product than I just wrote? I mean, I had to wade through seventy pages for a ten room dungeon, based off of "In Duumhaven Village, A Spirit Screams", so you, also, get to wade through this review with the word "Poorly" being your only guide. But, that's not true, is it? You already know everything you need to know about this adventure don't you? Quiz time my lovelies! Let's see how much you've all been paying attention! How do you know this adventure sucks? No, not because I said Poorly. Not, not because it says 5e. Those of you answering that get to stay after school and correct typos on this blog. The answer, of course, is that it uses seventy pages for a ten page adventure.
What does this mean? It means that A LOT of time and effort was spent on supplemental information. What if, instead, that time and effort were spent on the main adventure? You'd have a better adventure! (I hope, anyway …) This is not true 100% of the time. I'm sure there are adventures that have a high page count and low number of pages for the adventure that are not poor, but, that's a rarity, I think. The designer doesn't want to be writing the adventure.
That's obvious from the designers notes at the end. He doesn't like dungeons. He thinks they are poor. Kick in the door., kill the monster, and take the loot. Now it becomes obvious, doesn't it? He doesn't know what the OSR is. He doesn't know how to play old school D&D. Because anyone that knows old school D&D, at least as portrayed by the OSR, knows that this is NOT D&D. But, hey, dude loves layout! And it shows! This looks pretty! Pretty layout. I mean, absolutely useless for usability, but, hey, looks nice. Again, a wrong takeaway from the designer. (Or, cynically, he's cracked the code. Just make it look nice and damn the contents. That's how you sell. Re: WOTC, Re: Paizo, Re: All the minor companies producing The One Ring, etc.)
"Bryce, you're being a fucking ass!" I hear you say. "Tell us WHY!" I already did. Ten pages out of seventy. But, ok, I will go on. Let us look at the opening read-aloud for the party: "They say that rain on the road bodes well for the body. The say that rain washes sins away, clearing the path so that weary travelers may walk safely through savage lands." The read-aloud continues for two more long paragraphs. The THIRD paragraph starts with "All journeys start with hope and the best of intentions." It continues, through that paragraph to another. That's four. But, really, you don't need to know it's four. That opening two sentences. That All Journeys line This is garbage, and you should all know that by now by just reading those lines.
Nobody is sitting through a page of read aloud. I'm pulling out my phone. I'm going to the kitchen to stir tomato sauce for an hour. I'm going to the bathroom. Playing a game on my phone. Texting my partner a sad face emoji. You're boring them to death. Its not their job it listen to to your monologue. It's their job to interact with the game world. When players pull out their phones and/or disengage with the world its the DMs/designers fault. But, really, it's the flowery text here. The purple prose. You know what your attempt to make me feel caused to happen? I rolled my eyes, sighed, and girded my loins to endure the next four hours until I could go home and make an excuse as to why I couldn't be there the next week. Just fucking tell us what we see (etc) and move the fuck on. We don't need the purple prose commentary.
If I'm being fair, then it's not ten pages. It's maybe, thirty pages. The other describe a town and a small wilderness region. It's supposed to be some home base for a megadungeon. Uh huh. Le's look at it.
The standing stone, with a wight in them, are forty feet from the town walls. A rickety bridge with a troll under it is eight feet from the town walls. The bandit camp is forty feet away.
The wandering monster table, for the wilderness, contains an elf hunter who will guide the party. Except, he's a werewolf and kills you all at night. There is some justification made for this in the adventure. "It's OSR! Challenges can be harder!" Yes, absolutely they can be. But, also, we don't do it in an unfair manner. This is, essentially, the DM rolling for a wandering monster and then declaring"the sun went supernova, you're all dead." We telegraph. We let the let the party make foolish mistakes. We give them a chance to run away. We don't put an invincible supermonster in at Level 1 and have it kill everyone at night while they sleep. Again, a lack of knowledge of how old school D&D works.
I don't know. It goes on and on. That wight, at the standing stones? Here's the text for it "A wight emerges from behind the standing stones and attacks. "Quite evocative isn't it? No descriptive text for the wight. No mists rising. No fog from its head or burning eyes. This theme continues, with no attempt at real evocative text in the adventure. Just the purple prose, over and over again.
One of the gate guards at the town offers you 200gp to go pick a flower. Gate guarding is paying rather well these days, isn't it? The priceless family heirloom at the inn, an axe, on display, is given no value.
But, hey, we do get page after page telling us how to read a stat block!
The wilderness keys are a mess. Just random places appearing in the keys. There are ten keys, but other features on the map also. And those other features just appear alongside the keys. Some cliffs appear after a keyed entry for a ruined cottage … even though the troll bridge key is closer to the cliffs. It makes no fucking sense.
Did I mention that the designer is apostrophe happy? I mean, to an extent that Venger is given a run for his money. Jesus fucking christ.
Read-alouds are a column in places. There is text thrown in, commentary, to the read aloud "Apparently the villagers experienced an earthquake a month ago …" Why the fuck does this go in a read-aloud? ALL of the read-aloud is like this. Full of meta data and commentary that the party doesn't know about. It's a complete lack of understanding of what kind of text is appropriate.
So. A mess of keys. Read-aloud that is purple and long. A complete lack of evocative descriptive text. Or terseness. Or layout that facilitates te DM scanning the adventure to run it. An emphasis on things irrelevant to the adventure, and a wasting of effort on things other than the adventure.
I'm sure the designer is doing very well with these. It is exactly the sort of product I expect to succeed. A doppleganger. A mimicry of a real adventure.
This is $15 at DriveThru. The preview is eleven pages. It shows you nothing of the adventure, and thus you can't make an informed purchasing decision. Well, it shows you that amazing "How to read a monster key" information. So, you know, The More You Know …
https://www.drivethrurpg.com/product/408464/SHOTGLASS-ROUNDS11-Duumhaven?1892600