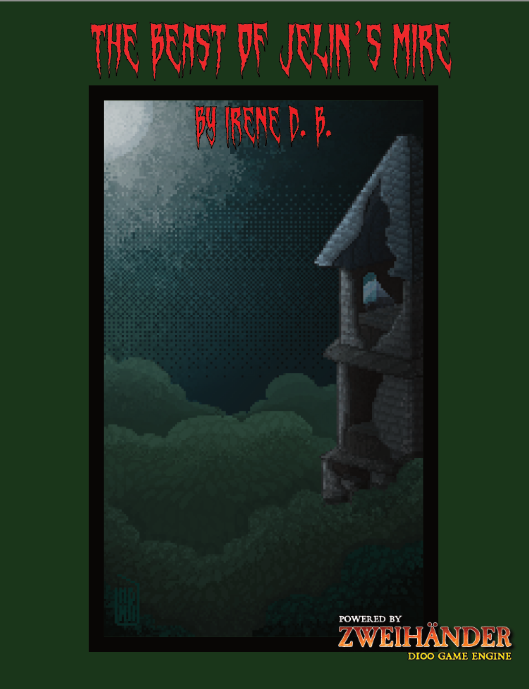 By Irene D.B.
Self Published
Zweihander
Basic Tier
Something lurks within the perilous swamp of Jelin's Mire. The Townsfolk of Jelinton are falling victim to a series of grim attacks by a terrible creature. They have called upon the aid of the Guild, a grim organization of monster hunters to kill the Beast of Jelin's Mire.
This was a review request from someone. A very very very bad someone.
This thirty page adventure uses eleven pages to detail … two scenes? Three scenes? Of which two are combats? It's a nightmare of formatting and not knowing how to write an adventure.
You're monster hunters, sent to the village of Jellin to kill a monster. It seems a few villagers have died and a kid has gone missing.
This adventure contains trigger earnings for animal death and monstrous plants. And general violence? Isn't that D&D?
And isn't Zweihander a Warhammer clone? Isn't that the game where to kill muties, who want to eat your flesh? And those ratling things that everyone seems to masturbate continually over? That's Warhammer, right?
This adventure has a golem in it that is a townsperson. And a guy with a clockwork arm. And an ogre dude lives in town. And a dude with a boar head. And a ratling chick that works at the inn who has many suitors, both men and women. That's Warhammer? Can it be a Boot Hill adventure if its in space with no references at all to the old west or the themes therein?
But, let's explore a little more that boar dude. His description tells us that "Jor has the head of a goat, and a heart of gold. He is constantly sweaty. He refuses to wear a shirt, and has a sculpted body. He stands at about 7 ft." Uh … ok. I guess we know a little more about the designer now … Did I mention that there is a brief little break away section dealing with threesomes with some of the townfolk?
Lest we think I criticize, I do not. I mean, yeah, I am, but not for THAT reason. Especially since it does nothing related to the adventure? The morons are gonna come out of the woodwork to quote the downfall of society, but all I give a shit about is the relevance to the adventure.
But, also, I don't really give a shit very much about that. I mean, in the context of including shit in the adventure that is irrelevant. Backstory, sex shit, I don't care. What I DO care about is the degree of concentration on these irrelevant topics to the exclusion of the actual adventure.
Kristi Fortis is an NPC. They have the profession of Courtier and the Social Class of Aristocrat. We are told "They have been elected uncontested for the past four elections by the town." For what? Mayor? Garbage collector? There is absolutely no indication. Hey, instead of concentrating on other irrelevant shit, maybe you could put down what the fuck their job is?
This continues to the adventure. It's a fucking mess. You get to dig through paragraph after paragraph, with sentences like "If they want to go to the local tavern …" Seriously. It's just paragraphs. Oh, there's a heading now and again. Here's one "Later Gator." Hmmm, I wonder what that means? No? No idea? Don't fucking do this. There's so much wrong here that it's hard to actually list it all. Don't use if/then conditionals. Don't write in paragraph form as the major style of writing. Use some keys to help separate out content. Make the adventure easy to scan so the DM can find information quickly and easily. NONE of that is done. Just scene after scene with a fuck ton of conditions embedded in paragraphs. I weep for the future.
But, the adventure proper, you ask! You go in to town. Oh no, people missing/killed. FOr some fucking reason you go find a woman in a tower. She's a golem. (Thats fucking boring. Don't say golem. Tell us shes made out of weeping mud. Or snow. Held together by hair or something. With STATS as a golem. Imagination trumps mechanics. Ok, anyway, you go to this golems tower, for some reason, and get some rose petals, I guess to help a dying kid. Then you go out in the swamp and fight an octopus with hands on the ends of its tentacles. The adventure is now over. Thirty pages for that. Sorry, no, eleven pages are used for that. Eleven pages.
But, hey, if you attack the golem then she chokes each of you out, ties you up, delivers you to the town sheriff, who tells you that you shouldn't attack her if you want to keep the monster hunter contract. IE: No Consequences to our actions. IE: Mary Sue.
This is an absolutely atrocious adventure. There is nothing evocative. There is no interactivity to speak of. There is no formatting to help run it at the table. It fails on every account. I don't give a fuck about the sex shit. I give a fuck that the adventure design, formatting, and interactivity stinks.
This is $10 at DriveThru. The preview is ten pages, with the last three being relevant to making a purchasing decision. By then you should be able to figure out the focus on anthro kink and lack of organization in the text.
https://www.drivethrurpg.com/product/340119/The-Beast-of-Jelins-Mire–Adventure-for-Zweihander-RPG?1892600
And, lest we think I'm a heathen, the last page advertises a work called "LGBT in a Grim and Perilous World." The description is pretty interesting. To quote "exploring how other cultures have historically seen such things and how you might use this knowledge in a Zweihander, or other fantasy RPG, game." A focus on how gender and sexuality have not always been as cut and dry as presented in history, and influences seen in history and mythology. That's cool.
https://www.drivethrurpg.com/product/331633/LGBT-in-a-Grim-and-Perilous-World–Supplement-for-Zweihander-RPG