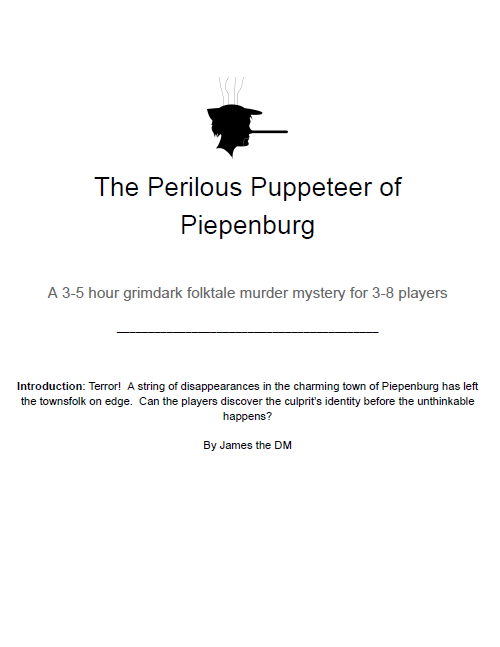 By James the DM
Self Published
OSR
Level ?
Terror! A string of disappearances in the charming town of Piepenburg has left the townsfolk on edge. Can the players discover the culprit's identity before the unthinkable happens?
This 32 page adventure is an investigation in to some murders in a small village. A small village of ten buildings, one of which is a toy store. It's trying, and has the form down, but the specifics and details are a jumble that don't make sense.
So there's this group called The Storytellers Collective or something, and they have a writers workshop every month or quarter or something. I tend to get requests for reviews from them around this time, or people pointing me at thier adventures. I don't understand completely, but somehow I'm on the radar. I got a request to review this one, but not by the designer, so, here we go!
It's amurder mystery. Murder mysteries face a challenge in D&D, especially OSR D&D. Why does the party give a fuck that someone ELSE is stabbing things? Thus the hook is usually that you get assigned to investigate, or your brother lives in the village or hoping that the party has enough humanity to want to help a random village with random murders in it. And those are the hooks here. Nothing but throw aways, with nothing to them other than what I just typed. Nothing compelling.
And then there's the issue with magic. When you can detect a lie, or question a dead body, where's the mystery? Usually designers go through contortions to solve this, ith invisibility, rings of mind shielding and all that crap. The solution is to make it low level, which is what happened here, but, then, the designer also includes this warning "The adventure also assumes that magic is rare and strange, and that spells to communicate with the dead or detect lies do not exist." Good luck with that man! It's like writing an adventure with spaceships and space opera for D&D … uh, sure, but you do realize this is a fantasy setting, right?
Ok, so, small village. Murders in it. About ten buildings that are businesses. The usual. Inn. Church. Mayors house. Guild house. Toymaker. Wait, what? Ok, I set fire to it, kill whoever comes out. Game over. Seriously, man, you gotta do better than this. The village is too small for such a specialized building. It's obviously him.
The plot has an initial first encounter, with random villagers getting a brawl in the town square, citing the shitty shitty longtime advice of "getting your players rolling dice!" It's a non-lethal brawl. If you kill people then everyone turns on the party and the mayor wants answers! But, also, it's ok, he really wants you to solve the murders also. ?! If you don't want to deal with this then don't put that party in that position. Seriously. You set them up for a combat and then yank the rug out And then try to fix that. If you don't want them to just kill everyone then don't do your initial combat with a village brawl.
It's this kind of design stuff that's prevalent all throughout. Basic things. Along with even simpler things. Your brawl is interrupted by a scream (the second time a row your scene is interrupted by a scream from elsewhere, transitioning to the net scene.) This time it's the wife of a dead guy, missing two weeks, holding his mutilated body at the edge of the town square. So. He's been missing two weeks? And no one saw his body at the edge of the town square? And his wife is the one to find him? Uh huh.
Read aloud reveals too much. "An adorned statues of a long deadhero". The party doesn't know that. Describe it, not the conclusions drawn from it. In the first body read aloud, don't reveal the fact that there are no footprints, but describe the body, which the designer doesn't do. And absolutely do NOT have the read-aloud say "The people of Piepenburg recognize him as a skilled healer, but many distrust his methods as "ungodly." You're commenting. Don't do that. Describe.
Oh, oh! One of the rumours is "Hans the toymaker made my daughter a lovely doll!" This is in the middle of rumours about evil raiding goblins and undead in the graveyard and the like. Just horrors everywhere, and a seemingly random bit of info about the toymaker. Doesn't matter, since we've already burned his place down though.
There's a chase scene, because, drama, I guess. If you don't make your roll then "as fog swirls in and prevents the characters who failed to keep up from making it to the combat." Great.. Fog rolls in. Deus Ex much? And if you kill the baddie you're chasing? IDK, he's important to the plot. I guess you win? Some advice here would be nice.
Descriptions are too wordy, containing useless info like Frank the barber having "A former adventurer ennobled for his rescue of the Countess von Nachtingal," useless. Means nothing. Advances nothing in the play of the game. A room, described in readaloud, mentions no rug and yet its a major important point in the room.
Nothing is really described about the odies up to this point. No CSI for the players, or questioning their families, or looing at their graves or anything.
On the plus side, it does use bullet points to convey information about what people know It does this well.
The format here is not bad. The basics are ok. The text needs a heavy edit to keep things focused on play at the table, with reward to relevance and what comes first in a description. The inconsistencies need to be cleaned up. Things need to make sense, in a fantasy setting. Just nothing here to work with in a useful way.
This is $6 at DriveThru. The preview is six pages of the single column version. It shows you the bullets, but they make more sense in a double column view. It's not a very strong preview
https://www.drivethrurpg.com/product/404684/The-Perilous-Puppeteer-of-Piepenburg?1892600