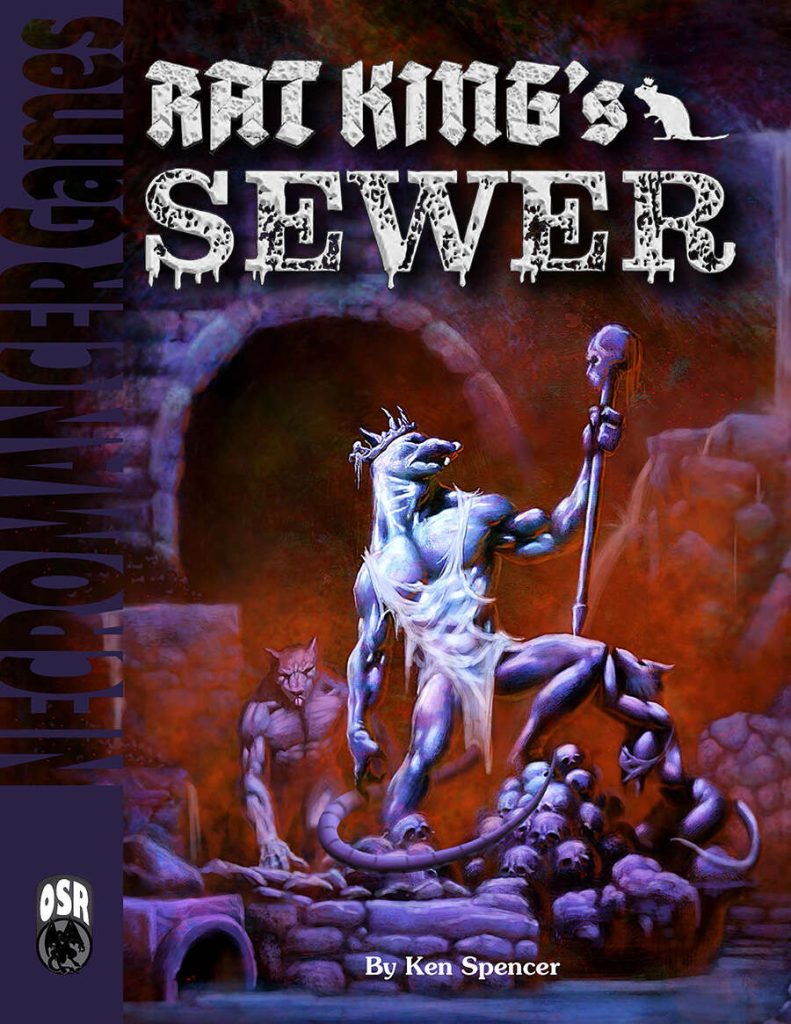 By Ken Spencer
Necromancer Games
OSR Levels 4-6
Eastgate is a bustling city at the mouth of the Amrin River. As most of the adventure takes place in the sewers, and nearly all of it in an urban setting, wilderness orientated characters might find themselves at a disadvantage. Then again, the sewers are a maze and filled with all manner of deadly creature, the ability to talk to cockroaches might just prove useful.
This 28 page adventure is in a sewer with about 35 rooms to explore there and in a fey-landish/underdarkish area at the end. It's filled with the signature "dont give a fuck" style of the Frogs, with sloppy editing, boring rooms, and an overall malaise, and not in a good way, of the writing.
Pretty cool to see a new necromancer title, eh? It got me all worked up and excited. Necromancer did some cool things back in the day and seeing a new one got my notice. And then I opened it and it turned out to just be another Frog God title. It's got Necromancer all over it, in name, but the house style and people involved are all Frog God. I have no idea why tey switched brands.
There is some crazy convoluted backstory about a lady coming back from the opera, attacked by thugs who kill her bodyguards. She kills all of the thugs, but loses her necklace and a rat steals the largest jewel. Turns out its a wererat who wants it to crate a portal so him and his buddies can get back home. Everyone in town goes down to the sewers to find the jewel, it says, so I'm thinking this is gonna be like Gone Fishin, but, no. The entire backstory is unrelated to the adventure at hand, it's just a sewer crawl with a portal at the end. I have no idea why the backstory is even there, but, it is. So, whatever. What does piss me off is the sloppy integration of it. It references shit all the time in the adventure that seems to contradict the backstory, like the jewel being of little use to the rats (they critically need it for the portal?!) and them being willing to negotiate for it?! There's also mention of a ransom request, just thrown in the text in a block of other text, that makes no sense at all?! The entire text is full of this confusing nonsense, one thing contradicting another. Even the most casual perusal reveals it, so I'm not sure what "Editing" really means in the context of a Frog God title. Err, sorry, Necromancer title. It goes on and on. The "Parfiegs" are mentioned. Out of context with little to go on. Evidently you are chasing the rats and they've gone through the portal already? I have no idea. I think they are a clan of humans living in the fey/underdark area?
But, what we do get it long and extensive backstory thrown in willy nilly. "The Snarl Fangs, of the Order of the Swift Paw" …. Uh, ok. And a basilisk and gelatinous cube all get histories and backstory. That's fucking wild. Its like the adventure is explaining WHY there's a Cube in the sewer. Justifying it. It's a crazy choice on how to spend your word count and creative energy. On shit that is absolutely meaningless to adventure at the table. But, no doubt perfect for people reading the adventure.
The actual adventure is not much. The room descriptions are essentially barren, a minimalistic style that is ten expanded by providing very little meaningful information. Backstory in the rooms abound, but the actual descriptions of the environment, or creatures, is almost nonexistent. Thus there is no evocative environment, or encounter. This goes on, room after room. And it uses the Frogs house style, which is paragraph based, which makes scanning the text for actual useful information very difficult. Just a room with a sewer monster in it. Repeat. "The sheriff's plan certainly worked; the smugglers were trapped in the tunnel. Slowly, they died of starvation or disease, but not before the leader and his closet followers had turned to cannibalism. Their corpses resurrected as a ghast and 4 ghouls." Great. So a ghast and four ghouls.
There's just not much here at all, and what there is, in the larger context, is confused and makes little sense. And it's $14. They've certainly made an art form out of living off of a brand a charging for it.
It's unlikely I will review another Frog God/Necromancer title, unless I hear things have changed.
This is $14 at DriveThru. The preview is six pages, showing you the table of contents and backstory and no encounters. Joy.

https://www.drivethrurpg.com/product/402662/Rat-Kings-Sewer-OSR?src=newest&filters=45582_2110_0_0_0?1892600