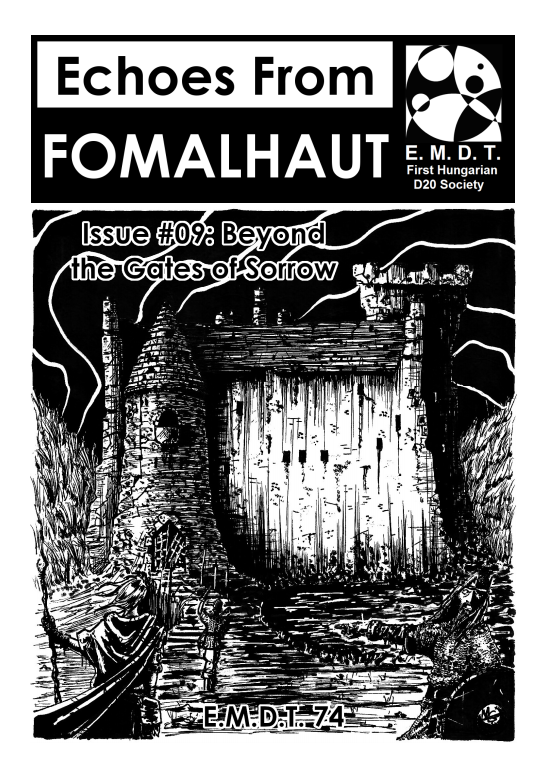 By Gabor Lux
First Hungarian d20 Society
OSRIC? Nah, BX
Levels 2-4 & Level 1
Beyond the Gates of Sorrow: Shipwrecked on a northern archipelago seemingly devoid of habitation, you must explore your surroundings and find a way off these rocks… and could there be some profit in it as well? Wilderness and mini-dungeon module for 2nd to 4th level characters, 19+18 keyed locations.
The Vaults of Volokarnos: Orcs have been spotted near an ancient burial complex housing the resting places of old patrician families, and a famous warlord. The masters of the nearby town want the orcs gone… and are willing to overlook a bit of discrete grave-robbing on the side. A B/X dungeon for 1st level characters, 52 keyed areas.
This sixty page zine contains a number of articles as well as a small wilderness crawl with dungeon, and a larger stand-alone separate adventure featuring a dungeon with 52 encounters. A magnificent tribute to the older days of gaming and harkens back to the finer Judges Guild products. Terse, interactive, and building an evocative vibe by leaving room for mystery. A delight!
There are more good adventures than you will find on tenfootpole. I'm always chasing the next thing, the next designer popping up that is tilting against my expectations of BAD. This means that certain designers don't get as much coverage as they should. They get labeled "Not A Fucking Idiot" and, mentally, I know that whatever they are releasing is good. Do you really need me to tell you that the next Dungeon Age adventure is going to be a good one? (Or, to tell you Thracia is good, for that matter?) And you know who also falls in to that category? Gabor Lux. Gabor Lux writes good adventures. And, thus, he doesn't get as many reviews as he should. I should do something about that, but, also, I'm an ass. So who knows if I'll follow through with my vow to review more of the good designers. Apathy is a powerful force.
And, let's talk about that certain OD&D/BX style that I love so much. You can see it, full on, in Fight On! magazine. A certain non-standard way of running the game and in describing things. It's not de rigueur D&D. It feels like The Old World, full of mystery and wonder and things yet to be discovered. A little bit of the Judges Guild vibe. A little bit of Arduin (is there a higher compliment in D&D?) Not the gonzo, but the feeling of mystery. And Melan brings that in full force in his Echoes of Fomalhaut zine.
This is issue number nine and most fall in to the pattern. A few articles, tables and such about a game world that can rival ANY of the best settings. That feeling of mystery that abounds, a yearning to know more. This is a game world and you want to know more. And, then, there are usually a couple of adventuring sites. In this issue it is a wilderness hex crawl on a small chain of islands and a classic dungeon with undead, a temple, and orcs.
The wilderness crawl is on a small chain of rocky islands with almost no vegetation … or occupants. Oriented towards a shipwreck, it contains plenty for a party to salvage to find their way home again. Or, you can make friends with the HUGE giant who can wade through the sea. There's a classic for you! The writing here, as usual, is terse. A little longer than say Xyntillan and matching more of a hex crawl style from Wilderlands, it contains locations and/or situations to stumble across. Resources, some loot, some things to get in to trouble with. And it's got a barren feel, just like the island, but I mean that in a good way. Lonely. No real wanderers, the party makes out for landmarks and such, gathering resources and testing their luck. Flotsam in the distance … will you investigate for resources? A sad singing heard from the direction of an island … with the wind blowing through the hollowed-ut statue of a woman wearing a toga. Replete with gemstone for eyes … AND EYE RAYS! I fucking love eye rays! So, anyway, a little wandering around, doing the hex crawl thing but without hexes, and small twenty room keep to explore with an unusual vertical-oriented map that's fun to see. A great "you were shipwrecked, now what?" adventure.
The second adventure is more traditional. A fifty or so room dungeon with some orcs in it, a cult, undead, etc. Great interactivity, up to including fonts and pools. Crypts and orcs with an order or battle. Short and terse little descriptions that contain a wealth of information, just enough to run the encounter and get the DMs juices going. Seriously, dude should write an article on how to write one of these encounters. There's this non-standard thing goin on in it (and on the islands) that subverts things. A harpy? No, a statue. An undead? No, a couple of insect swarm or two inside of it. Doors to force. Pillars to move. Things that do things elsewhere. A great map supporting. This is the kind of old school adventure you want when you buy a product.
My only criticism is the fucking magic items. While the +1 shields fit in well to their environment, when found, I'd prefer something a bit more. Unusual, a bit more description, something. I'd love the magic items to match the vibe of the rest of the adventure.
Buying all of the Echoes would result in a nice little library of a game world to rival Arduin, Tekumel, or any of the other better entries in the game world arena … and leave FOrgotten Realms and Greyhawk in the dusts of time.
This is $6.50 at DriveThru. The preview is ten pages and you get to see a decent amount of that island crawl. Good stuff!
https://www.drivethrurpg.com/product/386056/Echoes-From-Fomalhaut-09-Beyond-the-Gates-of-Sorrow?1892600