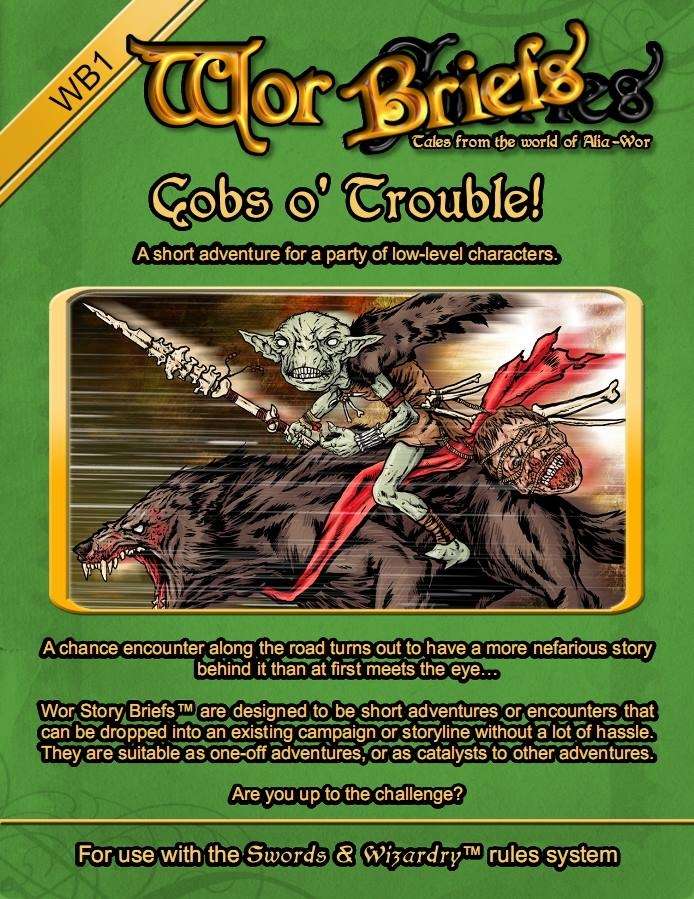 By Curtis Lyon
Three Sages Games
Level 3
When a chance encounter on the road turns out to have a more nefarious story behind it than meets the eye, you've got Gobs o' Trouble! Are you up to the challenge?
This twelve page adventure describes, like, I don't know, three encounters? I can pick out something nice here or there, in twelve pages, but it's still twelve pages for three encounters.
Am I up for the challenge? Well, I don't know. Well, I do know; probably not. I mean, sure, I'll match the energy at the table, but, a short con game with three encounters? I mean, probably no. What are the odds tha the DM and the adventure are going to be ok? I mean, it's mostly the DM, right? Still, I mean, no.
We're starting out strong with that cover! Not my style, but, hey dud is carrying a human head tied to his saddle, so, Rock On! No level range anywhere on the cover, or in the production description. So, Fuuuuuuuccccckkkkkk Yoooooooou number one.
Title page, and other filler. Let's see … oh, a disclaimer! "This book uses the supernatural for settings, characters, and themes. All mystical and supernatural elements are fiction and intended for entertainment purposes only. Reader discretion is advised." So, you know, I almost didn't make it to the adventure, having been advised that I may not be able to handle it. This fucking disclaimer … look, I'm not against trigger warnings for some serious shit, but you start slapping them on with "Warning: D&D adventure may contain a D&D adventure" then I start my eye rolls.
We start by meeting a farm family on the road, who had obviously had the shit kicked out of them. Bleeding, dirty, exhausted, etc. Mom, holding a pitchfork, calls out "Well met travelers! Do you have any medical supplies?" I love to trot out possible worlds theory, and I'm going to do it again here. In NO possible world does this fucking happen. It's just forced dialog. "Medical supplies?" seriously? No, it's some kind of wary hesitancy, a plea for help, screaming and crying kids. Fucking make it viscereal man, not some abstracted and distant vignette that is a mockery of true emotion.
Whatever, I guess I knock adventures these days for not bringing forth true emotion. Meh. Also, it lasts a fucking page. Tofucking tell us that goblins raided their farm and took it over. They held them off and killed a few, so, you know, a party of threes should be able to handle it, I guess. Also, if you kill the family you earn the enmity of the gods. You get no reward, but do get 300xp for helping them. So, you know, that's worth it. I mentioned the enforced morality, right? Always good to see in adventure. How about we get the quest and then ALSO kill the family? How very Russian!
Off to the farm where you fight some goblin. On no map. No tactical fun. Just kill twelve goblins. I mean, still takes a fucking page to put twelve goblins on the farm. *sigh*. No real treasure here either, but there is a magic sword, with inscription! "Lemja: To strike and maim." Hey, that's nice! . You can track them back to their lair, since they got no loot. I can tell this is gonna be an XP poor adventure …
Tracking them back you see some tromped down vegetation. You get attacked by an eight headed hydra. !!!!!! That will wake you the fuck up in the morning! Do do get 3k in gold from this, in its lair, which contains a single good line, where the loot is "mixed in with the remains of
its victims (mostly in the form of bones)." Nice there!
On we go to the goblin source, a cave with two hobgoblins outside. They fight to the death, as do all hobgoblins, the adventure notes, so, you know, no morale checks here. No map of the cave, or anything really, just that there is a cave, two stand outside and that there are eight total with a magic portal inside. It, also, has a nice line "The rotting corpses of a dozen Goblins litter the surrounding area." Otherwise, just another page to describe something useless.
There's nothing here but text. Three encounters in twelve pages? Even at a page per I don't see how you got to twelve? And, no tactical maps, as one might expect in such a short adventure. (I don't love tactical mas, but I can see how sneaking up on a farm and taking out sentries, etc, could be a little mini-adventure in and of itself.) There's a line or three, here, that shows that the designer is not devoid of imagination. The tromped down hydra vegetation, the sword, the bodies outside the lair. But there's just NOTHING HERE. I don't give a fuck that it's labeled a short adventure. This is not that.
This is $1 at DriveThru. The preview is two pages and shows the title page. Woo Hoo! That's certainly enough to tell if you want to buy the adventure. You can read that disclaimer through!

https://www.drivethrurpg.com/product/149323/Gobs-o-Trouble?1892600