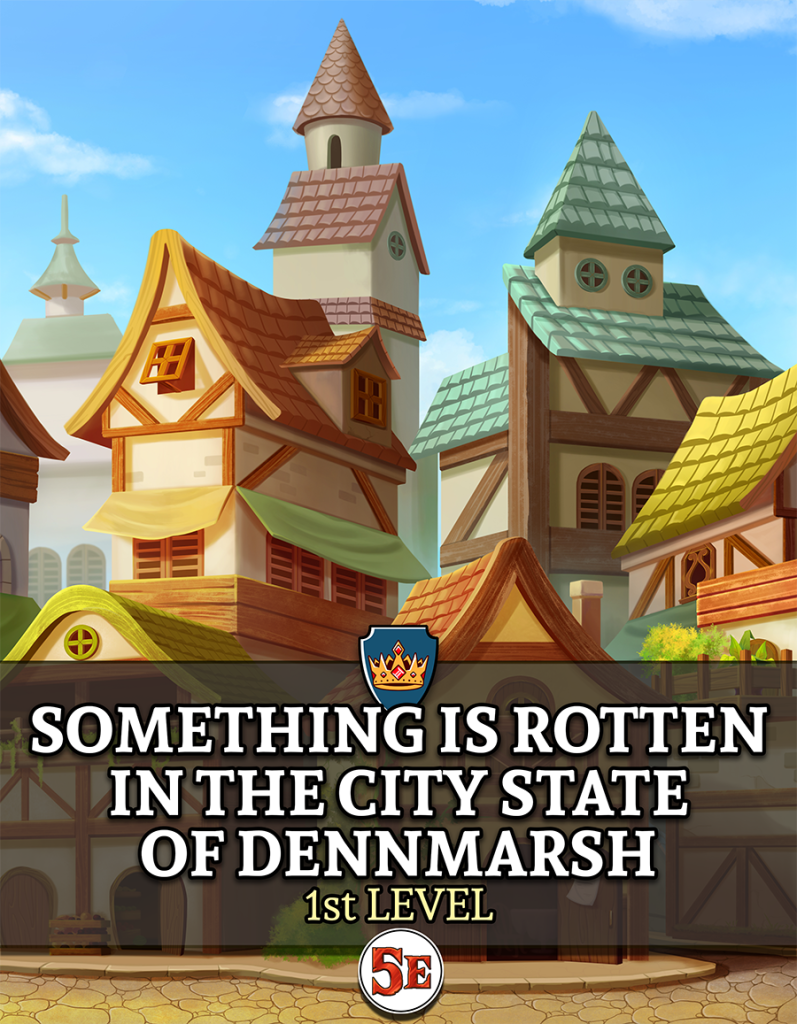 By Benjamin Palmer
Adventures Await Studios
5e
Level 1
There's been trouble brewing in the city lately. A foul smell has begun creeping up through the storm drains and the water in homes and businesses has grown rank and sickening. The Council of Nine, the ruling body of the city, have put out notice of a reward for anyone who can purify the city's water source and deal with the horrible stench. The worst of things seems to be centered around a particularly wealthy part of town. Some believe that something in the sewers is causing this. Perhaps an otyugh or some other manner of filth creature. At least one adventurer has gone into the smelly depths, but he hasn't yet returned. Maybe you'll have better luck?
A request!
This nine page sewer adventure features six rooms. It has led me to new beliefs about 5e D&D.
Ok, ok, hear me out! I know, i know. I know I said it was a Supers game. I've changed my mind. Supers sucks anyway. It's boring. But, I found a way to make 5e fun! You see, you have to play it like it's a Paranoia game! No, no, seriously, follow along, Brave Troubleshooters!
Oh no! In this giant city there's a foul stench from the sewers and no clean water all of a sudden! Aiiii! Aiiii! The Dark Lord of the Pit with a Thousand Young! Or whatever! SO, the town council pays you 100 coins to go figure it out! Indeedy do they do! I mean, no one else can, right! None of the cities poor would want to do it, after their very public call for Troubleshooters! I mean, the read-aloud actually starts with "Welcome brave Troubleshooters!" Uh, I mean "adventurers!" So, anyway, the Troubleshooters go off to Vale Garden, the richy richy sector of the city where things are worse.
Along the way the troubleshooters see the deserted city streets. Now, it doesn't mention it, but I'm suer this adventure would have been improved by having large piles of vomit everywhere. ROll a DC to avoid slipping on it. People throwing vomit out of their windows. Vomit collectors yelling Bring Out Yer Vomit! Right?! Just fucking push it! DO it! The entire thing is bullshit anyway, and the way you solve bullshit is to lean in to it! Just fucking GO man!
So, anyway, in the richy rich portion you see six houses. That's it! Whatevevs, right? And four f them have signs up saying they are now longer at home because ofthe smell! Time for some thieving, right?! Uh … no … that means that you are supposed to ask questions in the other two houses, for whatever reason! Righto! You know the deal in 5e! You just make some talky talky rolls and the DM regurgitates information! THis time all of the information is DRAKE related. Every fucking piece of information is about a DRAKE. From both houses! LIkie, lean in right?! The houses and shrubs arein the form of drakes. They have drake costumes on. They love drakes. EVery other word is DRAKE. They use it like cool. Drake on man!
Outside there's a flood of sewage! Ohs nos! Get uyp on the high ground to avoid it coming out of the sewers! Again, push this shit (literally) man! Go for it! Shit boats! Piles of shit! Lean in to the piss kink of your players!
After it receeds, Look, a manhole! Gee, a sewer adventure! Who would a thunk it! And in 5e?! Make a DC14 check to open it! Can't open it?! No adventure for you! Everyone can make a DC14?! THEN WHY THE FUCK DID YOU BLOCK THE ADVENTURE BEHIND A DC CHECK?! In we go!
Giant rats! Rats swarms! Ohs nos! Adventures!
Oh, look, a gobln/kobold village! Guess how they talk! "We'iz no scared of you! You's in ours's city now! Turn arounds and leaves's! You'iz no welcome here!" Alchemsts as the enemy continue the anti-science trend that society is currently in the middle of. Cultists as enemies betray a nasty anti-religion sentiment. (Says the avowed atheist. Lighten the fuck up on the dumbasses, as long as they are not telling you what to do.) And, there is, no doubt, some kind of anti-immigrant sentiment in the cartoonish portrayal of the noble goblin/kobold. See how did that kids? Next fucking level trolling right there. 🙂
Blah blah blah. Simple six room linear map. Blah blah blah. A room with a bridge that you don't actually need to cross since the door out is on the same side of the bridge. Blah blah blah. A rooms with webs in it that has the valve needed to open the door also in the room. Oh, and a giant spider.
You find a valve, open it, and it cleans the sewers. A week later the sewers gets clogged again and you're sent back in. This time to fight a drake in one of the rooms you were in before. I'm not sure if that's clever or not. I like the return aspect, but, also, ther's a little quantum nature in that the drake is NOT there, inthe dungeon, the first time, in about 50% of the cases. Basically, if you do a trap puzzle in one room then the drake is not present. If you run through the room then it is present.
Did I mention that, in a room with an obvious valve, you can make a DC14 INT check to determine that turning the valve will clear the same room of the gas thats in it? Are players this fucking dumb? No. Designers are.
It's a padded out, baby adventure for four year olds. Yeah, it's ok to run. It's clear enough. If you ignore the 5e meme shit, like making skill check/challenge shit, then, yeah, it's an ok 5e adventure. Where ok 5e adventure means "Dumb as fuck."
This is $3 at DriveThru. No preview, so gooo fuuuuuck yourself.
https://www.drivethrurpg.com/product/334309/Something-is-Rotten-in-the-City-State-of-Dennmarsh?1892600