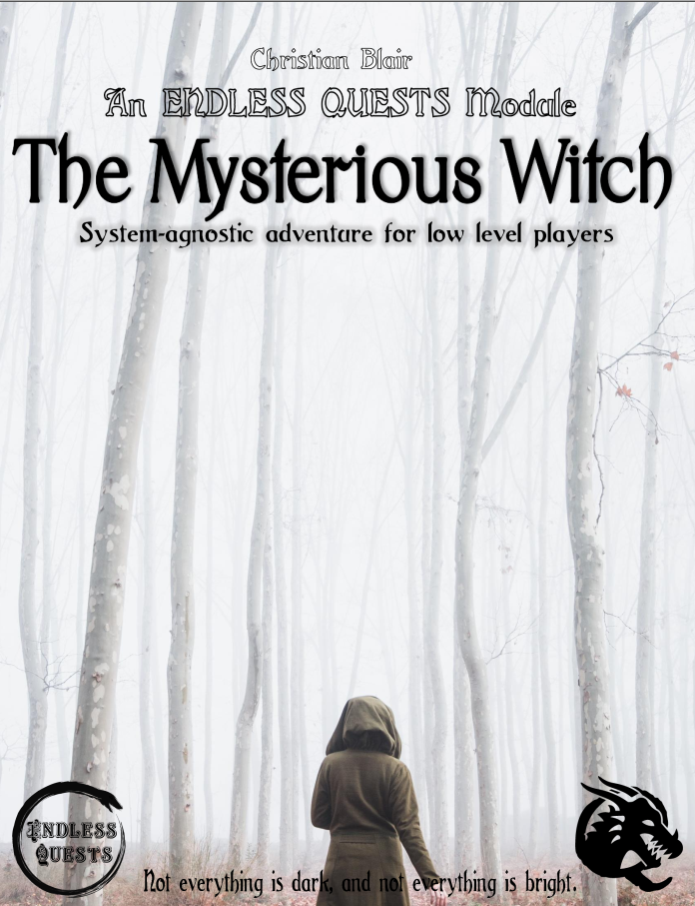 By Christian Blair
Self Published
Generic
Low Levels
The Mysterious Witch is an adventure designed for low level players, for use in any fantasy generic-system TTRPG. This adventure is themed around dark magic, mystery and corruption. Exploration and dangers await players as they travel into a forsaken village among the woods, besieged by undead creatures and horrors. The village asks for help to find the culprit, but the actual truth is more complicated, and beneath the dark veil, a sad reality awaits.
This seven page adventure features a five room dungeon. And small glade to explore. It's generic, in the abstracted way, rather than in a system neutral way. Well, it's that also, but, the adventure is more of an outline, devoid of anything interesting that would be useful to the DM in a meaningful way.
I think system agnostic adventures have a lot of potential. At least, system agnostic adventures of a certain type. You've got the ones that try to stat something using a "universal" system, usually the older fold who got traumatized by The Game Wizards lawyers. Then you've got my favorite type of system agnostic adventure, the ones that are really just an adventure without stats or mechanics to speak of. I mean, sure, a small mechanic or here, but, generally the designer trusts the DM to do what they need to to run the adventure, and maybe stats things for BX or something. This is, I think, the way most people run adventures anyway. You take something for some system, probably not your own, and do a kind of conversion on the fly. Maybe monster stats ahead of time but the rest is on the fly. I really like this sort of thing and I think it has a lot of potential. I really don't care about balance or mechanics in my adventures, that's what I'm there for. I'm in this for a decent environment for the party to explore an dplay in, some fun situations and so on, and you don't need mechanics for that. Then there's the third type of system agnostic adventure. The kind that is all too common. The one that is essentially an outline. Abstracted content that is not too specific. Almost minimalism. And usually, as in this case, minimalism that is expanded and padded out. Booo!
So, villagers are going missing. Like, ALOT of villagers. There's not much information on that, almost none at all. They suspect undead? But also, they suspect a witch and know where she lives and want you to go get her. This is the first abstraction. Not many villagers and no real story to tell of the abductions. Or the undead. Nothing really at all. Just what I typed above. Yes, absolutely, it's up to the DM to fill in things and bring a game to life, but, also, the designer needs to give them the tools to do that. And just saying that there have been a lot of abductions and they think undead might be invoved is not enough. You need some terrified looks. Boarded up windows. Some personal tales from people. You need to set the VIBE for the DM to then riff further on. And this don't do that.
"Once the layers reach the clearing they will find themselves surrounded by four ruined stone houses and a dry well." Note the padding. "They will find themselves surrounded by." and "once they reach the clearing." My old quantum example I thinks makes the best point about this, but, whatever. This is a conversational style. That pads things out. There is a clearing with four ruined stone houses and a dry well. We then get a description of the dry well. "The dry well has an object hidden at the bottom. It is a dungeon map that reveals the witch's last location". Again, padded out They find a hidden object. No, They find a map. And, to boot, it's boring as fuck. "That reveals the witches last known location." This is an outline. There is no specificity. It's an abstraction description devoid of any life. Going further we get the same sort of descriptions for the first house and the big house. Then a paragraph tell us tat amongst the ruins of "a house' there's a giant creature feasting on a dead body. The feasting is good, but thahat's not the ont. It's another paragraph. AND THEN we learn that, in another paragraph, there's a zombie lying stuck on top of the dry well. NO! We put things relevant to an object near the object in the description. Stuck is an abstraction. Tell us how. Zommbie is an abstraction. Describe it to us. Paint the picture of what is ging on for the DM to expand upon and rif fon and run the encounter. It's fucking terrible.
The entire thing is like this. Abstracted generic descriptions. No life in it at all.
And then there's the design, proper. "On the altar lies a scroll with the following riddle: "It's so magical, it comes every night. It takes you away without moving. To see it, close your eyes. " If the players say the answer out loud: Dream. The scroll magically transforms into a golden key." This is the worst kind of thing. Just a meaningless riddle, unrelated to the game, a pretext to give out a key. Lame.
This is free at DriveThru. But you will never get your time back. All for a misunderstood evil witch.
https://www.drivethrurpg.com/product/396898/EQ3-The-Mysterious-Witch?1892600