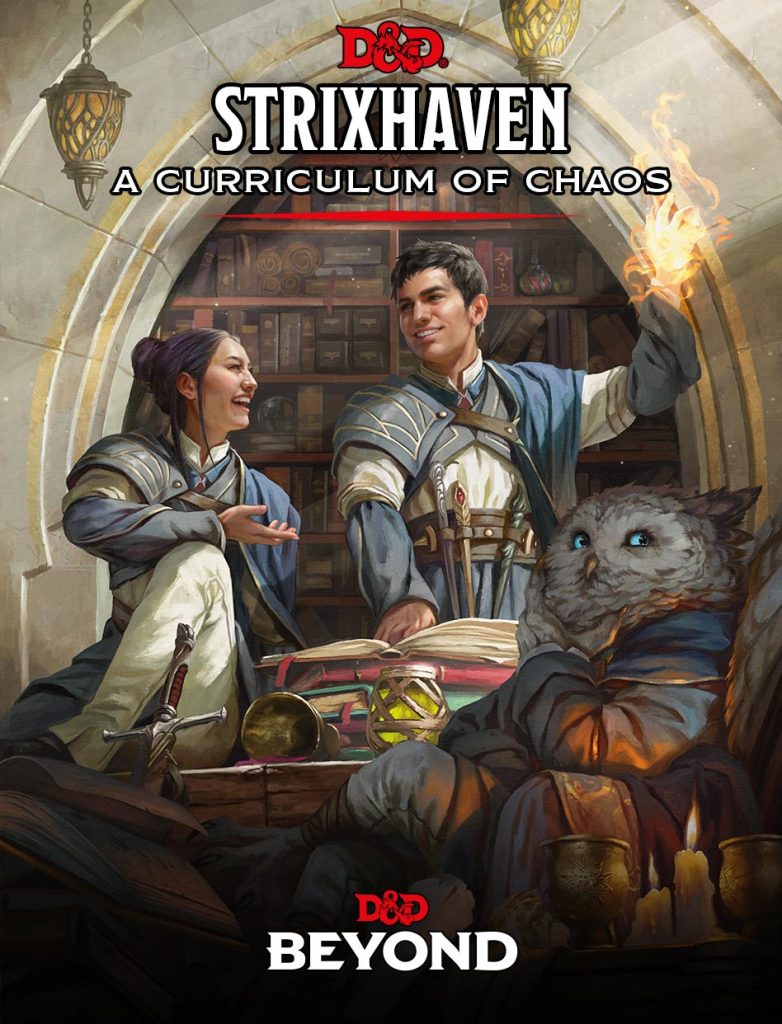 By Bill Bengham, Mackenzie De Armas, Dan Dillon, Steve Kenson, T. Alexander Stangroom
WOTC
5e
Levels 1-10
The greatest minds in the multiverse meet at Strixhaven University. Professors convey fantastic secrets to eager students, and life on campus is frenetic. But danger lurks even here. Campus hijinks mix with mishaps and sinister plots, and it's up to you to save the day.
Strixhaven is yet another shitty adventure from WoTC, coming in at 226 pages and with four railroad adventures that take you from level one to level ten. This time it uses a scene based design to rip off Harry Potter as a mashup with Magic the Gathering. It's generic, shittily written, and contains almost nothing that could be described as wondrous … at a multiverse university.
Yes, I know, it's a 5e review, and older product at that. But Daddy Stirring requested it, so, I'm doing the review. Or no more pedialyte and bug bite stix. Ok, so, we're not gonna harp too much on modern D&D. We're not going to mention that its devoid of a soul. We're not going to mention that it's actually an activity and not a game. We're going to accept that some people both think that this is what D&D actually is, that they want to play magic ren faire game with talking trash cans and continual light poles and sphere of annihilation garbage disposals everywhere with level fifteen wizard working as baristas at a coffee shop. People like this shit. We're going to accept that. We are, however, going to rip the living shit out of this PIECE OF GARBAGE for how it enables, or more to the word does not enable, that game style to occur.
First, the setting. Strixhaven. This is some Magic the Gathering crossover thing, I think? Sure. whatever. I mean, you should expect it. Did you know that here's someone QUITE senior at The Hasborg who has a job made up entirely of mashing two of their products together? So, like, if they own Barbie and GI Joe then this person is like "Barbie should appear in GI Joe and the Joes should visit Barbie land, like, do a commando raid on her dream house." I am NOT making this shit up. Their job is to find and encourage brand synergies. The idea is that The Hasborg should NOT own both Barbie and GI Joe UNLESS they both can feed off of each other to generate even larger profit$. It doesn't matter how successful each brand is, is they can't synergize with each other then the company SHOULD NOT own both. You own multiple brands to make EVEN MORE money than owning either separately would. So, we get a Magic location, Strixhaven, popping up in D&D. Yeah. I feel both synergized and just a little more cynical about the world.
And, of course, there's the Harry Potter vibes of this thing. IDK, was Strixhaven a Harry Potter rip off? I'm not a fucking moron so I don't pay to win Magic and thus don't follow it. But, even if Strixhaven the MtG thing isn't a Harry Potter rip off then Strixhaven the D&D game is absolutely Harry Potter with the lawsuit filed off. Sure, whatever. But, it's all there. The mini-book plots all leading up to Voldemort. The "arc" of the students. Love interests and relationships and passing classes and quidditch. This is the Harry Potter supplement for D&D.
A BAD Harry Potter supplement.
Because it's not a setting.It' is four adventures that take place IN a setting, Strixhaven. It tries to embed the players characters in to the setting, but it is NOT a setting. Or, maybe, it's just a really really crappy setting? It's not oriented around the setting, it's oriented around the adventures. So, if you want to know about the Forbidden Forest, err, Stinky Swamp, then you gonna have to find the adventure, and the scene of the adventure, that deals with that and read the couple of paragraphs that describe it. It's this way for all of the locations on campus. There is no unifying whole. It is NOT a setting. There are throw away sections on building relationships with NPC students and taking exams, in the front of the book in the setting section, but its all tacked on and it FEELS tacked on. But, overall, it's like, idk, you had a 226 page version of the caves of chaos section of B2. As if just the caves took 226 pages to describe. And then tried to run a different adventure int he caves than the one the designer intended. It's just not laid out right.
This is NOT intended to be a setting. Or, if it is then it's the worst fucking piece of shit setting book ever written. It's MEANT to run four adventure. You create a character and then play the four adventures, one for each year of university. And it hits the beats and the pacing of the Harry Potter movies. You jump, in large swaths of time, from one scene to another. It's suddenly several weeks later … There's just not room, or support, to run filler. You WILL be running these shoitty adventure as they are written, making sudden leaps during a session. "Ok, no, it's four weeks later. It's time to take your Slaadi exam ,,,: Not a setting. Four adventures. I don't think its possible to run it as a setting without a fuck ton of iffues for the DM. Instread, maybe just watch the first Harry Potter movie, maybe the next two also, and run a Harry Potter game from what you learned. It will be better than whats in here.
I said I wasn't going to botch about modern D&D, and I'm not. But I am going to bitch about the shitty bolt on rules for exams and relationships. And, in general, using D&D for something other than D&D. D&D, from the 70's, is about dungeon crawling. That's the game. Everything about the game is built on that premise. The whole fucking thing. If you try to do something ELSE with it then you are going to have trouble. And yet people have been trying to do something else with it forever. Lets run a detective game using D&D rules! Yeash, but, the rules let you have all of these detect spells at early levels. They do it so you can detect poly'd princesses and doppelgangers and their ilk in the dungeon. When the wizard memorizes that then they don't learn Fireball, making a choice. The spell lists WORK AGAINST a detective game because of this. If you want a detective game then you need something that doesn't have detect evil/alignment/read minds, etc in it at low levels.But people force the system to do what they want anyway. Lets run a romantic love game! No. Maybe try some indi rpg game to do this? But , not, they try and mak D&D do it. Yes, the game has evolved, through 3e and 4e and 5e. But, its roots are still in dungeon crawling and the rules show that. You can't escape it
Even for a game involving wizards at uni haing to study and, for some fucking reason, building relationships with other hand taking part time jobs. I'm a fan, in general, of little mini-mechanics in systems. I love the way they can easily replicate something or motivate. But these don't do that. It's just some bolt on garbage, that takes WAYYYYY too long to explain and doesn't really have much of a reason. In fact, if you want to minmax, you should avoid them. And min/max you will.
For this book/setting/adventure has no soul. None. Did you make a well rounded character to fully explore the setting? Then yo're a fucking idiot. You should have min/maxed. Because the designers are fucking idiots. This piece of shit relies on skill checks. You want to pass an exam? "The day before the Exam, the characters can study the course material. A character can use any ability check and skill during the Studying phase." So, use your athletics to study for your Sladdi knowledge multiple choice test. I, rather famously in my friend group, did this in a 4e game, where I used Know(religion) in a skill test to make it past two city gate guards. It was St Bartos day, and no gate guard looks left on St Bardo's day. It was not allowed. Which, I guess was cool since I was actually commenting on how dumb the skill challenege system was. But, it's fucking cannon now, do what thy wilt! And, min/maxc that shit! Just make your DC skill check or you fail the exam. There is NO reason to do anything other than min/max. In another section, if you're caught more than once, failing checks, then you're punished with your job taken away, failed exams, etc. Just fucking min/max your shitty ass character and make thedie rolls. D&D, roll play not role play. The meme that people attribute to old school play, which was never true, is now actually the official way to play. Wonderful. Just shut the fuck up and roll the dice.
I'd like to talk about the Harry Potter movies, and, specifically, the first one. I think it does a magnificent job of presenting a wondrous world that is being exposed to hHarry and seen through his eyes. There's a joy and awe in his experiences to the veil of maya being pulled aside. That's kind of the point, of the first movie, and they did a good job at it. That's the kind of reaction that I'm looking for in D&D. I want awe and wonder. This is a magical place. There should be mystery and a magical experience in it. Awe & wonder. You know what it should not be? Another shift at the coffee shop. The mundane drudgery of life. Gee, that's fun, right? But, that's what this supplement/adventure is. They've managed to take the greatest minds in the universe at a magical university and make it one of the most boring things I've ever seen. There's no awe. There's no wonder. It is like it has all been surgically removed to some generic abstraction. The worst trophy references, abstracted. This is not a new thing for WOTC, they seem to have a particular skill in taking whatever content is produced (I'm guessing) by their writing staff and then yoinking anything good out of it so it's all just bland generic mush. There is NOTING magical about this. Not in the setting and not in the adventure. If you squint, REALLY hard, then maybe you can see what they are trying to do. But it's not done at all.
"Explain the [the libraries] areas in detail before the characters begin this scavenger hunt, so they have an idea of which areas the clues point to." Great. Yes. Exactly. That's how you run an adventure. You monologue to a hundred hours so the players can solve the riddles. The first year adventure could be summed up as "there was a surge of wildmagic in the swamp." (if not running a campaign. Why the fuck would you not run all four/the campaign?) But, still, a surge of wildmagic? That's whats behind eveyrything? Its so fucking boring I'm falling asleep in class. No? Not good enough. I know. But it's all the snark you're getting from me for this piece of shit.
Oh, o! At none point the read-aloud ACTUALLY says "You can't let someone ruin the first day of classes; time to step up!" Jesus H Christ man. Seriously? And none of the creature encounters are anything more than a tacked on encounter. You're doing frog races in the bar, betting on them, they turn in to giant frogs. COMBAT! Yells the dm and everything stops, you fight the frogs, and then move on. No actual integration. No synergy with the bar. Just the worst kind of "they come out of stasis" vibe, as if the rest of the setting, where the fight took place, who is present, doesn't exist.
It's just generic abstracted railroad. It's fucking BAD. ANd it's $45 fucking dollars. Just go watch some Harry Potter movies or buy some HP roleplay game and run it using the 5e rules. You'll be happier, by far.