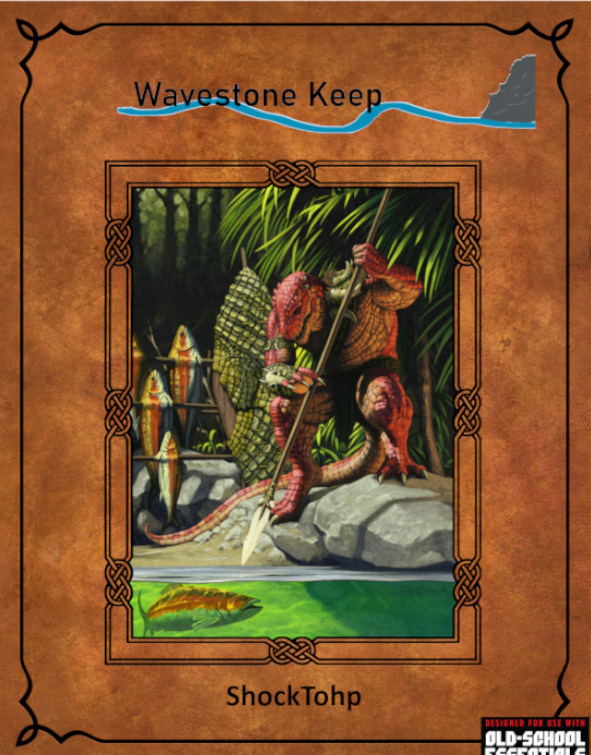 By Kevin Conyers
ShickTohp
OSE
Level 3
Fear the waves, the tides and the sea itself! A fearsome tower of stone roams the oceans, delivering its deadly cargo of lizardmen wherever it happens to land!
*sigh*
Eight pages. Nine rooms, all on two pages. Which could have been one, honestly.
Look at that tagline. Fear the waves, the tides, the sea itself! A fearsome tower of stone! Note: this adventure doesn't even have a tower, that's how AWESOEM it is!. The existence of waves, tides and sea must be extrapolated, allowing the DM to put a bunch of extra time and effort in things, allowing them to exercise their brain muscle!
Seriously, no tower. A cave complex, but no tower. Note the adventure tidal: Wavestone Keep. No keep. At all. Just caves. How's that for marketing oomph?! Yeah baby, it's open ended, allowing the DM to fill in the gaps!
How about a bunch of rooms with lizard men and kobolds who just wait in side to die, not responding to anything? You got it! Wave after wave of them, where "wave" is defined as the waves in the tagline, I guess? It's too complex for a mere plebe like myself to understand.
Like, what the fuck am I supposed to say about this thing? "Crudely carved room, stone protrusions serve as beds." Woaaah! I'm inspired! How about the 2d10 lizard men that are inside? You know it baby! There's a challenge for you! Your brain just SPRINGS in to action when something like this pops across the page. "Natural cave with a carefully cleaned floor?" Count me in! My players will DROOL with anticipation at that! And the loot! That room contains AT LEAST 4000gp worth of treasure, allowing the DM to just fill everything in on their own without having to worry about a designer filling it in for them!
Wait, wait, back to the 2d10 lizard men! EVERY room is like that, with a variable number of monsters/guards. How's that for sticking it to man?1 No need to actually put itin, it could be 1 or it could be 10! Masterful game design!
How about that wandering table with giant rates and bats on it?! You remember that old marketing line that D&D was limited only by your imagination? Rubbish! This is clearly not limited by imagination AT ALL, and has NOTHING to do with imagination! The marketing lies, this is the real deal, right here!
"Crumbly natural cabe, stone floor littered with detritus." Thrill at that terse description motherfuckers! Fuck your evocative writing! This adventure don't need it!
Room after room like this. All nine of them. With variable monsters. With a short description tat says nothing. With DM text that elaborates on nothing but what there is to stab. Sadly, there's no details on how many egg clusters there are on the nesting room, or what lizard men eggs taste like.
A boy can dream.
I find my recent run of adventures deplorable and they make me want to giv eup on life. Not kill myself. Just stare at the screen, numbly. So, we gonna do something bout that.
Ok fuckers, you made it this far. Welcome to the next Bryce Lynch adventure design contest. There's only one prize. $100. And you get a handwritten card from me calling you not a fucking idiot. Unless it turns out you are one.
You get nine fucking rooms and eight fucking pages. And PLEASE don't feel the need to use all eight pages. Pretty please?  Entries must be received by March 15th. The title has to be Wavestone Keep, but you can't use that name, just call it something like that. And the marketing blurb has to be "Fear the waves, the tides and the sea itself! A fearsome tower of stone roams the oceans, delivering its deadly cargo of lizardmen wherever it happens to land!" But, again, you can't use that wording, come up with the same fucking thing though. Oh, and buy a copy of this shit-fest as inspiration. bryce0lynch@gmail.com That's a zero and not an o in there.
This is $1 at DriveThru.
https://www.drivethrurpg.com/product/386162/Wavestone-Keep?1892600