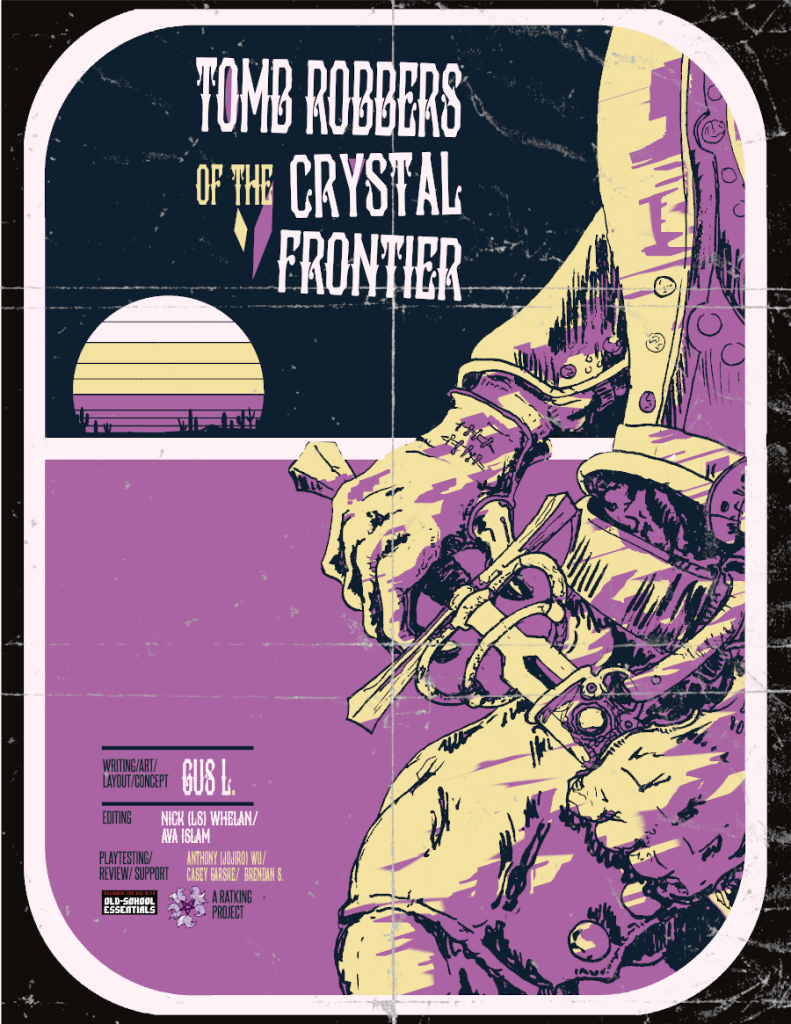 By Gus L.
Ratking Productions
OSE
Level 1
Welcome to the Crystal Frontier, a desolate magic stained wasteland where fabulous crystal spires and fortresses plummet from the skies to tempt the desperate and the bold with magical gems and golden treasures. Find your fortune or find your death as you plunder the fallen sky tomb of an Empyrean despot. SCHEME with the unnatural denizens of the Crystal Tomb! UNRAVEL the secrets of the Dead King and his realm of misrule! LOOT strange magics and opulent treasures from beyond the sky's vault!
This 61 page digest sized adventure presents a "classic" dungeon crawl with about eighteen rooms in about as many pages, along with associated murder-hobo town. It oozes with the Gus L flavour, is well laid out and edited … albeit pushing the boundaries of what can be done with the selected style, and is full of interesting situations. A classic dungeon-crawl of the best sort … with a little weird world of crystals thrown in.
Normally I'd cover what's good about an adventure and then rip it apart. Normally, adventures are bad. But this isn't a bad adventure. So, instead, I'm going to cover first what could be improved and then go on to fanboy'ing over what's good.
So … the map. It's a good map. Don't get me wrong. It's got some elevation changes. Some terrain features. A few alternative paths. It's pretty clear and evocative and matches the vibe of the adventure well. Little map sections are also included in the adventure for reference during play. IE: this is the picture of the room you are currently in. But, in addition to the "main" map there is also an isometric map. Isometric maps generally excel in showing elevation changes. And that it does! You can see room features like ledges and cliffs very well. It fails, I think, in some of the corridor elevation changes. Or, maybe, doesn't match what the text of the adventure says? It's a minor thing.
Second, the adventure setting. The land of Gus is full of crystals. It makes sense in the context of the world, but that world is not one of high fantasy or even middle fantasy. Grewhawk and Forgotten Realms players will be out of their element. Unless you run an exclusively Red Wizards game. This tends much closer to something like the world of ASE1, a world in which the wizards are in charge and they are fucking brutal. It's not quite gonzo, but, The Warlock King of the Bull Kingdom is the land next door and people get diseases that cause them to grow crystals out of their body. I think it kicks ass and would fit in to my default game world style. But Greyhawk it ain't.
Finally, the format and/or layout. It's good. It's VERY good. It's using a great general format, providing a brief room overview of a few sentences and bolding a few of the keywords in that overview, that then get their own sections of follow up information that is easy to scan. Rooms generally get between half a page (digest sized) to two pages, depending on complexity. The longest sections tend to be about about a quarter of a column. What's he managed to do here is pack a tremendous amount of information in to a very little amount of space .ALMOST too much. It's not too much. But man, you look aat it and you're like "this is a lot." and then you go through it, and, because of his job in editing and formatting, it's not. You can locate and scan information quite easily. I don't know, though, how much farther this can be taken. If this were a much longer dungeon would I still feel the same way? Or, if the rooms were even more packed can the same sofmratting hold up? I don't know. So, yes, my bitch is that it's MAYBE not future proof and triggers my past adventure review trauma when glancing at it before actually looking at it. 😉
Gus knows what he fuck he is doing, and this is oriented towards a new DM. Or, perhaps, a Dm not accustomed to the OSR play style. He offers advice both up front and in the rooms, as sidebars, on how to handle things.
One room, a large cavern ,has, like, 500 bodies in it that animate when disturbed, as zombies. "Ah!" i thought "A puzzle room!" and indeed Gis then has a nice little sidebar pointing out that this is NOT a combat encounter and how to run it not as one. Also, uh, room with 500 zombies in it! Kick ass!
We're got factions in the dungeon. There are some interesting puzzles, both literally, as is generally found in tombs, and figuratively, like the zombie room. Crystal Dustremains an environmental danger in many rooms. There are "people" to talk to and Gus makes explicit the ration table in many encounters, reminding the DM to use them by noting how they react.
I'm going to cite some descriptions from the nearby shithole town he describes, as examples of How To Do Things.
The town is described as "A town filled with vileness, its very atmosphere impregnated with the odour of abomination; murder runs riot, drunkenness the rule, gambling a universal pastime, fighting recreation." Now that's the kind of frontier town I like! A deadwood after my own heart. One of the gangs is called Bug Tunny and the DeadHeart Boys. Not bandits. Not brigands. No. Big Tunny and his DeadHeart Boys. THAT'S how you refer to something in an adventure. That's the kind of specificity that adds so much to an adventure. The kind that "brigand gang" can never duplicate. Also,The League of Saloonkeepers and Madams for the Common Defense. The fucking name REEKS of the situation in town and you could write an entire based around that name alone because of all that is implied in t! Fuck! Yeah! And he's got a whole LONG table of situations that could be going on in town. It takes up so little space and adds so much. Rot-Root the lotus dealer is out of stock. He's waiting on a huge shipment from Aurum Ferro any
day now. The addicts are restless. The market is poised to be upturned by a cunning entrepreneur, or a skilled hijacker. Uh huh. That's got so much in it!
He does a great job with supplemental information, even providing a tracking sheet, ala Melan, for the DM to track time and the like on. There's a possession table that is out of this world. Realistic, makes sense, not too punishing but still make syou wish you weren't possessed. It's little details, that, over and over again, build on themselves to deliver an impact much larger than the mere word count would imply.
I leave you with the description of one of the rooms:
Accessible only via a long crawl down a 3' square corridor. The cold, damp passage descends before finally opening into the room near its ceiling. From the passage is a 10' drop into the blackwater that partially floods the room—a stark contrast to the milky-white crystal of its walls. At the center of the room is a glass pillar, rising 4' from the water and topped by a sittingfigure in rotting gold brocade robes. Apricot-sized orbs of fire orbit the figure's head.
Note tha the first two sentences are you need immediately, the room before the room, so to speak. You scan them, run them, and move on. That leaves three sentences left for the DM to scan. We get the drop, the blackwater flood, the most obvious things, first, with the walls a close second and the then the piller and sitting figure. The order you need things in. A long crawl down. A 3' square. Both evocative. Blackwater partially flodding The contrast to the milfy white crystal walls. A GLASS pillar. ROTTING gold robes. Orbs or fire. ORBITIING instead of circling .Note the word choices and how they work together. Good Job.
This is $7.50 at DriveThru.The preview is 30 pages. More than enough to get a sense of the world and the dungeon and the formatting and layout style and determine if its a fit for you. Good job!

https://www.drivethrurpg.com/product/357799/Tomb-Robbers-of-the-Crystal-Frontier?1892600