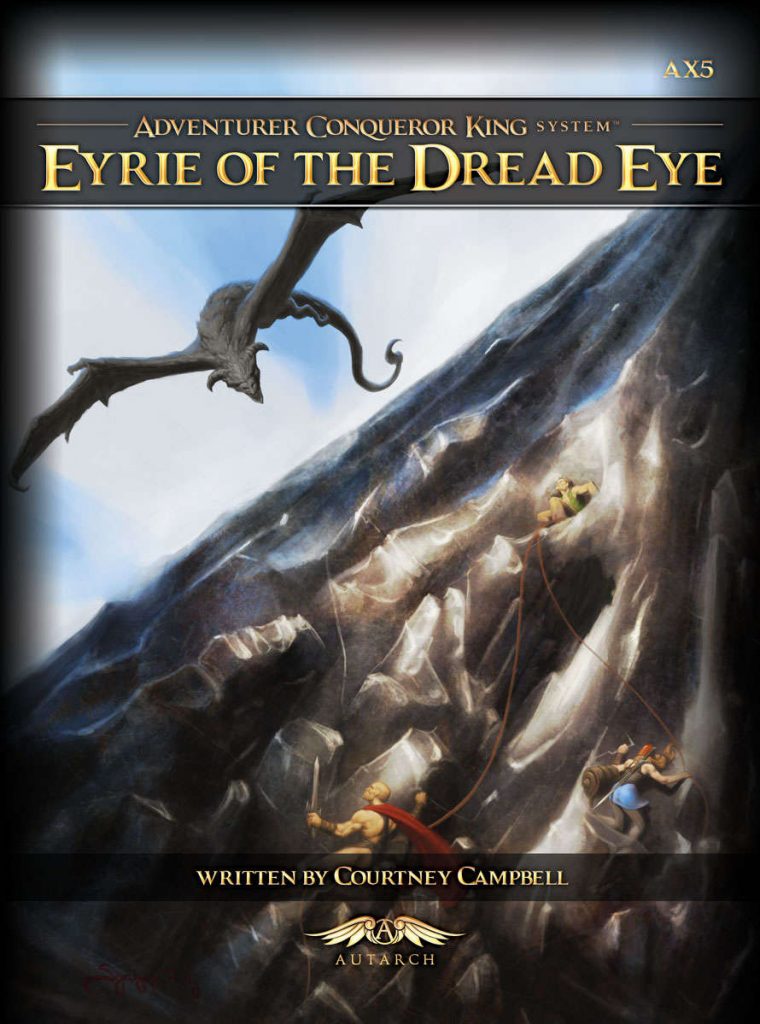 By Courtney Campbell
Autarch
ACKs/BX
Levels 6-8
… Now the Awakening is near, the Spheres are coming into alignment, and the Oculus is beginning to open. The dark power is reaching out and for the first time in an age the Eyrie of the Dread Eye is accessible again. As the Eye opens, reality itself comes under further and further strain. And as rumors of a new valley containing an underground forgotten city filled with untold riches spread out from the Dark Wall, the Oculus continues to open ever wider.

This 59 page adventure describes a ruined city. There are about sixteen encounter areas prior to the city, and about eight "faction headquarters" in the city. This description, though, trivializes the emergent play sections of the city, a major part of the adventure, as well as the ever-present danger of the "minigames" that the locale proper provides. One of the better Lost Cities adventures, combined with a great example of pull-no-punches DM'ing that DOESN'T feel adversarial. Its complexity is its downfall and it could be organized better, going a little too far over the line of emergent play. But that don't mean it ain't a treasure, cause it is.
This isn't a dungeon. It's not even an adventure. It's an adventure site location. The title, EofDE, makes it sound like a dungeon or adventure. It says "site-based adventure" somewhere in some description, but that shit gets thrown around like a marketing term. But this thing ain't fucking around: it's a site-based adventure location. And it's gonna fuck up every party that meets it in a non-adversarial DM'ing manner, unless they are EXPERT players making multiple forays.
Rappan Athuk did something interesting: it highlighted threats outside of the dungeon. Bandit groups, with hundreds of members, preyed on you. This sort of thing is generally abstracted ot skipped over in adventures. What if, in X1, you came back to find your ship destroyed because it was continually attacked by large monster groups? And how many adventures deal with the consequences of the wandering monster table with respect to the hirelings & henchmen & horses you leave camped outside of the dungeon? This is an adventure for levels 6-8, which Courtney describes as "high level." And that's been my experience as well; Level 6+ B/X characters can be monsters. Lots of magic, both in spell and item form. A player with any sort of creativity can overcome A LOT. As a high-level adventure it does not abstract.

So you've got the 20 on a lost city rumored to be full of loot and off you head. Getting close you encounter the Argonath, in the form of a giant snake man statues, broken, behind it the path to the lost city. [IE: you are entering the mythic underworld and shit is about to get real.] From this point on wyverns are a constant threat. There's a lot of wyverns in the cliffs and if you wipe them all out then more will show up eventually, in restocking the dungeon format. Thus we have an ever-present environmental danger to the party in the form of wyverns. Who are guaranteed to show up and assault stragglers and whenever the party is weakened or vulnerable. Like during a partial cave in. Or while climbing cliffs. And they HATE flyers. And thus the designer takes care of both "why fly spell doesn't work" as well as causing trouble for Ye Olde high level party.

It's a constant threat. Rappen kind of did something similar with that bandit/wilderness stuff, and a couple of adventures have tried to intimate something similar, but not like this. This is the sort of difficulty modifier that high level play should expect. It's not those bullshit cold/heat/humidity rules that lots of "exotic" adventures turn to that cause so much logistical trouble and get in the way of fun. Of no, the party knows about this threat, will be aware of it, and will have to deal with it. They can always nuke the wyverns to buy some time (yeah! Party choice!) but they WILL come back.

It's hard for me to write this review. I like to focus on the positives before moving to the negatives, but this adventure feels different. The encounters tend to be interactive. The boxed text, what there is, is short and evocative. But unlike most adventures, the traditional format is left behind. All adventures are emergent play adventures but this one is more so than others. Sandboxy? Emergent Play focused? Toolkit? There's some element of truth to all of those descriptions, but never in a bad way. "Toolkit" doesn't even go over the line the way it usually does.

There's a cliff face 400' with some caves/edifices that the party will confront after the giant snake-man statue. It has about eight locations, three of which lead to an dinner chamber which leads to the lost city. You need to get up the cliffside and explore the holes. Also, don't forget the ever-present wyverns to deal with. Once inside the inner-chamber there are, again, about eight more things described, including the centerpiece giant multi-armed statue who's hands/arms can act like an elevator. Cool! Then, you reach the lost city …

It's large. It has several groups within it. There are eight locations described in about a half page to page each. There's a wandering monster chart in which each monster is given a number of different things they could be doing/engaged in, as well as a "random ruins generator" for exploring the various ruined buildings around town.

You made it all the way to this point in the review. Do you know yet what the adventure is about? It's about that last part, the random ruins. Courtney never explicitly states it, I think, but the goal of every page of this adventure is to focus on the play around the looting the ruins. Stealing every fucking thing you can. Explore every nook and loot every last dime. (ok, it could be "make a daring dash in and steal some shit without getting gacked, but it's the same thing in my mind, just different degrees of willpower and success.) "Hey, giant lost city form a fallen civ full of gold and magic. Lots of monsters also. Want some loot/xp? Go get it!" That's the adventure.

Now the wyverns make a lot more sense. Now the cliff makes more sense. It's all there to make looting that fucking city more complicated.

The emergent play is looting the rando sites in the city. While dealing with the wanderers. While dealing with the factions inside the city. While dealing with getting it out/down the cliff. While dealing with those fucking wyverns outside.

To a certain extent this is the same thing that happens in all OSR adventures. The difference is that those have a more finite environment, representing the dungeon, with an abstracted "outside." This doesn't. Hence the description of it being pull no punches DM'ing. The DM has set up a series of harsh game-world rules and put the potential of a FUCKTON of treasure in front of you. It's up to you, high level adventurers, to figure out how to extract it, and to what degree.

Courtney understand this and the adventure is focused on it, almost every choice in the design being oriented towards that. But, given the rarity of this sort of thing and the degree to which Courtney is focused on it, it could have used a one paragraph designers note section explicitly stating that's what it is and how it works together.

Fuck if I know what else to say about this. Good rumors, good wanderers doing things. The wanderers are also VERY opportunistic, almost every last one of them, picking off strays and wounded and running away. There's a section in which you can encounter an NPC party, but you're told to roll one up on your own; a half page of pre-rolled ones would have been nice.

There's a couple of party gimps with spell levels and undead turning and scry scrolls. They mostly feel out of place. I get the undead thing, lost cities should have undead and undead should be a threat but high level clerics fuck off with undead. The options to just make them tougher seeming to be its own issue. I don't understand the spell level gimps the other prohibition against scrying, it doesn't make sense to me. Calling the main opponents "the optics" I guess you could make the case that it fits in that, as well as the usual pretext of "a place of great evil." I'd probably just not mess with the spell levels or the scrying thing. The undead thing is a major old school issue, but again I'd probably just let it be without a gimp. The turn rules in older D&D need to be better without the BS in modern D&D. Then it becomes closer to a resource game mechanic.

I have trouble with one of the main maps, the cliff map. I can't make out some of the features on it, or what they are supposed to represent. Stairs? Just art to spruce up the map? The "climb the cliffs" minigame also takes up a little more than column and could be better organized as well. It feels a little free-form and could use better organization, bolding, headings, etc. Climbing information feels buried in a wall of text of rules dictating climbing that seems hard to follow during play. The city map though, being isometric, is great, allowing the DM to describe landmarks seen at a distance, etc.

The factions are not what I would consider factions. They are more "the major people/organizations present in the city." While not all hostile and the designer mentions to ensure reaction rolls and even hostile doesn't mean combat, , they don't seem to have needs & wants, at least in a traditional way that you can bargain with. Even the "enemy of my enemy" stuff is not really present. This is a miss. It doesn't feel like there's a place/way to find common ground, because they have no ground mentioned.

What is not said is that this adventure will dominate play for several months for expert PLAYERS. This isn't a quick in and out, probabally. The party will go back, to a location 70 miles away, several times. They'll get their asses kicked. They organize logistics. Hire mercenaries. Hunters to feed the merc. Elite guards to watch the loot they bring out and protect it from the mercs and hunters they brought out. There's a "loot extraction logistics" mini-game implicit in this adventure, that will take a long time, game time, to execute. You could write a page or two of NPC's and adventure/complications ideas and include it in this adventure and it would only make it stronger. (Good advice. Should have been done.)

This is a good example of high level play and one of the few "loot extraction" adventures written. It could be better with organization in several parts, and some summaries of how thing works, better faction play, and maybe some logistics help. But that don't mean it's not good enough to be centerpiece of a campaign for months.

This is $5 at DriveThru. The preview doesn't work. Not that I think any preview of this could relate the adventure.
https://www.drivethrurpg.com/product/268206/Eyrie-of-the-Dread-Eye?1892600
I see a 5e version is available. I have no idea how that would work in this environment.