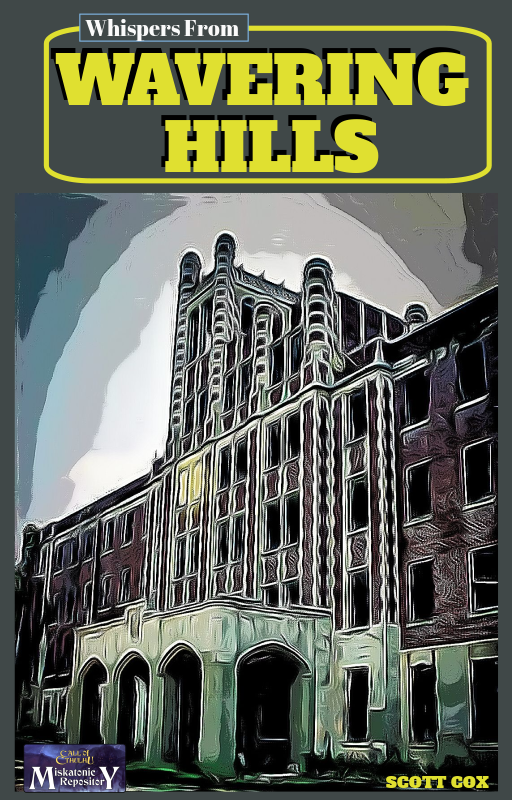 By Scott Cox
Self Published
Call of Cthulhu
Wavering Hills Sanatorium, a hospital for the relief of suffering lies nestled in central Kentucky on grounds with a sordid and mysterious past. The apparent suicide of a troubled young girl yields questions of an otherworldly nature. Will the investigators unravel the mystery of Wavering Hills?
This fourteen page adventure details the investigations in a sanitarium. It's a basic investigation and at a pretty high level, which is good for an investigation. But, it lacks basic details and doesn't help the DM out enough. You can do high level, but you need to support it also.
A request! You know how I love to do requests! So stop your bitching and allow me to be do this good act.
It is our investigators first adventure and its in a sanitarium. There are no real hooks, just a suggestion that they could be new staff or new patients "or any other reason." None of this really helps, at all. No information to support play as staff or patients or "anything else." It's needs about one page more to develop a solid hook/background/support for this. Otherwise the DM is left with making up what its like to be patient, or staff, or whatever.
There are a few NPC's, a head nurse, the doc in charge, and a patient, with a couple of other patients given a few words. The NPCS that do exist are done well, with solid trophy personalities to play up. Maybe a few example statements would have been nice for each of them, and a fw more staff and patients, but, whatever. "Nurse & mother hen" and "cold hearted and single minded" go over well in my book.
There's a small section on the five sense, which I really appreciate. Adding the sound echoes or antiseptic smell is a good touch for the DM to add to room and encounter descriptions. This could have been put on the border of the map page, or some such, to keep the DM reminded of tit.
Of, wait, there's NOT a map page. There is, instead, a brief text description of the hospital. Of, like, eleven floors. Un. Cool. That does NOT work at all. You just need a basic fucking map. You can just label it, you don't need to describe every room, but you need SOMETHING to support the party sneaking around and avoiding nurses, doctors, etc.
There's some other simple things wrong also, like putting the read-aloud in italics and making it long. It doesn't overexplain, but it does get long. Which is how a 1.5 hour adventure gets to fourteen pages. Yes, 1.5 hour or so. It's VERY short. There's not a lot going on and the investigation is pretty straightforward. Oh, look, the third floor is chained shut, let's go there!
But thats not the main issue here. The main issue the the overview style of presentation.
This is going to get a bit complex. Essentially the adventure is written as an investigation. Rather than room/key it instead covers major rooms, like the docs office, etc, and gives an description of those major locations. Which is exactly what should be going on. And it details some of the key things that the DM should be doing in the different chapters. Like, in this chapter they should learn X or discover Y. That's great. I can quibble that those sections could be clearer/easier to find and parse, but the dude has the right idea. Kind of a major outline, with more detail zoomed in on for those sections that need it.
But, we've already seen, that the adventure glosses over just about everything else. I mean, no map. No real hospital staff scedule. Nothing to support sneaking around or asking questions or anything like that. And lets pray no one goes in to town for a newspaper office; there's no support for anything other than looking around the hospital.
It's so very BASIC. That doesn't have to be bad, but, in this case, its completely straightforward. It opens with a patient jumping off the roof and saying something like she wanted to fly "like they do" and green goo leaking from her ears. Ok. So, no build up at all then. Ok, third floor is chained up. Let's fucking hit it!
It needs more build up. More support for investigating and talking to people. A basic map to run nightime stealth. A few more NPCs to round things out. Maybe a few subplots going on. None of this has to be huge, at all. But the complete lack of support for anything OTHER than the very short adventure hinders the play immensely, IMO. or, perhaps, hinders the support of the DM in trying to get more out of this.
This is $3 at Drivethru.The preview is not the best for figuring out if you'd like this. Page three, though, does have the text description of the hospital layout.
https://www.drivethrurpg.com/product/378808/Whispers-from-Wavering-Hills?1892600
Hello. This is the Bryce Emergency Review protocol. Bryce writes about three weeks ahead and has not written a new review in about three weeks, so this script has snagged an emergency review to post instead. Bryce has also been emailed and told to get back to work instead of engaging in whatever delight he is currently using to manage ennui.