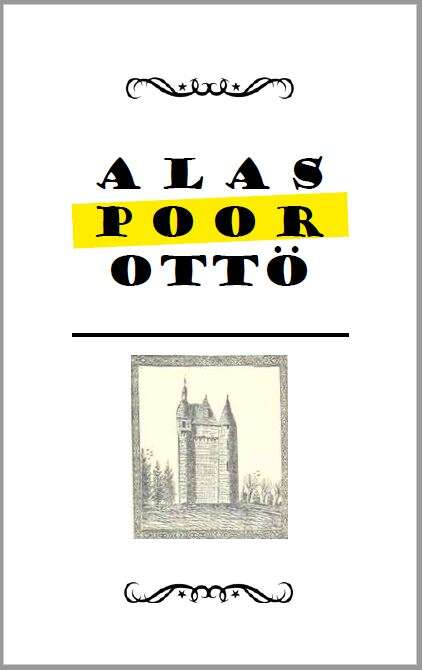 By Greg Saunders
Fire Ruby Design
Mork Borg
The wizard Inclulas is dead – a spiked club to the back of the head has that effect no matter how many scrolls you own. Brigands have looted his body within sight of his manse, and his scrolls disintegrate into the bloody mud around him. His servant, Ottö, saw the murder, but his presence in the backlit doorway scared the murderers away – for the time being. Now Ottö has retreated to the alchemical workshop, to help himself to all the liquor he can find. He has inadvertently mixed several potions together in his guts, and the weird magical concoction has had peculiar effects…
Sixteen digest pages of garbage detail nine rooms in a wizards home. More Mork Borg crap.
I know, I know. Believe me I know. How could I not know? I mean, it says Mork Borg right on the blurb. We all know what that means. It's gonna suck. We all know that. I mean, there's a chance it won't, right? And, we can't actually, any of us, say that we know its gonna suck OUT LOUD. That's not cool, to lump them all together. But, seriously, we all know this at this point in time. So then why? Why review it? I promise you that I don't do this on porpoise. As I have said, time and again, I go in to these things with a sense of wonder and hope, optimism for a bright new tomorrow. I mean, read that intro again. "A spiked club to the back of the head has that effect no matter how many scrolls you own." That's fucking great! I love that! The rest of this HAS GOT to be like that, right?!
Let's crack this fucker open and back in the glow of each other majestic presence! Oooo, look, a description of the butler, Otto! "A thin, gangly man dressed like a shabby butler, with a balding egg-like head surmounted with a strange hat and a pronounced slouch, Ottö is no one's idea of a good servant. Luckily, Inclulas was no one's idea of a good master. Ottö is in parts whiny, moody and acerbic, but under it all lies a simmering rage at the injustice of his servitude. Unfortunately, he is also a coward, which is why he is still here after all these years. Drunk: Ottö is completely inebriated. We've all been there."
I mean, that a little lengthy, but, it's a good description. A shabby butler, egg-like balding, pronounced slouch, a simmering rage at the injustice of his servitude just under the surface. That fucking rocks. "We've all been there." That's right man! Tuesday mornings, am I right?!?!
It is at this point that the adventure turns to suckatude.
There are virtually no creatures in the nine room mansion. Instead we are told to sprinkle in the four aspects of ottos' split personality. They "may be encountered as drama and whim dictate." Oh come the fuck on man. Fucking pout a creature in a god damn room! Would it fucking kill you to marry the room to a specific Otto and something specific going on? I mean, yes, it would fucking force you to actually come up with something that fits together. Heaven fucking forfuckingbig that you do that. I mean, after all, you're only asking $4 for this thing, why would we expect you to do any work for us, right?
The wizards lab? "In here are scattered the paraphernalia of a master of the arcane arts. Or it might be a useless collection of broken glass and rubbish. You decide." Hmmm, I'm starting to sense a pattern. How about treasure in Otto's room? "scroll (randomly determine which one) and a scattering of gold and silver coins"
Are you worried about being judged? Is that why you don't put anything specific down? If you don't make a decision then no one can blast you for the decision you have made? And, if someone, such as a certain reviewer, blasts you for that you can just say that people just don't you, man …
I think not. This is just fucking lazy design, as all Mork Borg designs are. Are they all? DO I ever recall seeing a Mork Borg design that WASNT lazy as fucking shit? I don't know. It doesn't fucking feel that way right now. It feels like all of the Mork Borg shit is just some random ideas someone took an hour to throw down on paper. No real thought. No real design. No real attempt to make this in to an actual playable adventure.
Is it that much fucking work? No. I mean, I asked these fucking questions before, a couple of years ago, and that what inspired the work I did on Maw. Can you just take a couple of hours and create something worthwhile. My goal was, I think, an hour to create a dungeon level. By the third-ish level I was able to create a dungeon level in about 90 minutes. Were they fucking works of genius? No. But they were fucking light years ahead of this crap. It CAN be done in a short amount of time. You CAN spend just a few hours to polish something enough to be a good enough design to get great gaming out of it.
But not it you don't understand. Not if you don't understand what an RPG is and how it is played. Not if you don't understand what an adventure is and not if you don't understand how to write for the DM. If you don't understand those things then you get something like this. "Hey, man, here's some ideas. Like, use them, or not, if you want, to run a game. Or riff off of or something." That's not an adventure.
This is Pay What You Want at DriveThru, with a suggested price of $4. The preview is ten pages and tells you all you need to know.
https://www.drivethrurpg.com/product/378452/Alas-poor-Otto–A-Mork-Borg-Adventure?1892600
Hello. This is the Bryce Emergency Review protocol. Bryce writes about three weeks ahead and has not written a new review in about three weeks, so this script has snagged an emergency review to post instead. Bryce has also been emailed and told to get back to work instead of engaging in whatever delight he is currently using to manage ennui.