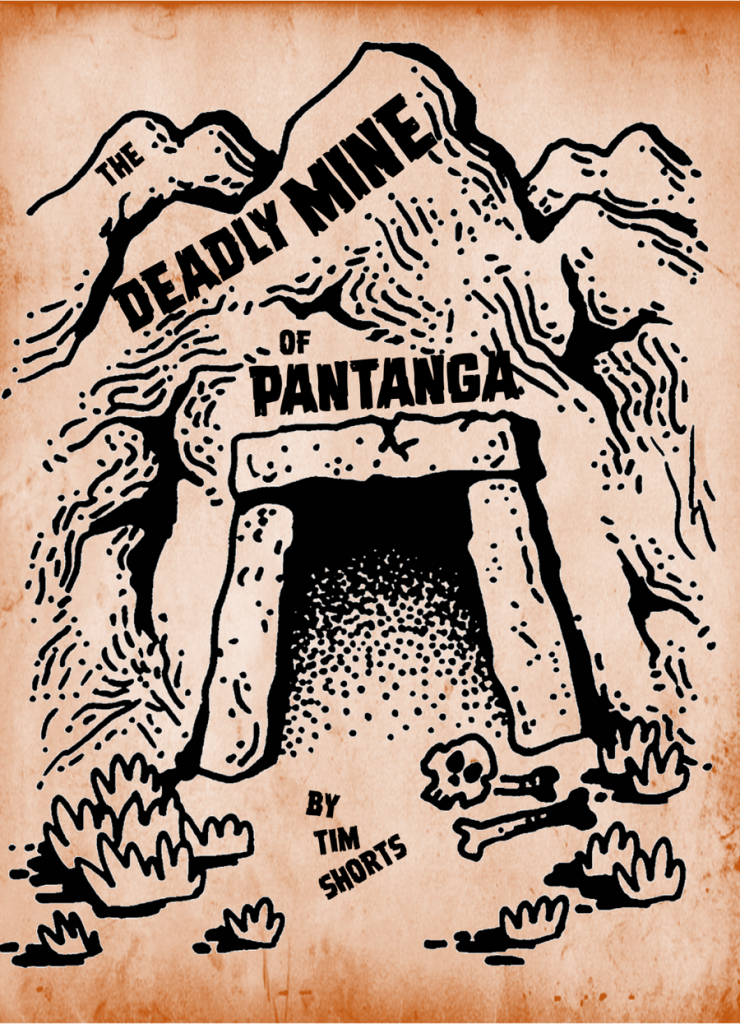 By Tim Shorts
GM Games
OSE
Levels "I won't bother with how many and what levels the party should be."
I call this a found adventure. There are no hooks and motivations. The party is traveling and they find a cave. Adventurers love caves. Can you ever recall a time when an adventuring party didn't enter a cave? I've decorated the cave with bones. They love that. Wish the party good luck, then smile.
This sixteen page digest adventure uses around nine pages to describe eleven rooms. It's small, low on treasure, and feels more disconnected that I think it should. While the writing, and encounters, are decent, it feels a bit empty, like there's no point to adventuring here.
The writing here is decent. It's focused and provides a moderately evocative description of the various scenes encountered. The very first encounter, the entrance, is reenforced (sp) by thick wooden beams, with a cracked crossbeam, bones scattered around the entrance, and a handful of barrels that smell of sour ale, one cracked open and covered in big black flies. This is the best example in the adventure of a good description of a scene. It's short, and yet does a great job painting a vivid picture of the scene before you. It's not really read-aloud, and what I'm quoting isn't an actual quote; it's got a bit of DM commentary scattered through it. But it could ALMOST be read-aloud, and does what it needs to do: give the DM an image of what's going down, inspiring them to then give that picture to the players. There are occasional smells listed, or lighting notes, in the descriptions all of which work to let the imagination of the DM and players fill in the rest. It's not overly rigid, not all rooms mention lighting or smells, which goes a long way to helping it be terse and focused. Which, of course, in turn then helps the DM quickly scan the room and run it for the players. It's just enough, allowing the DM to then riff on things and leveraging their abilities for the game.
Treasure is quite light, but the magic items in particular get a decent enough description. What does that mean? A potion is in a silver vial. Not just a bottle. A vial. Not just a vial, a silver vial. That's one extra word, silver, and using "vial" instead of "bottle", but the effect is substantially better than "a potion of ESP." Likewise a magic ring that is platinum with an onyx band. These little touches really ramp up the nature of the items. This is exactly the sort of thing I'm referring to but encouraging designers to go just a little beyond what they expect. There's an abstracted genericism inherent in the word potion, at least as in how we use it in D&D for a treasure description. By just working the editing magic just a little bit more you give the imagination something solid to hold on to, just as with a good room description. Non-traditional items are present as well, like Dead Mans Fingers, a mushrooms that grows to look like … dead mans fingers! Putting on in your mouth delays poison/death for 1d6 days, as it slowly dissolves. It's a nice item. A good description analogy, a good effect (not immediate) and the added time delay factor. Folk remedies at its finest folks! But, yeah, the treasure is otherwise light for an OPR game. We're looking at about 4000 in loot, for an adventure that has a deadlier than average trolland several 3HD monsters. Yes, it's a side-trek sort of thing, just a spot on the road to poke in to. But … why? And I'm not talking hook. I'm talking Compelling …
The cave complex is small, about 60×90 in total. This makes many of the encoutnters feel like they are on top of each other. There's an occasional note of a sound or smell coming from a particular direction, but the guidance here is not strong, nor is creature reaction, for a complex that is so small. It FEELS larger, or perhaps I mean more complex, than a typical lair dungeon, but it also doesn't feel fully formed. It's occupying some middle ground of not a lair dungeon but also not a traditional site-based location. I'm not sure there are a lot of these out there. A dyson map in a sinkhole comes to mind. So, no unifying concept, like with a lair dungeon, slightly larger than a lair dungeon, a variety of encounters in the location as one might find a site-based dungeon, but substantially smaller and shorter than one of those would imply.
And somehow this is all throwing me off of wanting to run this. If this were one zone of a larger complex, perhaps with a little more space in it, I think I would be more interested in it. It's also got a few rooms that are crystal themed that come off pretty flat … a killer in a dungeon this small. They don't FEEL like crystal rooms. It could be that I'm TOTALLY over the idea of just throwing in a couple of living crystal statues and saying "crystals in a room" being a good room concept. Or it could be that those are the weakest rooms in the dungeon and it's no amount of leaping troll or "three pillar sized colonies of yellow mold" is going to save it from that. But man, it gets close … that leaping troll is a good one. And while the yellow mold room is a good anchoring concept, there's no real reason to hang around.
The adventure explicitly has no hook. And that's ok. But, there also doesn't seem to be any reason to adventure here. Poke around. Find some things. Find a TERRIBLE thing in the yellow mold and just get the fuck out. It all feels so … unsatisfying. Isn't there some german or french word that? When you anticipate something are are not really disappointed, but unsatisfied?
This is $2 at DriveThru. The preview is six pages. You get to see the first rooms, which is representative of the writing. Good preview.
https://www.drivethrurpg.com/product/372871/The-Deadly-Mine-of-Pantanga?1892600