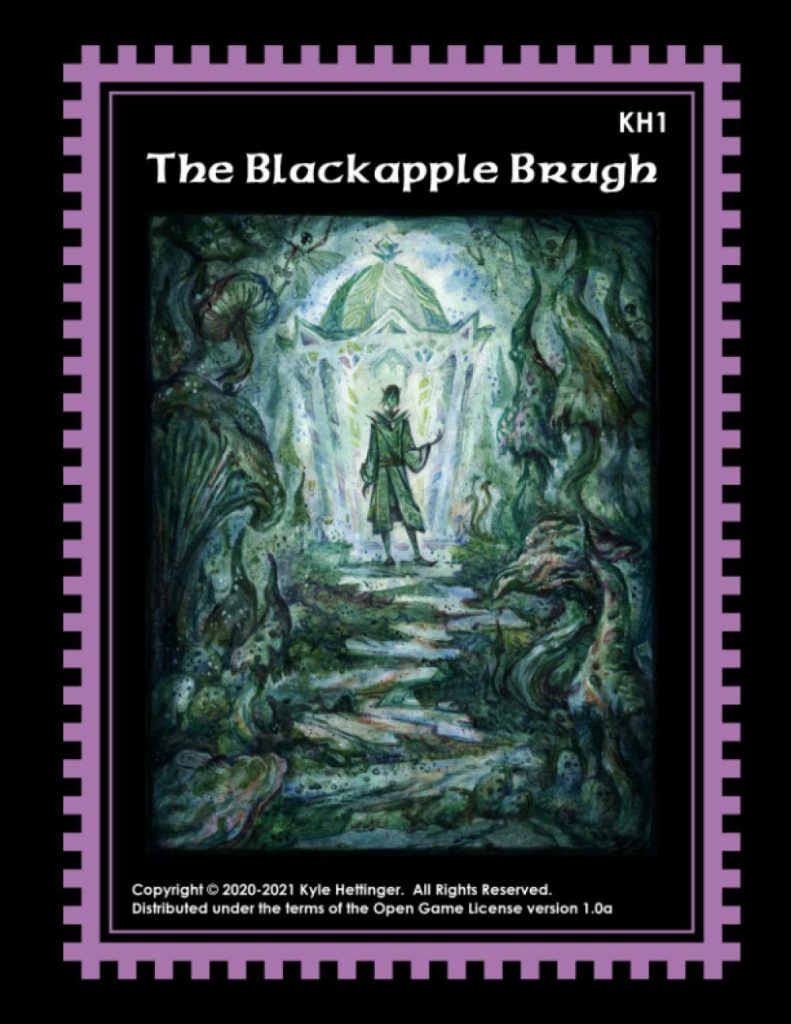 By Kyle Hettinger & Vasily Ermolaev
Self Published
Basic Fantasy
Levels 1-3
Blackapple is a small village on the edge of a great wood, near a brugh (an earthen mound) wherein is confined a cruel elf lord who once ruled the people of the village. He cannot leave the brugh, but is he truly no longer a threat?
This 46 page "local region" adventure is fucking magnificent and I'm a fucking tool for waiting so long to review it. It's whimsical, serious, and full of the sort of delightful, but terse, specificity that makes an adventure and locale come the fuck alive. I'm mother fucking buying it and it's going to be a staple of my games from now.
I bitch so much about token and half efforts on this blog. So many adventures lack any JOY in them. And I don't mean happy adventures, but adventures by designers that seem to take a certain glee in creating them. You can tell. It's obvious, almost immediately, when someone GROKS it. This dude (these dudes?) grok it. And I want to communicate that to you with one encounter/locale.
The adventure has a Sanitarium in it. "Ug! Sanitarium! Fucking Magical RenFaire garbàge!" Oh, no gentle reader, not at all! Recall that this blog and it's lowly writer LUVs him some tropes. When well done, just like mom used to cook my steaks. And this fucking thing is DONE. There's a stone country house with four rooms on the top floor, the front and rear doors locked and the windows barred. Hmmm. "That's different than the usual dreck…" I say to myself. The good doctor gets the following description: "Doctor Livinius is a thin middle-aged man with soft features and a wisp of white hair. He is typically garbed in tan or light rose-colored robes. While acting as a healer of madness, he wears a funnel- like aluminum hat purported to focus his mental exertions." FUCK! YES! This is the shit! Dude is in it to win it! And he's truly dedicated to healing mental illness, "which includes exorcism, leechcraft, and ad hoc brain surgery." Oh god yes! This This THIS! I soooooo want to run this dude! And, while I'm normally not a big fan of laundry-list room contents, and this adventure generally doesn't engage in that activity, this guys house does give a description of the contents of the treatment room: "Hand saw, pliers, hand drill, dagger, scalpel, reams of bandages, bucket, eight dishcloths, a straight-waistcoat, four 8' ropes, a metal-framed glass aquarium (worth 30 gp), 24 leeches, a bottle of cheap wine (sedative), a cudgel (sedative), a lamp, a small silver bell, Goodbody's Book of Prayer, six candles, a silver holy symbol (worth 20 gp), and 2 vials of holy water." Can you imagine?! The players searching this room, looking around, and finding that shit! Oh, the delight in their reactions! Oh the joy! Other parts of the adventure interact with the sanitarium. There's an escaped madman in the woods. The good doctor is treating the local lords son, which comes in the play. And he's an expert on fairies, which could be needed (elves in this are fairy-like) And he's fucking competent, being a CL3 and an actual expert. With his bizarre metal hat and trepaning drill. Oh geez, I'm dr000ling to run him.
And this is just, I don't know, page of text. This shit is sticky as all fuck. It says with you. You KNOW how to run this shit.
Oh, oh. The local kids? In the village? There's a local legend, you stare in to a mirror and chant a rhyme "mirror man mirror man (other stuff)" and the local spirit comes to treat with you. AND HE FUCKING DOES! Ooooohhhhh, I love it! THis shit works! It all fits together! It's relatable. It's fun. It's sticky. It's fucking D&D!
There's a witch, on the wandering monster tables. She's a nasty old crone who's lost her cat. If you find it she gives you "The Blond Lady's Wig of Mediumship (9 charges) which allows the wearer to speak with dead.." That's it. That's your text for a new magic item. FUCKIGN PERFECT. A dead ladies hair, I'm imagining. Maybe some scape holding it together? Maybe with a bloody wound? Fuck yeah man! None of this clean and sanitized magic shit. REAL magic items, imbued with power!
I'm doing a shitty job, here, with this review, as I do with all of the reviews of good things. The hooks involve a rascally nephew that needs a talking to, a crazy uncle gone missing, and a wounded treasure hunter buddy. Just those descriptions can tell you things are different here, and their actual one-sentence descriptions are very good, giving the DM just enough detail to run with.
And that's true with SO many aspects of this adventure, from wanderers, to locations to NPC"s and so on. There's just enough information to fire the DM's imagination and let them run with it. It's using a pretty traditional organization/formatting scheme, with just enough cross-references to help the DM, and a clear writing style that makes it easy for the DM to run with. And the village is full of little shit children, my favorite fucking kind of little shits! The kind that makes you just want to smack the shit out of them, kids or no.
There's a variety of things going on in Blackapple Brugh. A few more "mundane" things, with only tangential relations to the main "elf lord" quest, and others with varying degrees of stronger connections.
And there a fucking ownbear in the damn woods! Need I say more about this things old school cops? At level 1! Delightful!
A couple of suggestions: The children, a major focus of the adventure, are a bit abstracted in to a generic "little shit" or "scared mindless" description. A sentence on each would have provided some more personalization for such a major part of the adventure. Likewise, the "generic' elves could have used a one page description of their personality/dress, all of them on one page, I mean, to help personalize them some also. I'm getting a strong "Bioshock" read off of them, and helping to play that up would help with the fey-ness. Finally, the descriptions, the DM text in particular, can get long in places. It is in no way unmanageable, but, it does stick out. This combines, I think, with the Basic Fantasy house style, to produce a somewhat cumbersome experience in places, especially in the Brugh proper. I'm not sure what more to say about this. I think the house style has reached about as far as it can, in this adventure, and perhaps is just over the line, or close enough to it that you can it becoming trouble very soon.
But, these are minor quibbles. This is an excellent sandbox location. Not handholding, and leaving A LOT of room for the DM to run things like "killing the wild dogs in the woods", while supporting the DM with that they need to run a memorable game. With some fucked up Mr Norville type fey. Fucking elves man!
This is free over at Basic Fantasy, and only $3 at lulu for a print copy. You should own it.