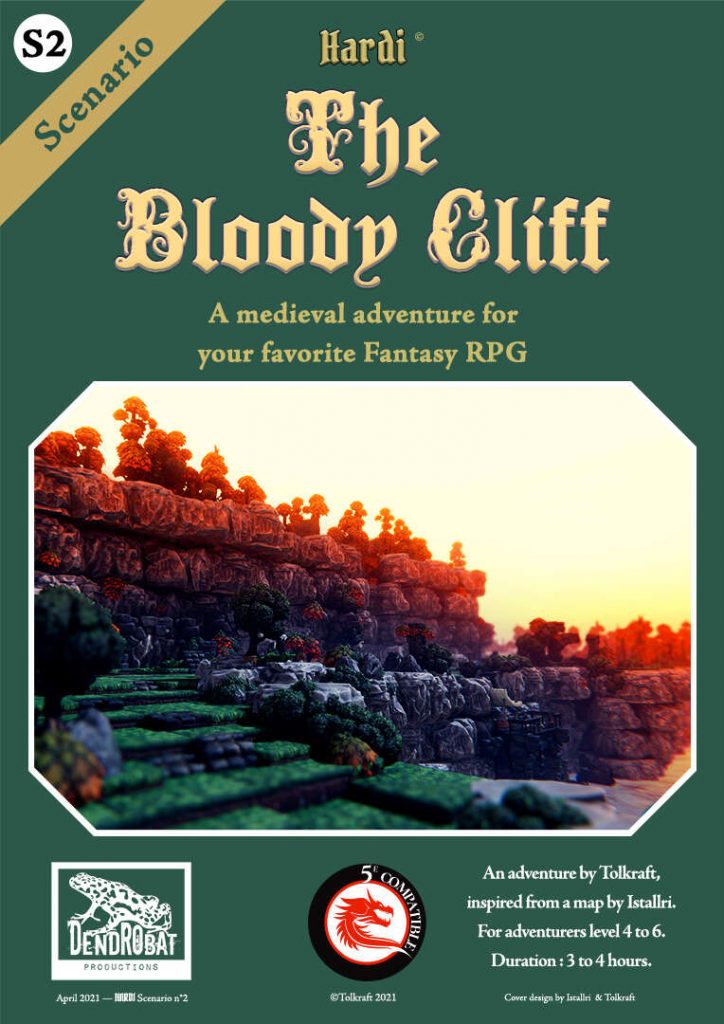 By Tolkraft
Dendrobat Productions
OSR
Levels 4-6
The sole heir of Baron Solreigh was kidnapped, in the middle of the night, in the heart of the castle! The ransom letter is signed by Masked Harald, a thief, robber and benefactor of the poor.
His lair?–?the Bloody Cliff?–?is known, but would resist a frontal assault, which would also put the young heir in danger. Bringing the Baron's son back safe will require a very cunning plan…
This 45 page adventure uses ten pages to describe a 26 room bandit hideout; their lair outside in the woods and the caves nearby, as well as a short "investigation" phase. The intent being a raid on the lair by the party to free an NPC. The maps are essentially unusable, and the formatting TOO formatted. A good lair assault ruined. This is an EASL adventure from our friends in Vive la France, but doesn't really have EASL issues other than an awkward word choice or two.
So, the asshole barons son has disappeared and Robin Hood wants some cash and tax breaks for the poor as ransom. Oh, and the new young pretty maid in the castle is missing too. Things that make you go Hmmmm…. The baron hires you to go on a commando raid to rescue his sweet loveable boy, all Longshanks/Prince Braveheart style. You can poke around the castle a bit, asking questions of people and looking at rooms, maybe turning up two or three bits of information. There's caves in a cliff, there's an entry at the river, and so on. So, fucking around ahead of time pays off with alternative points of entry and approaches. That's good. You then walk over to the cliffs and do your assault the usual way: sneaking around until your plan goes to shit and then stabbing everyone. Most of whom are 1HD in this instance.
Base assaults are near and dear to my heart. Sandboxy, a good base assault supports the DM and lets them run things on the fly, giving them the tools for the "normal" base and then how the base adjusts and reacts, etc. As well as supporting play with multiple ways in and a good map. This is trying to do that, but not very well.
The maps are a major issue. They are done in some arty program, I suspect one meant for battlemaps, with colors and features. But they come off crowded and confused, with an inability to really tell what you are looking at, where the rooms are much less what the features are or how they work together. You're fighting the map the entire way, trying to figure out how things fit together. There are some photos in the back, showing a DwarvenForge type 3d terrain set of of a portion of the inside of the caves. I guess that helps a little.
Our issues continue with the text. There is generous usage of long blocks of italics for read-aloud, making it difficult to sort through. There is a fancy gothic font used as a header throughout the adventure, even in room names, that I can't for the life of me read. I actually had to go through the adventure searching to find the name of the kings son because the first letter was in the fancy gothic font, all illuminated manuscript style. Man, you gotta think about this shit. I know, I know, you want to make a pretty product. I want one also. But not at the expense of the legibility. Or, rather, not in a way way that impacts legibility to the extent that I can't read it/figure out what the fuck room is where.
And the room formatting. I am a victim of my own words sometimes. Highlighting, building, bullet points, white space, they can all be used to make a text easier to scan and to find information. And when TOO much is used it then becomes harder. The text becomes disconnected from itself, too much space between things, the natural "grouping" of items is broken and your brain can no longer recognize (or, "easily recognize …") that differing items are related. And that's a major problem here. Long sections of DM text with too much shaded text blocks, highlighting and bullets. The read-aloud can be cringe-wrthy in place, with phrases like " … as if even the water was afraid of the sinister name [the bloody cliffs]." *sigh* This is not what I need in my life. I want a description that makes me, and the players, think "wow, even the water is afraid of the cliffs!" not, being told directly, what to think. That's telling instead of showing. You always want to show.
We can combine this with some basic issues around base assaults. There is little to no guidance on an order of battle and/or how the base reacts to incursions and alarms. There are four lieutenants in the base and we get VERY little guidance on where they how, what they do, or how they react. (Although, its implied that at night they are all sleeping in the same room.) There's very little in the way to help the DM. I could also point out that while there is guidance for climbing the titular cliffs, there is none for just walking around the other side. I mean, cliffs, not mesa, right?
Oh, I don't know what else. I mean, there are separate entries for how to find the place in the day vs the night, which is good. And there's a cute little section about what you can overhear the bandits talking about if you listen in or buddy up to them. And, yes, there is some guidance on negotiating with them (only works on a critical success!) or bluffing your way in. So, varying success levels there. And NPC descriptions tend to be too long. They do have some "three words" personality summaries, but their goals and what not are buried in text, with no highlighting. Not that they ever show in the adventure, except sleeping in their rooms.
And there's a lot of abstracted shit. Observing the cliffs is just a skill check, and if you critically fail you get captured. Doing a jailbreak (at the barons castle) on the one bandit who's been captures is just a skill challenge. Climbing the cliffs, the DM can, the text tells us, be a real hard ass and make the players note HOW MUCH rope they have, to see if they have enough to scale the cliffs. If this a thing? Abstracting a climbing distance? You have rope listed so it doesn't matter how far you repel? I get it, resource management can be a pain, but, fuck man …
Hard pass here. And, mostly, because of the map and the lack of comprehension on how it works. Reworking the map and formatting would help a lot.
This is Pay What You Want at DriveThru with a suggested price of $3. The entire thing is available as a preview, so, good job with that. The map is on page 24 of the preview. Check it out now, the funk soul brother.

https://www.drivethrurpg.com/product/352361/The-Bloody-Cliff?1892600