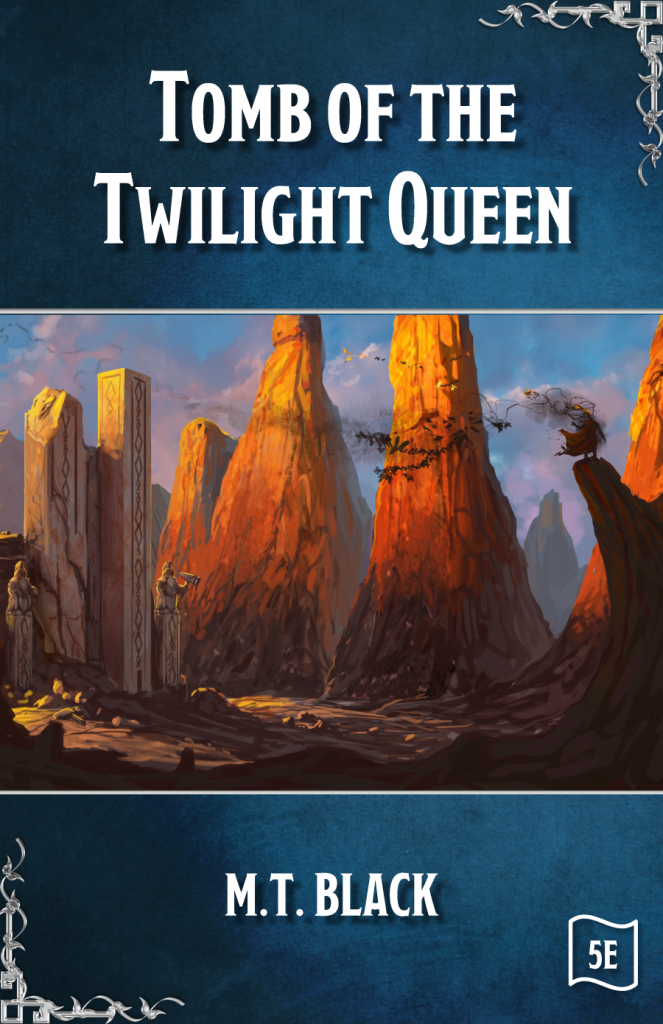 By M.T. Black
M.T. Black Games
5e
Level 3
Centuries ago, the Twilight Queen reigned over the most powerful empire in the world. But her realm now lies in ruins, her people are scattered, and her remains are buried in a grand tomb full of deadly traps and marvelous secrets. A renowned scholar has hired you to enter the tomb in search of a fabled artifact, but you will need all of your courage and ingenuity to survive…
This 45 page digest adventure features a twenty room tomb dungeon, using thirty pages to do so. It's format is fine, for comprehension, but it lacks significant exploratory elements. In the end, tomb adventure is A Tomb Adventure.
Tomb adventures are not my favorite, and this is a tomb adventure. I find that they tend toward the linear and are rather confined in what they do, being "tomb guards" and "traps" with maybe a magical transporter or some such thrown in. This all seems very limiting to me, for an interesting play experience. Or, I might say, it's the ultimate evolution of plot as adventure. You're here. Do the adventure. So, I think tomb adventures are hard to pull off right, and this adventure is no exception to that thinking.
Tonally, its got 5e down flat. You're hired by "a goblin scholar called Dr. Otho Ambitriax, who studies ancient history at a local university called the Academy of Systematic Wisdom." Yup, that's 5e all right. It's easy enough to ignore these elements, which I find off-putting, but I know some people like them. I will say, to his credit, on the boat trip to the tomb, that "Otho secures a private cabin for himself but consigns the characters to steerage. He is astonished if they expect anything better." That's a very nice detail, and the kind of thing I'm looking for in an adventure. Brief, and so full of promise. And it also represents a lot of what this adventure is missing. There's little of that specificity and more "set piece" design.
Let's diverge for a bit and talk hooks. You're hired. It's one of the most common hooks, especially in modern RPG play. I find that fascinating. A few years ago when YA dystopian was all the rage in movies, books, and TV, I found the same trend. You were born special. You are the chosen one. The ancients gave you this information. I get the underlying themes of youth wanting to be more, especially in their formative years. But you know what? D&D wizards rock. No "I made a pact with a devil" shit. No "I was born special" sorcerer shit. No. Wizards embody the midwestern work ethic. They rip knowledge from the fabric of the universe through hard work. The lack of motivation in "you're hired" hooks is striking. It's an easy hook to throw in, which is why I presume so many designers use it. But, don't you want to pursue your own goals, as a character, rather than being yet another middle class wage slave in whatever fantasy world you are playing in? And no, I don't think it's generational or a problem with Deh Yoots these days. I think it's just laziness.
The format here is fine. It starts with some short boxed text. Sunken floors covered in mist, domed chambers covered in painted gold coins with yellow silk rope hanging down. These are not bad descriptions, at all. I would suggest that they feel CONSTRUCTED, as if a lot of work went in to them to make them what they are. That's a good thing. It's better, far better, than the usual garbage we get in adventures. I also think that there is a step beyond this. It does feel constructed rather than … I don't know. Imagined? It doesn't feel … easy. I think writing a good room description is the hardest skill to acquire, and it takes a lot of practice and effort to do it right. This does it right. Noiw, it's time to make it better.
You get some bolded bullet points following the read aboud, one for each major thing mentioned in the read aloof, so, the ceiling and rope in the domed room. Then there's some major section headings for treasures and traps and monsters. Up until now the descriptions were doing fine. Good format. The "trap" section even works. It's less useful, though to have major sections, when appropriate as this does, that mentions a monster and treasure. It feels like following a paint a by numbers set. A different format for those elements, just integrated in to normal text, would have probably worked better. And, again, better than most.
I could quibble with a lot of things here. The 5e-ness of a bandit who drinks a potion of invisibility when the party approaches, and the game world that implies. How a hot and smoky room should really be mentioned BEFORE you get to that room, to provide a lead in. A bandit wears slippers of spider climbing, but its in treasure section so is probably missed during the combat, for all it would add. A ghast wears a ring jumping. This smacks of Explaining Why and Justifying, something that has little place in D&D. Just give them kangaroo legs or make the fucker leap without any obvious signs. Or, fuck it, all ghasts now leap. Done.
There's also scratch marks on the floor hinting at a secret door, which are the sorts of hints that should be in an adventure, especially at this level. And, inscriptions on the walls of one room can stop the attacks in the room. I'm not sure how often people decipher wall inscriptions during combat, but, hey, it's the sort of thing I appreciate in an adventure. [Also, the statue lightning trap has no warning. There should be burn marks or ozone smells in the air.]
It's all just a little … tomb adventure. As a tomb adventure it is a fine tomb adventure. It's just not very interesting because its a tomb adventure. If you want a tomb adventure then you should buy this one. "Excellent traps and interesting fights" says a pull quote. Yup. De rigeur D&D. I find little joy though. Maybe that's my problem?
This is $3 at DriveThru. The preview is nineteen pages, which is more than enough to get a taste of what you are buying. And, $3? At a good price also.
https://www.drivethrurpg.com/product/353811/Tomb-of-the-Twilight-Queen-5E?1892600