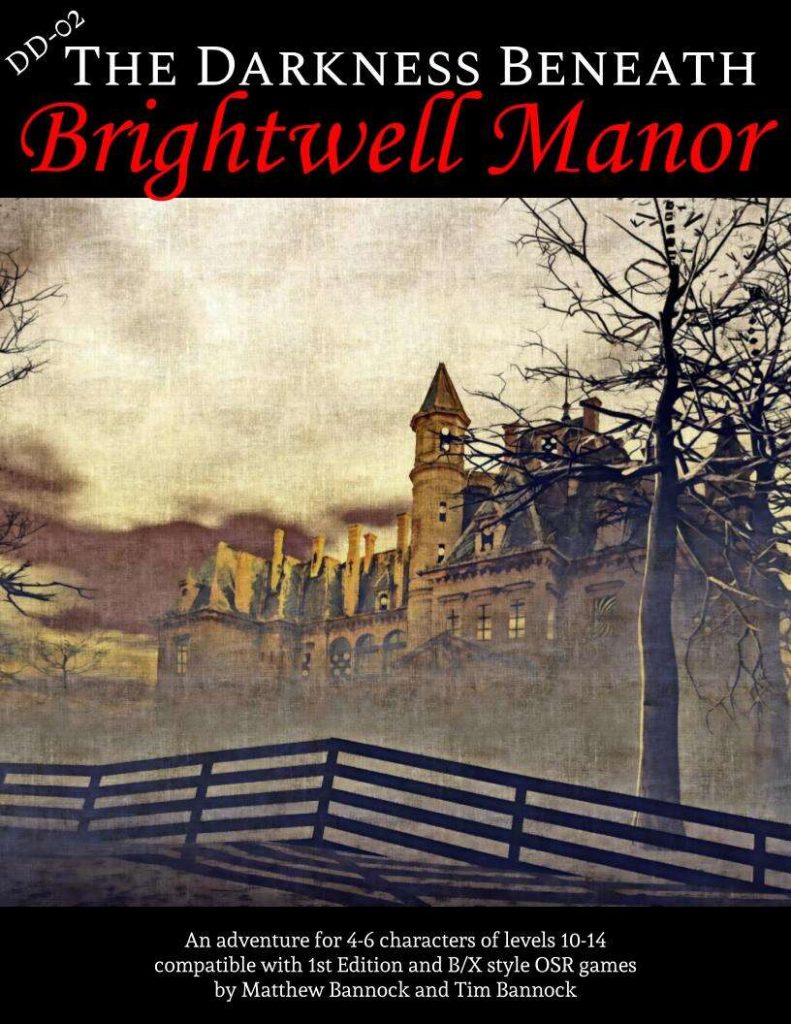 Tim Bannock
Self Published
B/X or 1e
Levels 10-14!!!
The reclusive Brightwell family has been corrupted by the whispers of a vengeful sorceress-turned-fiend. When this newfound master suddenly grows silent, the madness infecting the household is no longer focused, and cannot be contained. Mayhem spills across the countryside. Meanwhile, deep below the Brightwell estate, the family's patriarch Eldon Brightwell inflicts horrifying experiments on both servants and family…
This 53 page adventure uses about thirteen pages to describe about sixty rooms in a manor home with a couple of basement levels. It's minimally keyed, bland, and a 5e conversion.
It's got clean and clear maps that are easily read, and uses a landscape format to provide easy to read three-column text. It doesn't mess around with too much backstory, and puts most things like that in an appendix, which also has a reference for NPC's to be found in the manor. It's extensively hyperlinked. The first of the map pages also describes the general features of the house, like windows and doors, which is useful to have on a map so that they are "always on" for the DM to reference duringplay.
Now that the good is over with …
First, it's a 5e conversion, it looks like. It calls for rolls with advantage, making perception checks, and so on. I get it, 5e sells more than anything else so make the adventure for that. And, of course, just like with Roll to Continue, this kind of stuff can be easily ignored by a DM and/or converted on the fly. But it shows a lack of caring. If you're converting to another system shouldn't you actually convert it to that system? Especially if you claim in the the introduction that "This adventure uses 1E and B/X style OSR mechanics …" Uh. No. It uses 5e mechanics. Anyway, that's me being petty. As I said, just as with a lopsided page count of adventure to supporting material, which this has, I think it tends to be indicative of those things that don't bode well.
You are a 14th level adventuring party in 1e/B/X. In both cases you've all probably got your own keeps, etc. In B/X, in particular, I think you're walking godlings, based on my experiences with my players. So one of the hook is that the village hires you to look in to the goings-on at the manor. *sigh* By giving us each new land holdings? There's one hook that makes sense, as you visit looking for lore/alchemical components. Again, who cares? But, again, it shows a general lack of level awareness in the conversion. Time and again adventures are produced for high levels that should be lower level adventures, and their strain to make them high level shows.
"Room 2: Foyer – Unwatched and unguarded."
"Room 1: Porch – Three scarecrows nailed to the porch columns (actually corpses!).
"2-1. Stairway & Hall – Signs of carnage, blood trails leading to Area 2-2"
This then is a minimally keyed adventure. Take the 1e DMG and roll for "dungeon dressing." Ideally, this would serve as inspiration, the designer riffing off of the rolls and their imagination coming up with something to put in the room. Or, you could just put "Signs of carnage" as the description. It's an abstracted description. No specifics. "Dried foodstuffs, but supplies are getting low." You could do so much more with that. Replace that sentence. Add another one. Done! But you'd have something much livelier, something that danced in the DMs head.
Traps? "One of the steps is creaky. Roll a save or the next monsters are alerted." The alerting is good, and a creaky step is a classic, but the traps in this tend to be of the "Gotcha!" variety. There's little to no warning. Thus they are just punishments for not min/maxing your save rather than a dose of interactivity that you can explore and play around with.
In general you need between about 200k and 400k xp to gain a new level at levels 13-14. Let's say 200k. With a party of four that's 800k experience to gain a level. Let's say you're leveling every … 6 sessions? You need 133,000 xp. Do you think that there's 133,000 gold in this adventure? Do you think this adventure is a true 1e conversion?
Creature descriptions are boring. Magic items descriptions are boring. Treasure descriptions are boring. Everything is abstracted descriptions. "Zombies are mindless creatures." 1d6 gemstones with 500gp each. A potion usable by all classes. At one point there are two gibbering mouthers in a room. I THINK they are supposed to be the wife of the manor lord? It doesn't say, but might imply it if I squint. No personalization. No touches like "wearing his wife's dress" or "combing its hair." Just two gibbering mouthers in a room. Why two? I don't know, that would require effort.
The focus here is misplaced. It's not overwritten, to be sure, and I appreciate that. It's clear that some care was taken in trying to do a few design related things. But the room descriptions and encounters are so bland. Abstracted descriptions. Mundane interactivity. No focus on the wonder that is D&D.
This is $5 at DriveThru. The preview is all nineteen pages of the encounters/dungeon. This is good. You can tell exactly what you are buying beforehand. Nice clean layout.

https://www.drivethrurpg.com/product/351315/DD02-The-Darkness-Beneath-Brightwell-Manor-for-1st-Edition-and-BX?1892600