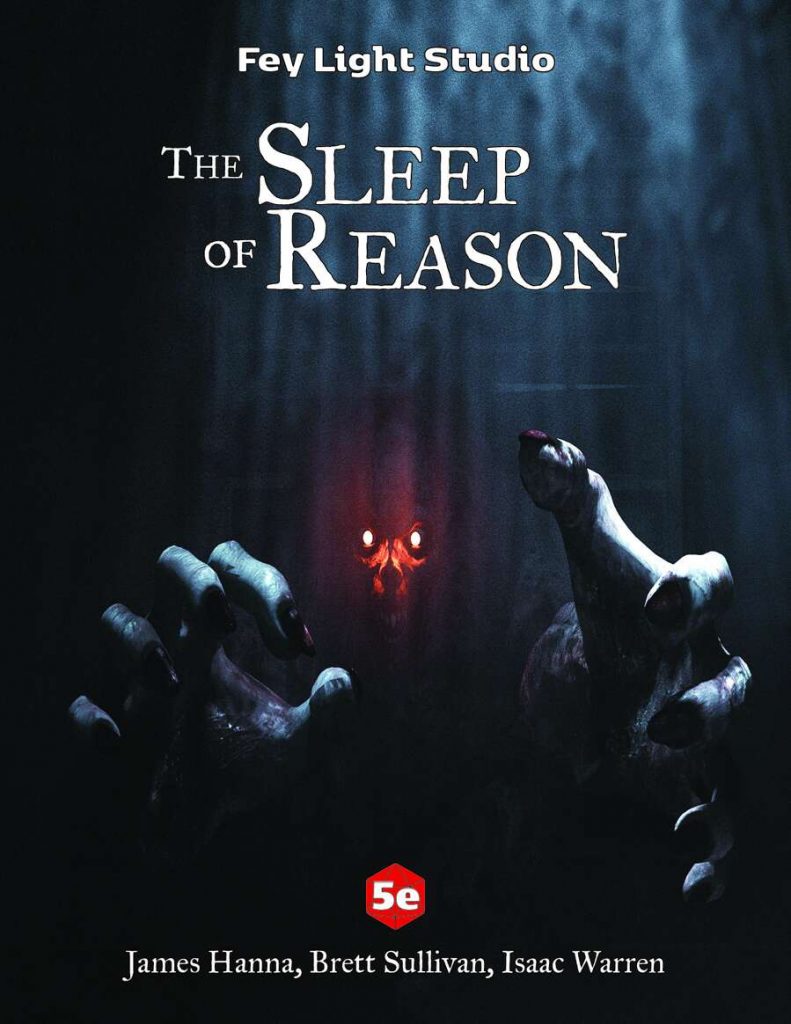 By James Hanna, Brett Sullivan, Isaac Warren
Fey Light Studio
5e
Levels 2-4
The towns of Bassu and Inloc are at each other's throats. But behind their mutual loathing lies a threat greater than either knows. A fiend in the form of a nighthag invades the sleep of the town leaders night after night, haunting their dreams and transforming them into nightmares.
This 54 page adventure uses 32 pages to describe about 24 encounters, the vast majority of which are social. The designers had a vision, but it fell far far short of that in implementation, leaving you with something that is nigh unrunnable in its present form. Which is too bad, the basic idea is decent. I'm considering changing my life goals, after reading this, and adding "beating in to people how to use skill checks" as a new project.
Two houses, alike in dignity in fair Ver … oh wait, no. This thing has the elements of adventure that I like. Or, at least, it claims to have them. A hex crawl exploration of the wilderness. A strong social element as you work the factions and NPCs within two towns, rallying them to your cause! Who wouldn't like that? A little intrigue, a little social, a nice crawl, and then stabbing the shit out of something and looting some fucking treasure! Well, that was the promise anyway. No doubt the vision of the designers. That's what made me leave my nice safe little bubble of shitty OSR adventure and venture once more in to the land of shitty 5e adventures. In practice, its garbage, of course.
I have now said just about everything nice that I will about this adventure. Good concept. There are a couple of VERY nice art pieces, by Tithi Luadthong and rangizz, that seem out of place. Not tonally. They work for that. But it's like Aya Kato did your Get Well Soon card for a coworker that you feel apathetic about. Conceptually, there are a few decent ideas, like the hag living in a dead and rotting GIANT snake in the swamp. The descriptions are shit, but conceptually its good. The recruitment of allies, again good in concept but shitty in execution. There's a hint, here of there, or decent writing. At one point if you mention "The Maiden", a swamp ghost-like apparition/myth, then the guards and their goats both shift uneasily, the goats bleat softly, and the captain says something like "Nothing good comes from that swamp." in order to twarn the party off of The Maiden. That's fucking great! That's what I'm talking about when I mention specificity and detail. No the color of the fucking innkeeps trouser buttons, but things that add to the actual game experience.
The back cover contains the marketing blurb while the drivethru description is just bunch of little JPG images, with no text. Well, the images have a few words of text. WHo's fuckingidea was that? You're burying your marketing blurb on the back cover where it will never be seen and essentially nothing NOTHING about it in the actual storefront? I'm not a fucking expert on this shit but that seems counterproductive? In the extreme?
It's full, FULL of shitty skill checks. Which is weird because they claim to have a system of "social moves" for you to use which, no doubt, turns the heart of D&D, roleplaying, in to even more of a dice fest and rules mastery then it already is. This thing is LITTERED will skill checks. I guess because it's a social adventure, or thinks it is one? And I'm pretty sure that nearly every single one of them is implemented badly. Every one. Every single one. There are about twenty rolle to continues in this adventure. Twenty. These are places where you can't continue the adventure unless you pass a skill check. In practice, this never happens. If you fail then the DM fridges and the game moves on. So why the fuck do you have a roll to continue? You're forcing people to make dice rolls for no reason other than making a contest against a skill check. It doesn't make fucking sense. The outcomes are all the fucking same. It's unreal.
Try to use your intimidation skill? Roll a 24+? (Which I'm pretty sure is good …) then the DM is told it doesn't work and the NPC works around it. What the fuck man? Why? Becusa it will break the designers vision for the fucking adventure? Jesus H … let the fucking party enjoy their fucking success! And, those eighty gazillion skill checks you make? They are essentially meaningless. Just little window dressing bits of information for the most part, teasing out descriptions and tone. Which, again, works against the fcking adventure. You WANT the tone out there. You WANT the details out there to set the tone. Don't hide the heart of the fucking adventure behind a fucking skill check.
It starts with combat. Lame. "STart your adventure with a combat to get the party going" says all of the bad old advice. Pfft! You bring the body to the nearest town. The gate guards say "Hello strangers who have just admitted to killing one of our town members. Please come in and enjoy yourselves!" What the fuck! Seriously?!
NPC descriptions are bad, long and hard to use. The hex crawl has like one sentence for each hex, most of which are just boring "asps attack" or "roll a DC19 to avoid hazard" types. No detail. Nothing interesting.
The actual format is TRYING to be helpful, but has gone COMPLETELY overboard with boxed and offset text. The page is COVERED with it, so much so that you can't actually tell what the fuck is supposed to be going on in the encounter. Why are we here? Whats the line of path to follow? It TRIES to tell you that, but its so seriously broken … I know I mention putting this stuff in a lot, but, there's a fucking limit. It's supposed to help you find and run it, not obfuscate the game.
The hag is an actual monster instead of an old women. Lame. The snake description, the sum total of it while inside, is "Within the snake, its ribs curve around to create a grim hallway illuminated by green glowing orbs along its length. The floor shifts slightly underfoot, pressing into the unspoiled viscera below." The viscera part is good, but, fuck man, we're inside a giant snake, how about a little more? Oh! Oh! And the subplots?! They are LITERALLY in a place called the Town Quest Center. Seriously. The questgiver gives them quests. Well, it's a townsperson, but thats how its referred to. If you do enough fetch quests then you unlock the plot quests. Ug.
So. Good concept. It knows what its trying to do. It has just made every single bad choice possible to get there.
This is $6 at DriveThru. The preview doesn't fucking work.
https://www.drivethrurpg.com/product/347134/The-Sleep-of-Reason-adventure-only?1892600
I leave you with this screenshot of one of the scenes. I dare you to figure the fuck out what is going on here and how to run it. I dare you. Go ahead. You're running the game. The players are sitting the fuck in front of you. Right now. They are staring at you. They glance nervously at their phones, ready to pick them the fuck up if you stray for thirty fucking seconds. Run this fucking encounter.  Where the fuck is the actual plot to this encounter? I know where, but you have to fucking hunt for it. Seriously, you get … five seconds. Set up a time. Starts it and then glance at the page for five seconds then tell me what the scene is about and how to get it going well. And, I'm being GENEROUS in giving you five seconds. I really think it should be less than two. No fucking cheating!