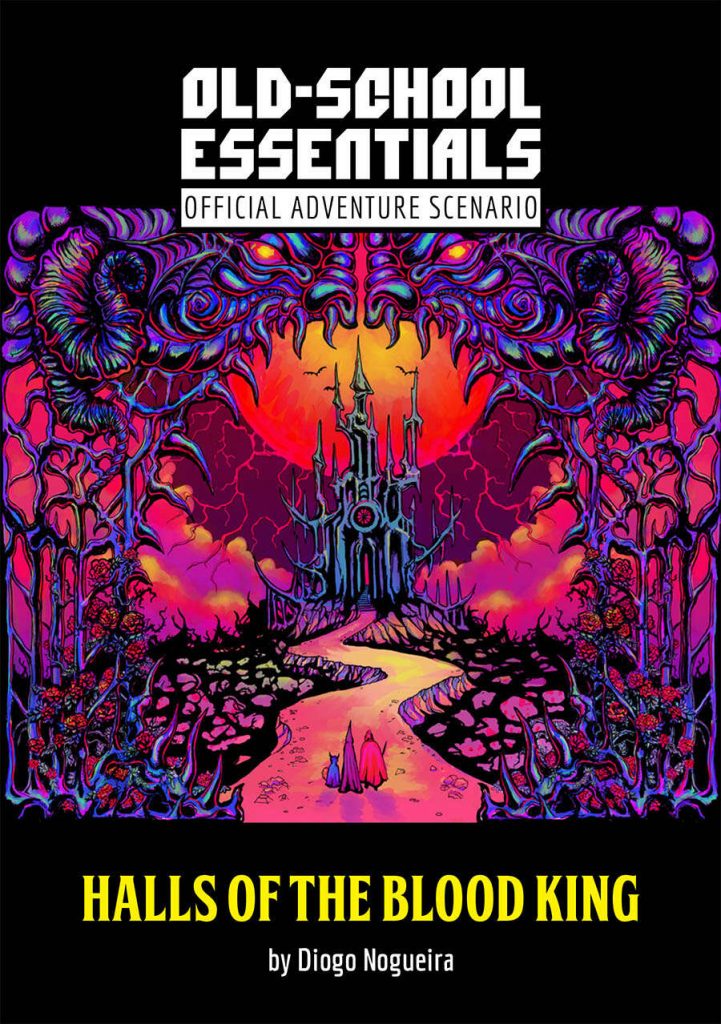 By Diogo Nogueira
Necrotic Gnome
OSE
Levels 3-5
With the rising of the Blood Moon, the accursed abode of the Blood King returns to this world. The lord of all vampires comes to claim the blood that is owed to him. His halls contain treasures and secrets that would make any ambitious adventurer abandon reason and caution to seek them out. Will you risk your soul for gold and glory in the Halls of the Blood King?
This 56 page adventure details about a forty page manor home of an interdimensional vampire king. Good formatting, stuff to do, and some decent imagery lead to mountains of fun for every blood bag that dares enter!
So, vampire king lives in this little manor home and pops around the multiverse, demanding tribute from all the vampires on the world he lands in, before moving to the next. Things are going great! Well, except for the blood spiders that have gained an intelligence and have their own mock court. But they are fun to watch. Oh, and that vampire hunter living inside, plagued by the morally questionable stuff they've done. But, hey, they are fun to watch and torment also! (How fucking ennui is that! "Yeah, I keep a psycho around and, yeah,. They sometimes kill people. It keeps things interesting around here …") And, then, there's the alien fungi in the basement. Bu, it's fun to experiment on. Hope it doesn't get out of hand and destroy all life on the world. And, of course, then there's hidden rebellion within the home, the princess wanting to go her own way, with her followers. Then there's the visitors, a motley crue of vampires, people pretending to be vampires, people studying vampires, and the list goes on. Minor players, but they all have goals and personalities and can be leveraged. Mom is upstairs. She wants to be reunited with her vampire king son. She's a banshee now. Is he REALLY her son, like she says? What happens when you introduce the two? Or, hey, that mirror upstairs? The one that the vampire king put all of the kind parts of his soul in to? What happens, do you think, when he looks in to THAT mirror? And then there's the little scale model of a solar system. With a sun. And little planets. That are actually planets full of living people, just very tiny. Also, fuckng with it could create a black hole that sucks everything in in a 30' radius. Also, that black hole could swallow up the vampire kings heart, that he keeps stored nearby in a safe place.
From that we can gather more than a couple of type of interactivity. We've got some traditional faction play. Then we've got some good NPC's thrown in, both with their own explicit interactions with the adventure (mom, the mirror) and some opportunities to non-specifically exploit (the guests come to visit.) These three type of people could all be leveraged by the party, or use the party to their own ends, or just eat/kill the party. Then we have more traditional environmental interactivity, with the solar system, cause and effect, and some flaws, like the heart, hanging around. Wanderers are doing something. The guard barracks has one thrall who is reading a love letter from home and has ALMOST broken out of his thralldom. Shit is going DOWN in this place. All we need now is a dumpster fire full of gasoline to be wheeled about!
It's clearly been designed for ease of use at the table. I don't know if it's Gavin (publisher) Diogo (writer) or Geist/Crader/Urbanek (Editing) but it feels like someone actually gave a shit when putting this together. The map is interesting, easy to read, contains notes like locked doors, and has rooms with monsters clearly marked on it with their names. The map, a handy reference sheet of vampire traits/abilities, and the wanderers table are right up front, the first three pages of the adventure, so as to act as an easy to locate reference for the DM. There's a decent and yet short summary of whats going on in side the manor, as well as a little section on expanding things and consequences. All of this is fucking greta. A poster child for how to do things. There's even a summary of all the treasure in the adventure, added up, where it is, and then how hard it is to loot it. There's a little timeline with a couple of entries to keep the party moving. The room entires, proper, have bolded keywords, followed up with more keywords in a less-is-more type room description. There are bullets to describe things to follow up with. Monsters and NPC's have short and sweet keyword descriptions. Some things have explicit notes on how they react (Desires blood!) and what to do. The sections expanded upon are not formulaic, but rather situational. IE: not every room has an explicit Lighting section. Or every monster an Appeasement section.
Looking at a monster description we get this for the Shadow Hounds: Dark as the night (reflects no light). A face that is largely its maw and small red eyes (can swallow a head). Long and tall but very lean (as if stretched). That will also actr a good example of a room description. Imagine room features as the bolded words and follow up/enhancement information as the stuff in the parens. It's great. It leaves dark corners in your brain that it works quickly and efficiently to fill in. This sort of format is, as I've mentioned a few times now, one of my favorites. I think it's one of the easiest for a beginner to use effectively. It's by no means the ONLY way to do things, but it is an effective and I think easy to grasp way that necessarily keeps the verbosity to a minimum. There's so much more. Notes on windows and balconies and using them. The art in this is pretty well matched, pulling off the interdimensional vampire stuff decently well, and add to the descriptive text, especially for the monsters.
A few notes.
The adventure notes that "Many vampires are within." Yeah, no fucking shit man! Level 3 my ass. This are not fake vampires but the real fucking deal. I'm not even sure Level 5's would fare well. I like an unbalanced situation, it forces the party to approach things obliquely. I THINK things are handled well here. The wanderers are not 7HD vamps but guards, spiders, and the like. The one wandering vampire encounter is with some dinner guests looking for the dining room, something that can clearly be a social encounter. But man, that dining room! Thats the Steading feast hall on steroids!
More importantly though …
There's something missing. A vibe? A feeling? A joie de viv? Something like IMAGINED rather than designed. But none of that is fair, for it it IS designed then designed in a way to put the imaginative forward. This is not a hack job of an adventure. It was tuned and tweaked and sweated over and that effort shows, easily. But it just feels like there's something lacking. I don't know what. Maybe it's the timer, with the place disappearing in ten hours. Or the party hooks being a bit weak (It appears, go inside and X!) It's context, and then moving the parts around to more relate to that context? This is a very, very good adventure and yet I'm struggling. The lack of whatever it is I can't name would in NO way keep me from running this. It's better than 99% of the adventures out there, easily. I dn't know, someone will tell me and then I'll know, I guess. It's not something that one can put their finger on, or even recognize, I think, easily. Most people won't care, and that's fine, because this is a good adventure.
This is $7.50 at DriveThru. The preview is nine pages and shows you some interesting pages, to be sure, but none of the actual location pages. Bad Gnome! No mushrooms for you tonight!
https://www.drivethrurpg.com/product/348880/Halls-of-the-Blood-King?1892600