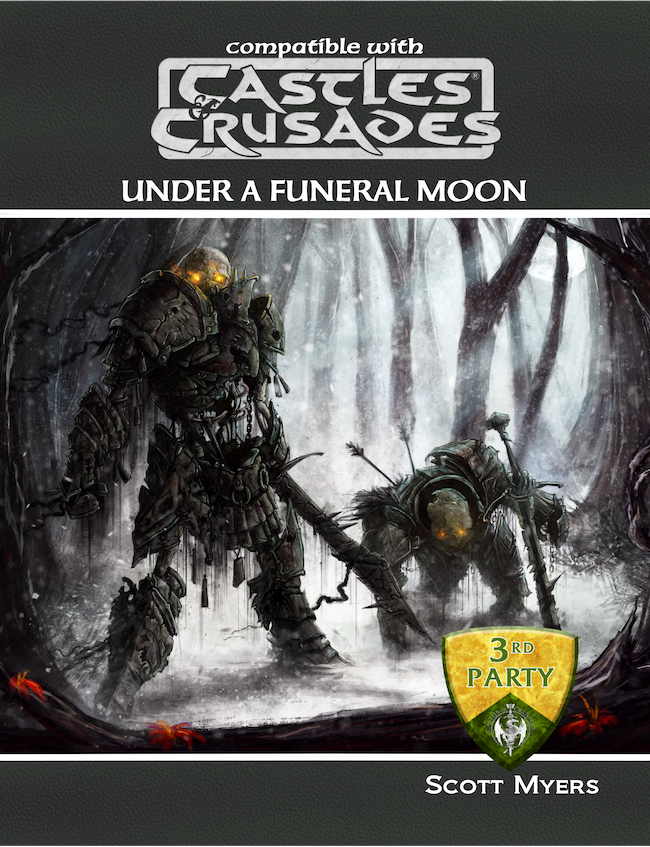 By Scott Myers
Self Published
Castles & Crusades
Level 1
This 33 page adventure features a ten room dungeon with two monsters in it. It is boring.
Ok, it tries in a couple of places. There's a Tomb Worm that has egg sacks that burst worth with a larvae swarm monster. Gross! One encounter has a zombie with its back legs missing, crawling towards you, eyes glowing yellow. And there's a ghost child looking for its mommy as a throw away wanderer. That's it. And even that is not that well done.
The ghost child gets almost nothing to it, which, normally, I'd be fine with. But if you're going to make something like this, something that stays with the party a bit, then you need to provide a little bit more to it. And this don't do that.
Ok, so, you start out as caravan guards. Boring. You get paid 20gp for 2 days work. Sweet work if you can get it, I guess. Making bank! Your latest caravan includes a corpse going to the next town for burial. At this point, as a player, I've already defiled that corpse, chopped it up, burnt it, etc. But, I guess your players are stupid and wait for it to reanimate and attack. Which it does. Boring. Along the way to the next town you are attacked by 4 skeletons. "Sometime after midnight the PCs are attacked by 4 Armored Skeletons, their eye sockets glow a mysterious yellow." Can you contain your excitement yet? No? Bored? Yes. That's after three pages of read aloud and a couple of paragraphs of DM notes. Just "attacked by skeletons in the night." *Sigh*
Halfway in and you're attacked by those four skeletons and the corpse you were escorting. You reach a town where the Level 0 innkeeper woman has a ring of invisibility, an amulet of protection and ring of protection. It pays, it seems, to have questionable morals in D&D. I'd stab her.
I guess you go to the dungeon nearby out of the goodness of your heart. The locals don't really seem to care that the dead are reanimating. No local outage, or worry. Just a "thanks man, for killing that corpse" and off you go to the dungeon, I guess.
The dungeon thankfully does away with the (long) read aloud and has none, but transitions in to boring room descriptions with nothing going on. There's a combat with a dog and another with that Tomb Worm/Larvae thing. A six hd tomb worm, for a first level party. WIth a 3hd swarm of larvae added on. Uh huh. First level. Right. I'm all for not balancing, but, there's a limit.
"The first thing you notice in this room … is rather typical. It's a loose writing style full of this sort of padding. "If you defeat the skeletons then they can be searched …" This is how we get multiple DM text paragraphs for a simple sety up. A joy to wade through. A boring boring boring of boringness.
Why the fuck do I do this? I'm just killing time until I die. There must be something better.
This is $2 at DriveThru. To it's credit the preview is the entire thing. Check out page fourteen, for that first encounter. The long read-aloud. The simple combat. The lengthy DM notes.
https://www.drivethrurpg.com/product/330437/Under-a-Funeral-Moon?1892600