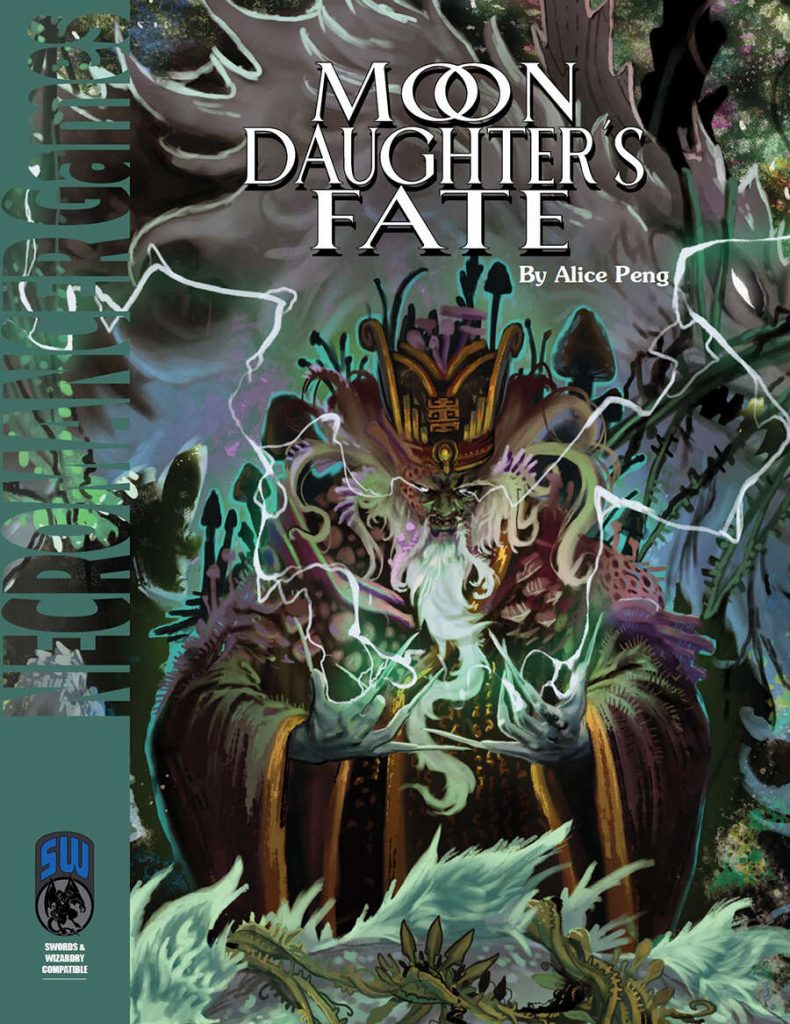 Alice Peng
Frog God Games
S&W
Levels 5-7
Beginning with an encounter with a disguised god, Moon Daughter's Fate brings the characters into the province of Sheng Xi Gui, "Whisper Valley," where divine matters have taken a dangerous turn.
This 34 page adventure is a confusing wall of text nightmare. Errr, I mean, a multi-act investigation of the usual sort, but with Chinese folklore theming. I have no comprehension on why someone would buy this, other than as a novelty, or how they could run this. Caveat: there's a two page backstory in very tiny font that I didn't read. Because I don't care about backstory.
It's a level 5-7 adventure in a Chinese setting. (Not that you'd fucking know that since the fucking Frogs don't tell you, either from the cover or from the description, that it is level 5-7. Fucking Frogs and their bullshit.) How does that happen? Do the mists come and take you away? Have you been playing OA for thirty years now and suddenly find yourself needing a level 5-7 adventure to fill in? I loved the OA adventures in Dungeon, for the most part. The folklore vibe is one of my favorites, be it European, Chinese, African, whatever. But I just don't understand who this adventure is targeted at. Who's buying a high level OA adventure these days, to run? This is the same problem with ANY heavily themed adventure. If your take on elves is that they are mutant cannibals, and the adventure depends on that being the casein the world, then who's your target audience? I recall a high level Robin Hood adventure in Dungeon. It may have been great, but who's running it as anything other than a one shot? Assuming, of course, you have the support materials to run it as a one-shot, with spell lists, character classes, races, etc. A level one adventure? Ok. I can see that.
Problem two, and the far more serious issue, is the adventure is a COMPLETE MESS and nigh incomprehensible. The writing shows inexperience and a lack of understanding of key concepts in usability. Adding to this is WHERE THE FUCK WAS THE FUCKING EDITOR? Oh, wait, it's the fucking Frogs. Why do the hard work of editing (inexperienced writing or not) when you can just slap a $10 price on the PDF and sell it to the suckers? Hooked on Phonics worked for me!
The basics of the adventure is that you travel to an inn, maybe find signs of violence, and a ghost bull with 14HD who, I hope, you figure out is a god who is poisoned. This is probably all explained to you by a dragon living in the bottom of a well. You go in to the hills to fight cultists, then to a city, and down in to a coal mine.
Read aloud is LONG. A column in some cases and multiple paragraphs are not uncommon. Long read-aloud is bad. It causes players to loose focus. They pull out their phones. You get two, maybe three sentences of read-aloud, that's it. Even WOTC knows this, even those they frequently forget, and cited it in an article about read-aloud.
The read-aloud is full of "You are travelling …" or "You see a … " or "You shake the rain off … " and other sorts of phrasings. This is terrible. Good adventure writing doesn't refer to characters like this. You don't embed the players actions. This is some sort of hold-over from novelizations. You paint a picture with words, but you don't include the party.
"Along the road, however, you run in to a strange encounter." no No NO! You don't fucking do this! You don't tell the players that an encounter is strange. You run the encounter in such as way that the party comes to the conclusion that it is strange.
At one point the adventure says "the characters should understand a few things at his point …" and then cites three or four bullets of weirdness. No one greeted them when they came in to the inn. This is very rude. You should pray at the shrine. You should leave an offering. How are the characters supposed to understand this? Am I, the DM, supposed to tell them? DO they have a rich background in the history of Chinese roadhouses? It's not the specifics I have an issue with, it's the way that these, rather obscure, facts are presented. If something hinges on the party knowing X then you need to find a way to get X to the parties knowledge. Otherwise you're just flat out telling them. Which is lame. And not a thing a good adventure does.
Long, long read-aloud. Even longer DM text. And all in a small font, to fit even more on to the page. It's all a disorganized mess.
At one point we're told "any character with some kind of divine attunement can get a sense that the man is more than he appears to be." But, this BEFORE the man is introduced. A section about a well start, in DM text, with "This appears to be a normal well." You mean, it IS a normal well? Because it is. Why is this text included? Why are you telling the DM that the well APPEARS to be normal? They have access to the text. They know its not. The read-aloud for this section is even more confusing, giving, I think, a description of the well bucket instead of the well. The bucket that I think is down at the bottom of the well? I don't know. None of it makes any sense. It's like someone write an adventure in my own stream of consciousness "adventure review" style, with even less coherence than I have. It's not that the content of the adventure is necessarily bad, but that it is so disorganized, and so much formatted to be a Wall of Text, that it just doesn't make sense to try and wade through it.
And the baddies are a cult. Great. Maybe they hide in a sewer also? No? How about a diary? How about we feature a diary in the inn as a part of the adventure? NO DIARIES! Find another fucking way to communicate information!
The adventure can be summed up in one design choice. At the bottom of the well, in a cave, is a dragon. His interactions with the party are, essential, and he essentially tells then what to do, step by step. The adventure almost certainly doesn't happen without him. And there are not good clues that he's down there. Unless you miss him. Then the next morning you hear moans coming from the bottom of the well. Everything else is pretext. The dragon tells you wat to do. If you miss him he is shoved at you. (I'm not mad at the last part, if you have to have something happen then a fail condition is ok.) This thing is just going through the motions, surrounding itself in MOUNTAINS of unnecessary text that detract from the adventure instead of enhancing it. The key is for the writing to be evocative, and easy to scan and use at the table. And this isn't. And you can't play an adventure that you can't use at the table. (At least not without a degree of prep work that is untenable.)
This is $10 at DriveThru. The preview is the first few pages of the adventure, which is mostly useless. At best, you get to see the two page backstory. While this isn't helpful, it does give you can idea of the font and formatting and Wall of Text issues. This style is present throughout.
https://www.drivethrurpg.com/product/339911/Moon-Daughters-Fate-SW?1892600